Neumotórax espontáneo como complicación infrecuente de la infección por SARS CoV-2 (COVID 19): reporte de 2 casos
Ramírez Guerra Martha Alicia

Hospital General de México "Dr. Eduardo Liceaga" Servicio de Neumología

Contreras Rodríguez Raymundo

Hospital General de México "Dr. Eduardo Liceaga" Servicio de Neumología

Muñoz Torres Edgar

Hospital General de México "Dr. Eduardo Liceaga" Servicio de Neumología Ciudad de México, México
Resumen
 En diciembre de 2019 se informó en Wuhan, provincia de Hubei China de un brote en curso de neumonía asociado con un nuevo coronavirus. El virus se propagó por todo el mundo en tiempo récord declarándose por la Organización Mundial de la Salud (OMS) en marzo de 2020 como pandemia.1,2 El COVID 19 es una enfermedad respiratoria viral causada por el síndrome respiratorio agudo severo (SARS-CoV2). Los síntomas de la infección incluyen fiebre, tos, mialgias, fatiga, cefalea, diarrea, disnea e hipoxia. Sin embargo se han presentado algunas  complicaciones secundarias como es el caso de neumotórax  espontáneo.3 Se presentan 2 casos de neumotórax espontáneo en pacientes con neumonía por COVID 19, pacientes del género masculino, de edad media de 49 años, como único  factor de riesgo para ambos pacientes se identificó el tabaquismo, recibieron tratamiento médico para la infección, los 2 pacientes requirieron manejo con oxígeno suplementario por puntas nasales, se colocó sonda endopleural como tratamiento para el neumotórax, en el estudio de imagen se evidenció el neumotórax del lado derecho en los 2 pacientes.
Palabras clave:
SARS-CoV-2, covid 19, neumotórax, TACAR, espontáneo
Descargas
La descarga de datos todavía no está disponible.
Citas
Zhu, Na et al. 2020. "A Novel Coronavirus from Patients with Pneumonia in China, 2019." New England Journal of Medicine.
Zi Yue Zu, Meng Di Jiang, Peng Peng Xu, Wn Chen. Coronavirus Disease 2019 (COVID-19): A perspective from China. Radiology: Volume 296: Number 2—August 2020
Wu Z ,McGoogan JM . Characteristics of and important lessons from the coronavirus disease 2019 (COVID-19) outbreak in China. JAMA 2020;323:1239 .
Marcello Ciaccio, Luisa Agnello. Biochemical biomarkers alterations in Coronavirus Disease 2019 (COVID-19). Diagnosis 2020; 7(4): 365–372
Yicheng Yang, Zhiqiang Xiao, Kaiyan Ye, Xiaoen He, et al. SARS-CoV-2: characteristics and current advances in research. Virology Journal (2020) 17:117
Huang C, Wang Y, Li X, Ren L, Zhao J, Hu Y, et al. Clinical features of patients infected with 2019 novel coronavirus in Wuhan, China. Lancet. 2020;395(10223):497–506.
W. Joost Wiersinga, Andrew Rhodes, Allen Cheng, Sharon Peacock, Hallie Prescott. Pathophysioogy, transmisión, diagnosis, and treatment of coronavirus Disease 2019 (COVID-19). JAMA. 2020;324(8):782-793.
Brogna B, Bignardi E, Salvatore P, Alberigo M, Brogna C, Megliola A, et al. Unusual presentations of COVID-19 pneumonia on CT scans with spontaneous pneumomediastinum and loculated pneumothorax: a report of two cases and a review of the literature. Heart Lung 2020. doi: 10.1016/j.hrtlng.2020.06.005 .
Lopez Vega JM, Parra Gordo ML, Diez Tascon A, ossaba Vélez S. Pneumomediastinum and spontaneous pneumothorax as an extrapulmonary complication of COVID 19 disease. Emerg Radiol 202.doi 10.1007/s10140-020-01806-0.
Ucpinar BA, Sahin C, Yanc U. Spontaneus pneumothorax and subcutaneous emphysema in COVID -19 patient: case report. J Infect Public Healt 2020; 13:887-9.
Simpson S ,Kay F U ,Abbara S ,Bhalla S ,Chung J ,Chung M ,Henry TS ,Kanne JP ,Kligerman S ,et al.Radiological Society of North America expert consensus statement on reporting chest CT findings related to COVID-19. Endorsed by the Society of Thoracic Radiology, the American College of Radiology, and RSNA. Radiol Cardiothorac Imaging 2020;2:e200152 .
Sahn SA. Heffer JE. Pneumothorax espontaneus N. Engl J Med 2000; 342: 86874. http://doi.org/10.1056/NEJM200003233421207.
Wang W, Gao R, Zheng Y, Jiang L. COVID-19 with spontaneous pneumothorax, pneumomediastinum and subcutaneous emphysema. J Travel Med. 2020. https://doi.org/10.1093/jtm/taaa062.
Sun R, Liu H, Wang X. Mediastinal emphysema, giant bulla, and pneumothorax developed during the course of COVID-19 pneumonia. Korean J Radiol. 2020;21 (5):541. https://doi.org/10.3348/kjr.2020.0180.
Ai T, Yang Z, Hou H, et al. Correlation of Chest CT and RT-PCR Testing in Coronavirus Disease 2019 (COVID-19) in China: A Report of 1014 Cases. Radiology 2020 Feb 26:200642 [Epub ahead of print].
Chen N, Zhou M, Dong X, et al. Epidemiological and clinical characteristics of 99 cases of 2019 novel coronavirus pneumonia in Wuhan, China: a descriptive study. Lancet 2020;395(10223):507–513.
Wang Y, Dong C, Hu Y, et al. Temporal Changes of CT Findings in 90 Patients with COVID-19 Pneumonia: A Longitudinal Study. Radiology 2020 Mar 19:200843 [Epub ahead of print].
Sun R, Liu H, Wang X. Mediastinal emphysema, giant bulla, and pneumothorax developed during the course of COVID-19 pneumonia. Korean J Radiol. 2020;21 (5):541. https://doi.org/10.3348/kjr.2020.0180.
Brogna B, Brogna C, Musto L, et al. SARS-CoV-2 infection with different radiological insights. Diagnostics. 2020;10(5):283. https://doi.org/10.3390/diagnostics10050283.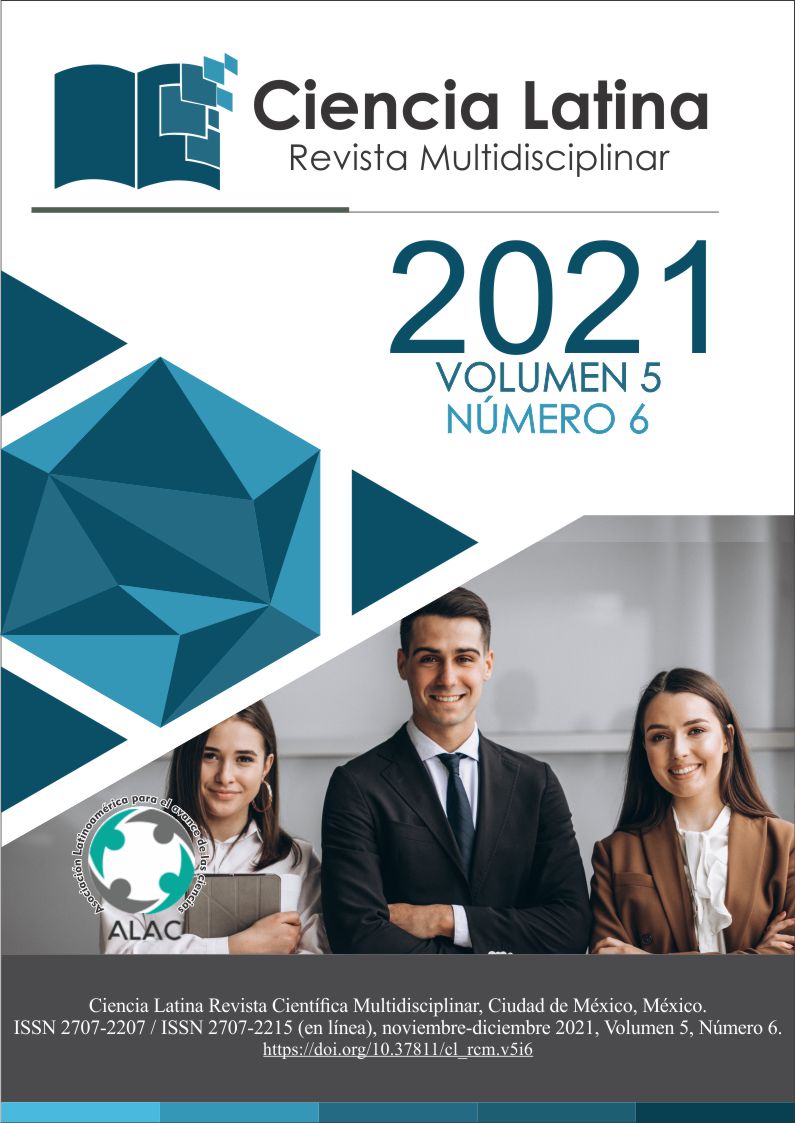 Cómo citar
Ramírez Guerra, M. A., Contreras Rodríguez, R., & Muñoz Torres, E. (2021). Neumotórax espontáneo como complicación infrecuente de la infección por SARS CoV-2 (COVID 19): reporte de 2 casos. Ciencia Latina Revista Científica Multidisciplinar, 5(6), 12921-12929. https://doi.org/10.37811/cl_rcm.v5i6.1292
Derechos de autor 2021 Martha Alicia Ramírez Guerra; Raymundo Contreras Rodríguez; Edgar Muñoz Torres
Esta obra está bajo licencia internacional
Creative Commons Reconocimiento 4.0
.