Políticas públicas y adolescentes gestantes
Rosa Elena Yangali Gamarra

Universidad César Vallejo Lima – Perú

Fernando Emilio Escudero Vílchez

Universidad César Vallejo Lima – Perú

Silvia Liliana Salazar Llerena

Universidad César Vallejo Lima – Perú
Resumen
OBJETIVO: El presente tuvo el propósito realizar una revisión documentaria con el objetivo de demostrar la importancia de las políticas públicas con respecto al embarazo en jóvenes adolescentes, debido a que en la actualidad existen porcentajes elevados sobre el incremento de casos, por lo cual es fundamental investigar diversas políticas que contribuyan a disminuirlos. METODOLOGÍA: La metodología que se empleó en el presente artículo estuvo bajo un enfoque cuantitativo y presentó una una revisión de múltiples fuentes las cuales fueron tanto nacionales como internacionales, además de buscar autores que traten de manera clara y precisa esta temática. RESULTADOS: Se obtuvo como resultados que las políticas públicas aplicadas en diferentes países a pesar de sus avances y resultados favorables, resultan insuficientes para disminuir las cifras de adolescentes gestantes. CONCLUSIÓN: Finalmente se concluyó que existen políticas públicas que permiten la prevención de los casos de embarazos en adolescentes, pero que no se están empleando de una manera adecuada debido a que las cifras no disminuyen, es por esta razón, que se requiere que el Estado se comprometa a cumplir con estas estrategias y a su vez, se verifique si se necesitan crear nuevas políticas o mejorar las ya existentes en torno a esta problemática.
Palabras clave:
políticas públicas, embarazo adolescente, salud
Descargas
La descarga de datos todavía no está disponible.
Citas
Bash Taqi, R., Watson, K., Akwara, E., Adebayo, E., & Chandra Mouli, V. (2020). From commitment to implementation: lessons learnt from the first National Strategy for the Reduction of Teenage Pregnancy in Sierra Leone. Sexual and productive health matters, 28(1), 408-422. Obtenido de https://www.scopus.com/record/display.uri?eid=2-s2.0-85092905764&origin=resultslist&sort=plf-f&src=s&st1=public+policies+teenage+pregnancies&sid=5a2c78e05f74ec6cb0d085744c12e636&sot=b&sdt=b&sl=50&s=TITLE-ABS-KEY%28public+policies+teenage+pregnancies%29&re
Baxter, A., Dundas, R., Popham, F., & Craig, P. (2021). How effective was England's teenage pregnancy strategy? A comparative analysis of high-income countries. Social Science & Medicine, 270. doi:https://doi.org/10.1016/j.socscimed.2021.113685
Brindis, C., Gutmann-Gonzalez, A., & Deckerb, M. (2021). Teenage Pregnancy: Trends, Predictors, Prevention Efforts, and Future Directions. Reference Module in Biomedical Sciences. doi:https://doi.org/10.1016/B978-0-12-818872-9.00019-4
Casagrande de Lima Lopes, M., Rosseto de Oliveira, R., de Andrade Pereira da Silva, M., Padovani, C., Batista de Oliveira, N., & Higarash, I. (2020). Temporal trend and factors associated to teenage pregnancy. Revista Escola de Enfermage USP, 54. doi:https://doi.org/10.1590/S1980-220X2019020403639
D'Agostino, M., Samuel, N., Janina Sarol, M., de Cosio, F., Marti, M., Luo, T., . . . Espinal, M. (2018). Open data and public health. Revista Panamericana de Salud Pública, 42(18). doi:https://doi.org/10.26633/RPSP.2018.66
Dongarwar, D., & Mohammed, H. (2019). Influence of Sexual and Reproductive Health Literacy on Single and Recurrent Adolescent Pregnancy in Latin America. Journal of Pediatric and Adolescent Gynecology, 32(5), 506-513. doi:https://doi.org/10.1016/j.jpag.2019.06.003
Ellis Sloan, K. (2019). Teenage mothers in later life: Time for a second look. Journal of Adolescence, 77, 98-107. doi:https://doi.org/10.1016/j.adolescence.2019.10.007
Fang Yi , L., Rey Martí, A., & Botella Carrubi, D. (2020). Research methods in business: Quantitative and qualitative comparative analysis. Journal of Business Research, 115, 221-224. doi:https://doi.org/10.1016/j.jbusres.2020.05.003
Filla, C., Bertani, N., & Sutile, V. (2020). Proteção à vida e à saúde da gravidez na adolescência sob o olhar da Bioética. TEMA LIVRE, 30(1), 1-12. doi:https://doi.org/10.1590/S0103-73312020300114
Franco Vargas, M., & Roldán Restrepo, D. (2019). The instruments of public policy. A transdisciplinary look. Cuadernos de Administración, 35(63). doi:https://doi.org/10.25100/cdea.v35i63.6893
González Nava, P., Rangel Flores, Y., & Hernández Ibarra, E. (2020). Challenges in preventing a subsequent pregnancy in adolescents: perspectives of adolescents' mothers. Saúde e Sociedade, 29(3). doi:https://doi.org/10.1590/S0104-12902020181032
Greenberg, K. B., Jenks, S. C., Piazza, N., Malibiran, B. R., & Aligne, C. A. (2017). A Snapshot of Urban Adolescent Women's Contraceptive Knowledge at the Onset of a Community Long-Acting Reversible Contraceptive Promotion Initiative. Journal of Pediatric and Adolescent Gynecology, 30(4), 474-478. doi:10.1016/j.jpag.2017.01.003
Guedes dos Santos, J., Lorenzini Erdmann, A., Schlindwein Meirelles, B., de Melo Lanzoni, G., Pecini da Cunha, V., & Ross, R. (2017). Integrating Quantitative and Qualitate data in mixed methods research. Texto & Contexto - Enfermagem, 26(3). doi:https://doi.org/10.1590/0104-07072017001590016
Hadley, A. (2020). Teenage pregnancy: strategies for prevention. Obstetrics, Gynaecology & Reproductive Medicine, 30(12), 387-394. doi:https://doi.org/10.1016/j.ogrm.2020.10.004
Karunananthan, S. (2021). When is systematic review replication useful, and when is it wasteful? Letter to the editor(45). doi:https://doi.org/10.26633/RPSP.2021.11
Malebo, T., Mmapheko , D., & Ramadimetja, S. (2020). Disconnections and exclusions of parents in the prevention of teenage pregnancy: A phenomenological approach. International Journal of Africa Nursing Sciences, 13. doi:https://doi.org/10.1016/j.ijans.2020.100251
Maravilla, J., Betts, K., Couto, C., & Alati, R. (2017). Factors influencing repeated teenage pregnancy: a review and meta-analysis. American Journal of Obstetrics and Gynecology, 217(5), 527-545. doi:https://doi.org/10.1016/j.ajog.2017.04.021
Nurdiawan, W., Hidayat Koto, A., Zulvayanti, Z., Atik, N., Susiarno, H., Hidayat, D., . . . Zulfa, F. (2021). Comparison of Maternal and Neonatal Outcomes in Teenage and Reproductive Age Pregnancy at Tertiary Hospital in West Java, Indonesia. Open Access Macedonian Journal of Medical Sciences, 9(B). doi:https://doi.org/10.3889/oamjms.2021.7066
Okine, L., & Dako-Gyeke, M. (2020). Drivers of repeat pregnancy among teenage mothers in Accra, Ghana. Children and Youth Services Review, 113. doi:https://doi.org/10.1016/j.childyouth.2020.105002
Piza Burgos, N., Amaiquema Marquez, F. A., & Beltran Baquerizo, G. E. (2019). Methods and techniques in qualitative research. Some necessary details. Conrado, 15(70), 455-459. Obtenido de http://scielo.sld.cu/scielo.php?script=sci_abstract&pid=S1990-86442019000500455&lng=es&nrm=iso&tlng=en
Restrepo Martínez, M., Trujillo Numa, L., Restrepo Bernal, D., Torres de Galvis, Y., & Sierra , G. (2017). Sexual abuse and neglect situations as risk factors for adolescent pregnancy. Revista Colombiana de Psiquiatría, 46(2). doi:https://doi.org/10.1016/j.rcpeng.2017.05.003
Sarder, A., Islam, S., Manizurrzaman, Talukder, A., & Ahammed, B. (2021). Prevalence of unintended pregnancy and its associated factors: Evidence from six south Asian countries. PLoS ONE, 16(2), 1-13. doi:10.1371/journal.pone.0245923
Snyder, H. (2019). Literature review as a research methodology: An overview and guidelines. Journal of Business Research, 104, 333-339. Obtenido de https://doi.org/10.1016/j.jbusres.2019.07.039
Sriyasak, A., Almqvist, A.-L., Sridawruang, C., & Häggström Nordin, E. (2019). Healthcare providers' caring for Thai teenage parents: A focus group study. Midwifery, 69, 172-178. doi:https://doi.org/10.1016/j.midw.2018.09.010
Wisniewski, M., & O'Connell, H. (2018). Clinic access and teenage birth rates: Racial/ethnic and spatial disparities in Houston, TX. Social Science & Medicine, 201, 87-94. doi:https://doi.org/10.1016/j.socscimed.2018.02.009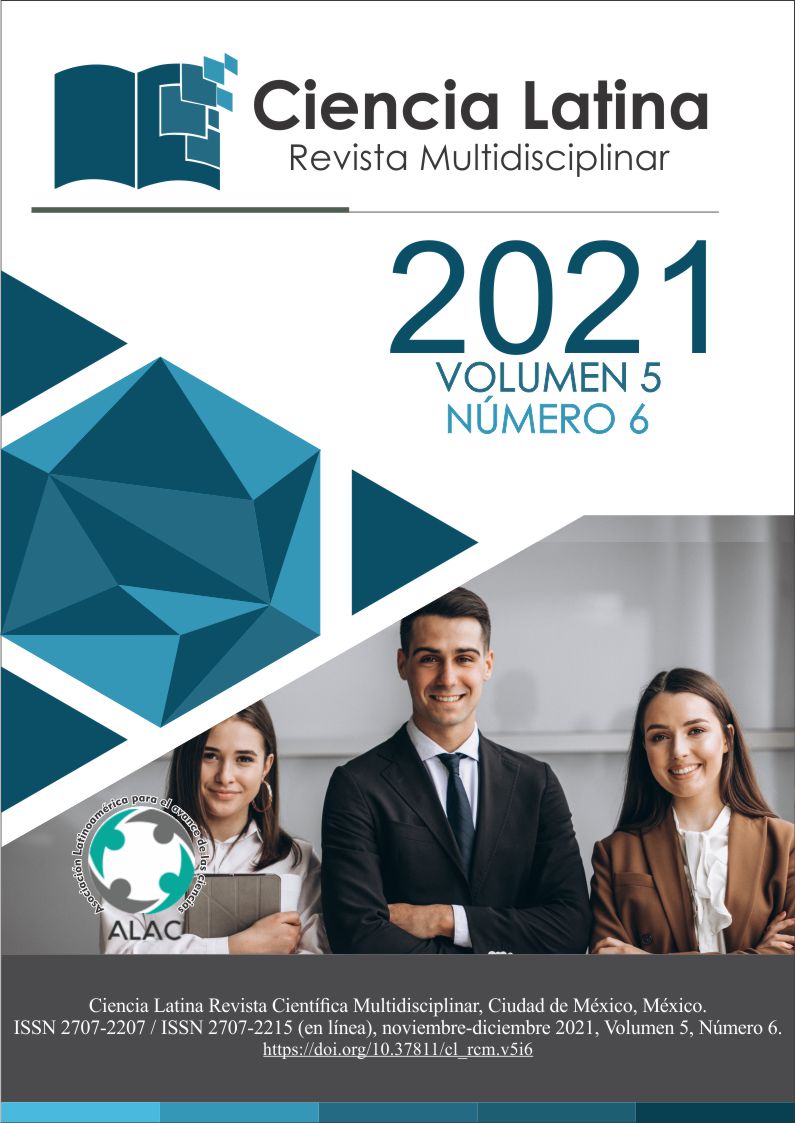 Cómo citar
Yangali Gamarra, R. E., Escudero Vílchez, F. E., & Salazar Llerena , S. L. (2022). Políticas públicas y adolescentes gestantes. Ciencia Latina Revista Científica Multidisciplinar, 5(6), 14417-14430. https://doi.org/10.37811/cl_rcm.v5i6.1408
Derechos de autor 2022 Rosa Elena Yangali Gamarra;Fernando Emilio Escudero Vílchez;Silvia Liliana Salazar Llerena
Esta obra está bajo licencia internacional
Creative Commons Reconocimiento 4.0
.