Consumo de cigarrillo y su asociación con el desarrollo de tumor vesical
Resumen
Metodología: Se realizó una revisión narrativa a través de diversas bases de datos de enero de 2014 a febrero de 2022; la búsqueda y selección de artículos fue llevada a cabo en revistas indexadas en idioma inglés. Se utilizaron como palabras clave: Cigarrillo, Desarrollo, Tumor vesical. Resultados: Uno de los factores de riesgo más fuertes para el desarrollo de cáncer de vejiga es el fumar. Las sustancias más importantes y dentro de las que se han estudiado con mayor frecuencia para establecer la relación entre el cigarrillo y tumor vesical son la 2-naftilamina y el 4-aminobifenilo. Diferentes tipos de cigarrillo se han asociado con la misma, como es el caso del cigarrillo de clavo de olor, fumadores de pipas de agua, al igual que los cigarrillos electrónicos. Conclusiones: La presente revisión ofrece información actualizada y detallada sobre la asociación entre el consumo de cigarrillo y el desarrollo de tumor vesical, al igual que los componentes asociados al cigarrillo que son más carcinogénicos.
Palabras clave:
cigarrillo, desarrollo, tumor vesical
Descargas
La descarga de datos todavía no está disponible.
Citas
Wipfli H, Samet JM. One Hundred Years in the Making: The Global Tobacco Epidemic. Annu Rev Public Health. 2016;37:149-66.
Warren GW, Alberg AJ, Kraft AS, Cummings KM. The 2014 Surgeon General's report: "The health consequences of smoking--50 years of progress": a paradigm shift in cancer care. Cancer. 2014 Jul 01;120(13):1914-6.
Wang TW, Asman K, Gentzke AS, Cullen KA, Holder-Hayes E, Reyes-Guzman C, Jamal A, Neff L, King BA. Tobacco Product Use Among Adults - United States, 2017. MMWR Morb Mortal Wkly Rep. 2018 Nov 09;67(44):1225-1232.
Alexandrov LB, Ju YS, Haase K, Van Loo P, Martincorena I, Nik-Zainal S, Totoki Y, Fujimoto A, Nakagawa H, Shibata T, Campbell PJ, Vineis P, Phillips DH, Stratton MR. Mutational signatures associated with tobacco smoking in human cancer. Science. 2016 Nov 04;354(6312):618-622.
Kovac JR, Khanna A, Lipshultz LI. The effects of cigarette smoking on male fertility. Postgrad Med. 2015 Apr;127(3):338-41.
Budani MC, Fensore S, Di Marzio M, Tiboni GM. Cigarette smoking impairs clinical outcomes of assisted reproductive technologies: A meta-analysis of the literature. Reprod Toxicol. 2018 Sep;80:49-59.
L. Yueyao, A. Hilary, S. Michael, X. Pengcheng. Smoking Cessation and the Risk of Bladder Cancer among Postmenopausal Women. American Association For Cancer research. May-2019. DOI: 10.1158/1940-6207.CAPR-18-0441.
V. Sawkar, S. Ferry, S. Bethy, F. Reiva, B. Baskara. Smoking history, smoking intensity, and type of cigarette as risk factors of bladder cancer: A literature review. Urological science. 2020, vol 31, page 147-155.
Y. Emrah, T. Murat, C. Aykut, C. Ege. The awareness of patients with non - muscle invasive bladder cancer regarding the importance of smoking cessation and their access to smoking cessation programs. int j urol 43 (4), Jul-Aug 2017, https://doi.org/10.1590/S1677-5538.IBJU.2016.0014.
R. Michael. Electronic cigarettes and bladder cancer — a game-changer?. Nature reviews urology. 20 may 2020.
R. Michael, J. Joseph, F. Shahrokh, K. Felix. Smoking and Bladder Cancer: A Systematic Review of Risk and Outcomes. ur Urol Focus. 2015 Aug;1(1):17-27. doi: 10.1016/j.euf.2014.11.001.
K. Shannon, M. John, M. Jane. Cigarette smoking promotes bladder cancer via increased platelet‐activating factor. Physiol Rep. 2019 Feb; 7(3): e13981. doi: 10.14814/phy2.13981.
L. Andre, H. Sita, K. Katja, J. Anne. Smoking intensity and bladder cancer aggressiveness at diagnosis. PLoS One. 2018; 13(3): e0194039. doi: 10.1371/journal.pone.0194039.
M. Keiichiro, M. Hadi, A. Mohammad, Y. Lin. Smoking and bladder cancer: review of the recent literature. Curr Opin Urol. 2020 Sep;30(5):720-725. doi: 10.1097/MOU.0000000000000804.
C. Ewelina, C. Slawomir. 2-naphthylamine toxicity. Med Pr. 2020 Mar 30;71(2):205-220. doi: 10.13075/mp.5893.00921.
L. Hyun-Wook. W. Hsiang-Tsui, W. Mao-Wen, H. Yu, C. Wei-Sheng. Acrolein- and 4-Aminobiphenyl-DNA adducts in human bladder mucosa and tumor tissue and their mutagenicity in human urothelial cells. Oncotarget. 2014 Jun; 5(11): 3526–3540.doi: 10.18632/oncotarget.1954
B. Medjda, Y. Lihua, B. Radha, J. Francis. Bioactivation of the tobacco carcinogens 4-aminobiphenyl (4-ABP) and 2-amino-9H-pyrido[2,3-b]indole (AαC) in human bladder RT4 cells. Arch Toxicol. 2019 Jul;93(7):1893-1902. doi: 10.1007/s00204-019-02486-7
T. Ramya, X. Zongli, P. Vijayalakshmi, A. Jack. Differential Gene Expression in Bladder Tumors from Workers Occupationally Exposed to Arylamines. Biomed Res Int. 2021 Nov 8;2021:2624433. doi: 10.1155/2021/2624433.
K. Shannon, M. John, M. Jane. Cigarette smoking promotes bladder cancer via increased platelet-activating factor. Physiol Rep. 2019 Feb;7(3):e13981. doi: 10.14814/phy2.13981.
E. Alan, P. Stacey, O. Irene, C. Emily. Accuracy of Self-reported Smoking Exposure Among Bladder Cancer Patients Undergoing Surveillance at a Tertiary Referral Center. Eur Urol Focus. 2016 Oct; 2(4): 441–444. doi: 10.1016/j.euf.2015.12.002.
S. Xuezheng, A. Katherine, Y. William. Age at Diagnosis, Obesity, Smoking, and Molecular Subtypes in Muscle Invasive Bladder Cancer. Cancer Causes Control. 2017 Jun; 28(6): 539–544. doi: 10.1007/s10552-017-0885-z.
N. Amber, T. Debra, C. Melissa, J. Sarah. Smoking status, usual adult occupation, and risk of recurrent urothelial bladder carcinoma: data from The Cancer Genome Atlas (TCGA) Project. Cancer Causes Control. 2016 Dec;27(12):1429-1435. doi: 10.1007/s10552-016-0821-7.
S. Nivash, D. Kunal, R. Narasimhan. A Single Tertiary Center Experience in a South Asian Population: Does Tobacco Use Influence Bladder Cancer?. Cureus. 2021 Oct; 13(10): e18734. doi: 10.7759/cureus.18734.
G. Gulay, E. Ebru, K. Tuncay. Potential role of melastatin-related transient receptor potential cation channel subfamily M gene expression in the pathogenesis of urinary bladder cancer. November 2016. https://doi.org/10.3892/ol.2016.5359.
S. Tore, K. Tom. Nicotine: carcinogenicity and effects on response to cancer treatment – a review. Front. Oncol., 31 August 2015. https://doi.org/10.3389/fonc.2015.00196.
Humphrey PA, Moch H, Cubilla AL, Ulbright TM, Reuter VE. The 2016 WHO Classification of Tumours of the Urinary System and Male Genital Organs-Part B: Prostate and Bladder Tumours. Eur Urol. 2016 Jul;70(1):106-119.
Cumberbatch MG, Rota M, Catto JW, La Vecchia C. The Role of Tobacco Smoke in Bladder and Kidney Carcinogenesis: A Comparison of Exposures and Meta-analysis of Incidence and Mortality Risks. Eur Urol. 2016 Sep;70(3):458-66.
Chang SS, Bochner BH, Chou R, Dreicer R, Kamat AM, Lerner SP, Lotan Y, Meeks JJ, Michalski JM, Morgan TM, Quale DZ, Rosenberg JE, Zietman AL, Holzbeierlein JM. Treatment of Non-Metastatic Muscle-Invasive Bladder Cancer: AUA/ASCO/ASTRO/SUO Guideline. J Urol. 2017 Sep;198(3):552-559.
Babjuk M, Böhle A, Burger M, Capoun O, Cohen D, Compérat EM, Hernández V, Kaasinen E, Palou J, Rouprêt M, van Rhijn BWG, Shariat SF, Soukup V, Sylvester RJ, Zigeuner R. EAU Guidelines on Non-Muscle-invasive Urothelial Carcinoma of the Bladder: Update 2016. Eur Urol. 2017 Mar;71(3):447-461.
Casey RG, Catto JW, Cheng L, Cookson MS, Herr H, Shariat S, Witjes JA, Black PC. Diagnosis and management of urothelial carcinoma in situ of the lower urinary tract: a systematic review. Eur Urol. 2015 May;67(5):876-88.
W. Jeremy, M. Estrella, A. Ahmed, F. Bilal. Squamous cell carcinoma of the urinary bladder: Systematic review of clinical characteristics and therapeutic approaches. Arab J Urol. 2016 Sep; 14(3): 183–191. doi: 10.1016/j.aju.2016.07.001.
T. Moon, R. Xue, L. Hyun, M. Fang. Electronic-cigarette smoke induces lung adenocarcinoma and bladder urothelial hyperplasia in mice. PNAS October 22, 2019 116 (43) 21727-21731. https://doi.org/10.1073/pnas.1911321116.
M. Hiroyuki, M. Keitaro, I. Hidemi, W. Kenji. Cigarette smoking and bladder cancer risk: an evaluation based on a systematic review of epidemiologic evidence in the Japanese population. Jpn J Clin Oncol. 2016 Mar;46(3):273-83. doi: 10.1093/jjco/hyv188.
J. Eugene, M. Phillip, J. Thomas, S. Bruce. Heavy Cigarette Smoking and Aggressive Bladder Cancer at Initial Presentation. Urology. 2015 Nov;86(5):968-72. doi: 10.1016/j.urology.2015.05.040.
F. Damiano, S. Roland, J. Joshua. Molecular footprints of muscle-invasive bladder cancer in smoking and nonsmoking patients. Urol Oncol. 2019 Nov;37(11):818-825. doi: 10.1016/j.urolonc.2018.09.017.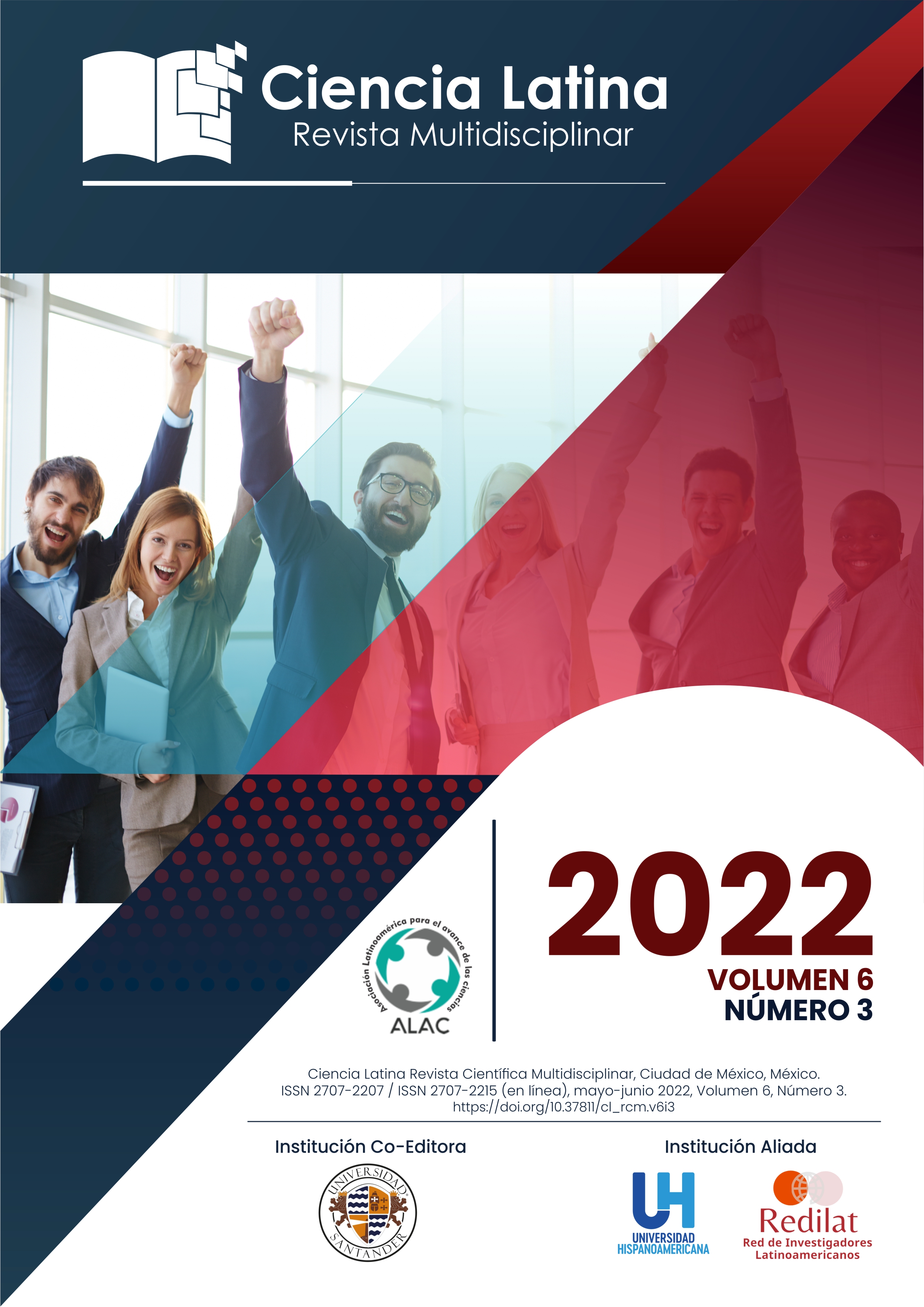 Cómo citar
Diaz Hernández, D., Canchila García, J. C., Chía Peñaranda, J. F., Dumar Otero, F. J., Gasca Nuñez, J. C., Males Salazar, I. N., Álvarez Vélez, S. A., & Alvarez Potes, R. (2022). Consumo de cigarrillo y su asociación con el desarrollo de tumor vesical. Ciencia Latina Revista Científica Multidisciplinar, 6(3), 1559-1572. https://doi.org/10.37811/cl_rcm.v6i3.2312
Derechos de autor 2022 Daniela Diaz Hernández;Juan Carlos Canchila García;Jesús Fernando Chía Peñaranda;Fernando Jose Dumar Otero;Juan Camilo Gasca Nuñez;Ivonne Nathalia Males Salazar;Sebastián Alberto Álvarez Vélez;Rosana Alvarez Potes
Esta obra está bajo licencia internacional
Creative Commons Reconocimiento 4.0
.