Lactato sérico como predictor de mortalidad en pacientes con hemorragias de vías digestivas altas
Resumen
Metodología: Se realizó una revisión sistemática a través de diversas bases de datos de enero de 2012 a febrero de 2022; la búsqueda y selección de artículos fue llevada a cabo en revistas indexadas en idioma inglés. Se utilizaron como palabras clave: Lactato, Mortalidad, Hemorragias gastrointestinales, sepsis. Resultados: Comparando la hemorragia de vías digestivas altas con la ulcera péptica, podemos evidenciar que esta última ha disminuido su incidencia, en cambio la hemorragia digestiva alta (HDA) sigue siendo una causa importante de hospitalización con una mortalidad sustancial a pesar de los avances significativos en su tratamiento. El aumento del nivel de lactato sérico causa acidosis láctica en condiciones especiales. En general, la acidosis láctica se caracteriza por un aumento persistente de los niveles de lactato en sangre (generalmente > 4 a 5 mmol/L). El lactato se sigue utilizando como herramienta de pronóstico en otras poblaciones de pacientes, tales como pacientes de cuidados intensivos, pacientes con shock séptico, cirugía reciente, quemaduras. El shock, se considera como la causa principal de la generación de hiperlactatemia, niveles severos de lactato y acidosis láctica. Conclusiones: La presente revisión ofrece información actualizada y detallada sobre el papel que juega el ácido activo como predictor de mortalidad en pacientes que padecen hemorragias gastrointestinales.
Palabras clave:
lactato, mortalidad, hemorragias gastrointestinales, sepsis
Descargas
La descarga de datos todavía no está disponible.
Citas
Bullock B, Benham MD. StatPearls [Internet]. StatPearls Publishing; Treasure Island (FL): Jun 26, 2021. Bacterial Sepsis.
Gillies RJ, Pilot C, Marunaka Y, Fais S. Targeting acidity in cancer and diabetes. Biochim Biophys Acta Rev Cancer. 2019 Apr;1871(2):273-280
Corremans R, Vervaet BA, D'Haese PC, Neven E, Verhulst A. Metformin: A Candidate Drug for Renal Diseases. Int J Mol Sci. 2018 Dec 21;20(1)
Donnan K, Segar L. SGLT2 inhibitors and metformin: Dual antihyperglycemic therapy and the risk of metabolic acidosis in type 2 diabetes. Eur J Pharmacol. 2019 Mar 05;846:23-29.
Pia S, Lui F. StatPearls [Internet]. StatPearls Publishing; Treasure Island (FL): Sep 25, 2021. Melas Syndrome.
Mao Y, Dai D, Jin H, Wang Y. The risk factors of linezolid-induced lactic acidosis: A case report and review. Medicine (Baltimore). 2018 Sep;97(36):e12114.
Kluge S, de Heer G, Jarczak D, Nierhaus A, Fuhrmann V. [Lactic acidosis - update 2018]. Dtsch Med Wochenschr. 2018 Aug;143(15):1082-1085.
Doshi PB, Park AY, Banuelos RC, Akkanti BH, Darger BF, Macaluso A, Thangam M, Chambers KA. The Incidence and Outcome Differences in Severe Sepsis with and without Lactic Acidosis. J Emerg Trauma Shock. 2018 Jul-Sep;11(3):165-169.
Wuerth BA, Rockey DC. Changing Epidemiology of Upper Gastrointestinal Hemorrhage in the Last Decade: A Nationwide Analysis. Dig Dis Sci. 2018 May;63(5):1286-1293.
Strate LL, Gralnek IM. ACG Clinical Guideline: Management of Patients With Acute Lower Gastrointestinal Bleeding. Am J Gastroenterol. 2016 May;111(5):755
Oakland K, Jairath V, Uberoi R, Guy R, Ayaru L, Mortensen N, Murphy MF, Collins GS. Derivation and validation of a novel risk score for safe discharge after acute lower gastrointestinal bleeding: a modelling study. Lancet Gastroenterol Hepatol. 2017 Sep;2(9):635-643.
Ghassemi KA, Jensen DM. Lower GI bleeding: epidemiology and management. Curr Gastroenterol Rep. 2013;15(7):333. doi: 10.1007/s11894-013-0333-5.
El-Tawil AM. Trends on gastrointestinal bleeding and mortality: where are we standing? World J Gastroenterol. 2012;18(11):1154–1158. doi: 10.3748/wjg.v18.i11.1154
Diamantopoulou G, Konstantakis C, Kottoromicronu A, Skroubis G, Theocharis G, Theopistos V, Triantos C. et al. Acute lower gastrointestinal bleeding: characteristics and clinical outcome of patients treated with an intensive protocol. Gastroenterology Res. 2017;10(6):352–358. doi: 10.14740/gr914w
El-Kersh K, Chaddha U, Sinha RS, Saad M, Guardiola J, Cavallazzi R. Predictive role of admission lactate level in critically ill patients with acute upper gastrointestinal bleeding. J Emerg Med. 2015;49(3):318–325. doi: 10.1016/j.jemermed.2015.04.008.
Kwon YH. Lactate parameters predict clinical outcomes in patients with nonvariceal upper gastrointestinal bleeding. J Korean Med Sci. 2017;32(11):1731. doi: 10.3346/jkms.2017.32.11.1731.
Stokbro LA, Schaffalitzky de Muckadell OB, Laursen SB. Arterial lactate does not predict outcome better than existing risk scores in upper gastrointestinal bleeding. Scand J Gastroenterol. 2018;53(5):586–591. doi: 10.1080/00365521.2017.1397737.
Shrestha MP, Borgstrom M, Trowers EA. Elevated lactate level predicts intensive care unit admissions, endoscopies and transfusions in patients with acute gastrointestinal bleeding. Clin Exp Gastroenterol. 2018;11:185–192. doi: 10.2147/CEG.S162703.
Robertson M, Majumdar A, Boyapati R, Chung W, Worland T, Terbah R, Wei J. et al. Risk stratification in acute upper GI bleeding: comparison of the AIMS65 score with the Glasgow-Blatchford and Rockall scoring systems. Gastrointest Endosc. 2016;83(6):1151–1160. doi: 10.1016/j.gie.2015.10.021.
Gralnek IM, Dumonceau JM, Kuipers EJ, Lanas A, Sanders DS, Kurien M, Rotondano G, Hucl T, Dinis-Ribeiro M, Marmo R, et al. Diagnosis and management of nonvariceal upper gastrointestinal hemorrhage: European Society of Gastrointestinal Endoscopy (ESGE) Guideline. Endoscopy. 2015;47:a1–a46.
Martínez-Cara JG, Jiménez-Rosales R, Úbeda-Muñoz M, de Hierro ML, de Teresa J, Redondo-Cerezo E. Comparison of AIMS65, Glasgow-Blatchford score, and Rockall score in a European series of patients with upper gastrointestinal bleeding: performance when predicting in-hospital and delayed mortality. United European Gastroenterol J. 2016;4:371–379.
Wada T, Hagiwara A, Uemura T, Yahagi N, Kimura A. Early lactate clearance for predicting active bleeding in critically ill patients with acute upper gastrointestinal bleeding: a retrospective study. Intern Emerg Med. 2016;11:737–743.
Cho SH, Lee YS, Kim YJ, Sohn CH, Ahn S, Seo DW, Kim WY, Lee JH, Lim KS. Outcomes and role of urgent endoscopy in high-risk patients with acute nonvariceal gastrointestinal bleeding. Clin Gastroenterol Hepatol. 2017 Forthcoming.
Seheult J, Fitzpatrick G, Boran G. Lactic acidosis: an update. Clin Chem Lab Med. 2017;55:322–333.
Y. Hwan, Lactate Parameters Predict Clinical Outcomes in Patients with Nonvariceal Upper Gastrointestinal Bleeding. J Korean Med Sci. 2017 Nov; 32(11): 1731. doi: 10.3346/jkms.2017.32.11.1731
Gralnek I.M., Stanley A.J., Morris A.J., Camus M., Lau J., Lanas A., Laursen S.B., Radaelli F., Papanikolaou I.S., Gonçalves T.C., et al. Endoscopic diagnosis and management of nonvariceal upper gastrointestinal hemorrhage (NVUGIH): European Society of Gastrointestinal Endoscopy (ESGE) Guideline—Update 2021. Endoscopy. 2021;53:300–332. doi: 10.1055/a-1369-5274.
S. Marcin, W. Marek, D. Marcin. Predictive Role of Admission Venous Lactate Level in Patients with Upper Gastrointestinal Bleeding: A Prospective Observational Study. J Clin Med. 2022 Jan; 11(2): 335. doi: 10.3390/jcm11020335
B. Matthew, V. Diviloc, G. Teressa. Lactic Acid Is an Independent Predictor of Mortality and Improves the Predictive Value of Existing Risk Scores in Patients Presenting With Acute Gastrointestinal Bleeding. Gastroenterology Res. 2019 Feb; 12(1): 1–7. doi: 10.14740/gr1085w
S. Charoentanyarak, B. Sawunyavisuth, S. Deepai, K. Sawanyawisuth. A Point-of-Care Serum Lactate Level and Mortality in Adult Sepsis Patients: A Community Hospital Setting. J Prim Care Community Health. 2021 Jan-Dec; 12: 21501327211000233. doi: 10.1177/21501327211000233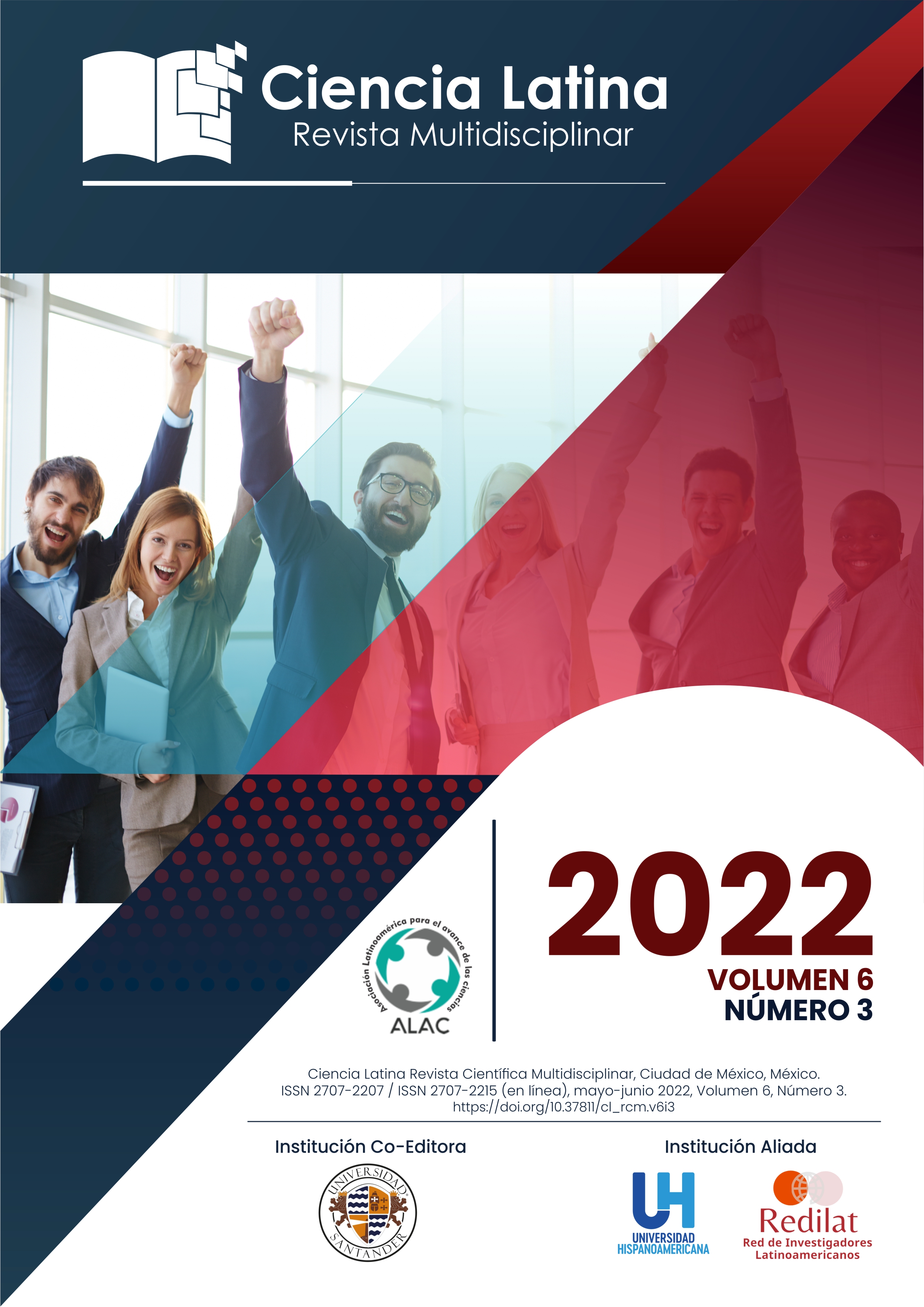 Cómo citar
Villalba Fonseca, I. D., Llerena Velasteguí, J. G., Torres Hernández, F. A., Mendoza Ortiz, B., Triana Cerón, M. Ángel, Tapia Salamanca, V. P., Ferrer Ayola, M. J., Vásquez de Ángel, E. D., & Bernal Espitia, M. M. (2022). Lactato sérico como predictor de mortalidad en pacientes con hemorragias de vías digestivas altas. Ciencia Latina Revista Científica Multidisciplinar, 6(3), 1573-1585. https://doi.org/10.37811/cl_rcm.v6i3.2313
Derechos de autor 2022 Israel David Villalba Fonseca;Jordan Gonzalo Llerena Velasteguí;Fernan Andrés Torres Hernández;Benigno Mendoza Ortiz;Miguel Ángel Triana Cerón;Vanessa Paola Tapia Salamanca;María José Ferrer Ayola;Edgar Danilo Vásquez de Ángel;María María Bernal Espitia
Esta obra está bajo licencia internacional
Creative Commons Reconocimiento 4.0
.