Hipertensión de rebote por suspensión de la clonidina ¿cómo usarla?
Resumen
Metodología: Se realizó una revisión sistemática a través de diversas bases de datos; la búsqueda y selección de artículos fue llevada a cabo en revistas indexadas en idioma inglés. Se utilizaron como palabras clave: Hipertensión, Clonidina, abstinencia, antihipertensivos. Resultados: La clonidina es un medicamento antihipertensivo que actúa sobre los agonistas de los receptores alfa-adrenérgicos y de imidazolina. Puede ser utilizada además para el control de los síntomas de abstinencia de los opioides, las benzodiazepinas y el alcohol, y para el tratamiento de la ansiedad, el insomnio y el trastorno de estrés postraumático. La reducción de las dosis diarias permite al paciente reajustarse continuamente a los niveles más bajos de clonidina en el cuerpo sin iniciar la abstinencia por la eliminación repentina del fármaco. Conclusiones: La presente revisión ofrece información actualidad y precisa de las consecuencias de la interrupción espontanea de la clonidina en pacientes con hipertensión de base, con el fin de evitar las llamadas hipertensión de rebote.
Palabras clave:
hipertensión, clonidina, abstinencia, antihipertensivos
Descargas
La descarga de datos todavía no está disponible.
Citas
Khakurel S, Sapkota S, Karki AJ. Analgesic Effect of Caudal Bupivacaine with or without Clonidine in Pediatric Patient. J Nepal Health Res Counc. 2019 Jan 28;16(41):428-433.
Bello M, Oger S, Bedon-Carte S, Vielstadte C, Leo F, Zaouter C, Ouattara A. Effect of opioid-free anaesthesia on postoperative epidural ropivacaine requirement after thoracic surgery: A retrospective unmatched case-control study. Anaesth Crit Care Pain Med. 2019 Oct;38(5):499-505.
Kuzmin OB, Buchneva NN, Zhezha VV, Serdyuk SV. [Uncontrolled Arterial Hypertension: Kidney, Neurohormonal Imbalance, and Approaches to Antihypertensive Drug Therapy]. Kardiologiia. 2019 Dec 11;59(12):64-71.
Rahimi-Movaghar A, Gholami J, Amato L, Hoseinie L, Yousefi-Nooraie R, Amin-Esmaeili M. Pharmacological therapies for management of opium withdrawal. Cochrane Database Syst Rev. 2018 Jun 21;6:CD007522.
Toce MS, Chai PR, Burns MM, Boyer EW. Pharmacologic Treatment of Opioid Use Disorder: a Review of Pharmacotherapy, Adjuncts, and Toxicity. J Med Toxicol. 2018 Dec;14(4):306-322.
Lawes CM, Vander Hoorn S, Rodgers A. Global burden of blood-pressure-related disease, 2001. Lancet. 2008;371:1513–1518.
Vangen-Lonne AM, Wilsgaard T, Johnsen SH, Lochen ML, Njolstad I, Mathiesen EB. Declining incidence of ischemic stroke: what is the impact of changing risk factors? The Tromso Study 1995 to 2012. Stroke. 2017;48:544–550.
Ho PM, Magid DJ, Shetterly SM, et al. Importance of therapy intensification and medication nonadherence for blood pressure control in patients with coronary disease. Arch Intern Med. 2008;168:271–276.
Wallace SM, Yasmin, McEniery CM, et al. Isolated systolic hypertension is characterized by increased aortic stiffness and endothelial dysfunction. Hypertension. 2007;50:228–233.
Freeman R, Wieling W, Axelrod FB, et al. Consensus statement on the definition of orthostatic hypotension, neurally mediated syncope and the postural tachycardia syndrome. Clin Auton Res. 2011;21:69–72.
Mancia G, Facchetti R, Bombelli M, Grassi G, Sega R. Long-term risk of mortality associated with selective and combined elevation in office, home, and ambulatory blood pressure. Hypertension. 2006;47:846–853.
Hopkins P. Malignant hyperthermia: advances in clinical management and diagnosis. Br J Anaesth 2000;28:118–28. 10.1093/bja/85.1.118
Ahuja A. Rebound hypertension following withdrawal of clonidine. Psychiatr Bull 2007;31:274–5. 10.1192/pb.31.7.274c
Karachalios G, Charalabopoulos A, Papalimneou V et al. . Withdrawal syndrome following cessation of antihypertensive drug therapy. Int J Clin Pract 2005;59:562–70. 10.1111/j.1368-5031.2005.00520.
Liatsi D, Tsapas B, Smaro P et al. . Respiratory, metabolic and hemodynamic effects of clonidine in ventilated patients presenting with withdrawal syndrome. Intensive Care Med 2009;35:275–81. 10.1007/s00134-008-1251-0
Sachdev Y, Evered D, Hall R. Rapid clonidine withdrawal with blood pressure overshoot exaggerated by beta-blockade. BMJ 1976;1:942–3. 10.1136/bmj.1.6015.942
Perry P, Wilborn C. Serotonin syndrome vs neuroleptic malignant syndrome: a contrast of causes, diagnoses and management. Ann Clin Psychiatry 2012;24:155–62.
Hunyor S, Hannson L, Harrison T et al. . Effects of clonidine withdrawal: possible mechanisms and suggestions for management. BMJ 1973;2:209–11. 10.1136/bmj.2.5860.209
S. Michael, M. Ramprasad, Clonidine withdrawal induced sympathetic surge. BMJ Case Rep. 2015; 2015: bcr2015210325. doi: 10.1136/bcr-2015-210325
G. Geyskes, P. Boer, J. Dorhout, Clonidine withdrawal. Mechanism and frequency of rebound hypertension. Br J Clin Pharmacol. 1979 Jan; 7(1): 55–62. doi: 10.1111/j.1365-2125.1979.tb00897.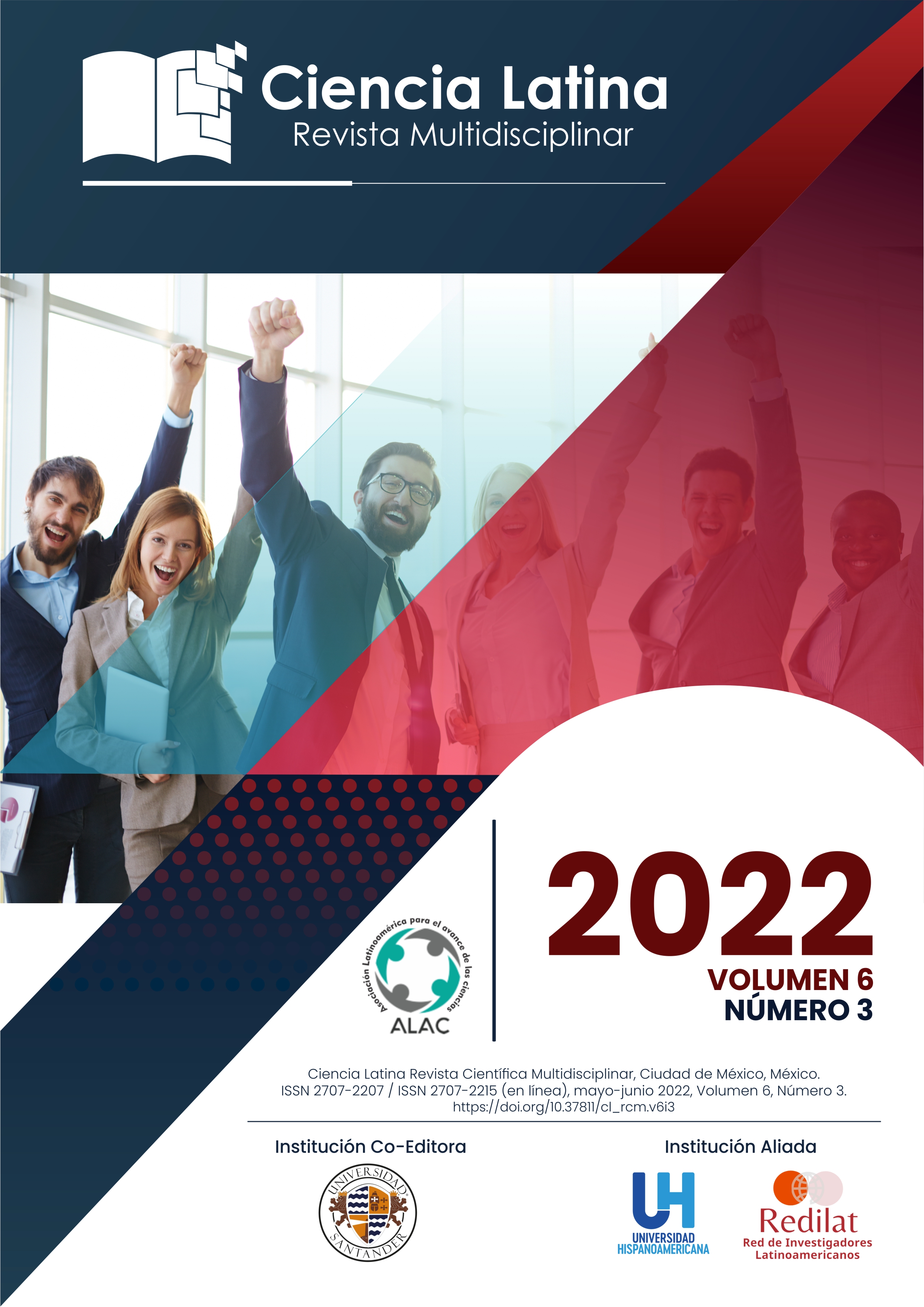 Cómo citar
Pérez Martínez, J. A., Pinzón Reyes, G. M., Cabrera Vega, E. N., Burbano Insuasty, C. C., Carvajal Ojeda, J. C., Cantero Romero, K., Solis Espinosa, H., & Ditta Cassiani, M. A. (2022). Hipertensión de rebote por suspensión de la clonidina ¿cómo usarla?. Ciencia Latina Revista Científica Multidisciplinar, 6(3), 1598-1610. https://doi.org/10.37811/cl_rcm.v6i3.2316
Derechos de autor 2022 Javier Alfredo Pérez Martínez;Gabriela Michelle Pinzón Reyes;Erika Nathaly Cabrera Vega;Cristian Camilo Burbano Insuasty;Jennifer Cristina Carvajal Ojeda;Kevin Cantero Romero;Hernando Solis Espinosa;Marco Antonio Ditta Cassiani
Esta obra está bajo licencia internacional
Creative Commons Reconocimiento 4.0
.