Eficiencia del gasto de las inversiones en una entidad pública. Piura, 2022
Resumen
El objetivo de la investigación fue analizar la eficiencia técnica del gasto de las inversiones en una entidad regional en el año 2022. La hipótesis planteada radicó en que la eficiencia no fue la esperada. Es una investigación básica, analítica y transversal. Se utilizó la revisión documental de 81 inversiones educativas culminadas y registradas en los portales web del MEF, CGR y de la entidad analizada. Se aplicaron 3 metodologías no paramétricas y 2 paramétricas a través de los programas excel, SPSS, Stata y Matlab. Como resultados se obtuvo que en promedio la eficiencia no fue la esperada donde no necesariamente las inversiones con mayor cantidad de output o input implicaron ser más eficientes; y, en promedio se hubiesen obtenido los mismos resultados con 75% menos recursos. Se concluye que es de vital importancia implementar las estrategias inmediatas que permitan mejorar estos indicadores y revertir estas deficiencias, toda vez que el aporte de la inversión pública beneficia a la población, y de continuar con este problema, se prevé el deterioro de la percepción ciudadana en el buen uso del gasto público y en sus expectativas de ver concretizados sus obras.
Palabras clave:
eficiencia, gasto público, inversiones
Descargas
La descarga de datos todavía no está disponible.
Citas
Agrell, Per J., and B. Martin West. 2001. "Caveat on the Measurement of Productive Efficiency." International Journal of Production Economics 69(1):1–14. doi: https://doi.org/10.1016/S0925-5273(00)00036-0.
Armendáriz, Edna, and Haydeeliz Carrasco. 2019. "El Gasto En Inversión Pública de América Latina." Banco Intermericano de Desarrollo 1–39.
Basurto Hernández, Saúl, and Gabriela Sánchez Trujillo. 2022. "Technical Efficiency in Small and Medium-Sized Firms in Mexico: A Stochastic Frontier Analysis." Estudios Económicos (México, DF) 37:103–47. doi: https://doi.org/10.24201/ee.v37i1.427.
Behar-Villegas, Erick. 2021. "Culturas Del Malgasto Público: Ineficiencia Estatal y Narrativas de Política Pública." Revista de Administração Pública 55(3):662–78. doi: https://doi.org/10.1590/0034-761220200647.
De Borger, Bruno, and Kerstens Kristiaan. 1996. "Cost Efficiency of Belgian Local Governments: A Comparative Analysis of FDH, DEA, and Econometric Approaches." Ciencias Regionales y Economía Urbana 26(2):145–70. doi: https://doi.org/10.1016/0166-0462(95)02127-2.
Carlos Alfredo, Villa Maura, Diana Evelyn Vargas Ulloa, and Edgar Franciscco Merino Villa. 2018. "La Eficiencia Del Gasto Público Del Sistema de Educación Superior En El Ecuador." MktDescubre - ESPOCH FADE 11:15–23. doi: https://doi.org/10.36779/mktdescubre.v11.149.
Castillo, Jorge, José Rodríguez H., Juan Henostroza, and Dominga Ayvar C. 2020. "La Eficiencia Técnica, Del Gasto Público En La Formación de Bachilleres y Titulados En La Universidad Nacional 'Santiago Antúnez de Mayolo' Periodo 2006 - 2008." Aporte Santiaguino 3(1):53–59. doi: https://doi.org/10.32911/as.2010.v3.n1.421.
Charnes, Abraham, William W. Cooper, and E. Rhodes. 1978. "Measuring the Efficiency of Decision Making Units." European Journal of Operational Research 270(Issue 6):429–44. doi: https://doi.org/10.1016/0377-2217(78)90138-8.
Comas Rodríguez, Raúl, Ariel Romero Fernández, Patricio Portero Sánchez, Ana Gabriela Reinoso Espinosa, and Walter Jarrín López. 2020. "Relación Entre El PIB per Cápita, Calidad Institucional y Gasto Público." Revista Dilemas Contemporáneos: Educación, Política y Valores 21(1):1–9. doi: http://dx.doi.org/10.4067/S0718-50732018000100069.
Concytec. 2018. "Reglamento de Calificación, Clasificación y Registro de Los Investigadores Del Sistema Nacional de Ciencia, Tecnología e Innovación Tecnológica - Reglamento Renacyt." 12.
Córdova, J., and C. Alberto. 2018. "Measurement of Efficiency in the Construction Industry and Its Relationship with Working Capital." Revista Ingenieria de Construccion 33(1):69–82. doi: https://doi.org/10.4067/s0718-50732018000100069.
Da Costa, Keanu Telles. 2022. "The Road to The General Theory: J. M. Keynes, F. A. Hayek, and the Genealogy of Macroeconomics." Brazilian Journal of Political Economy 42(1):48–70. doi: https://doi.org/10.1590/0101-31572022-3231.
Cristóbal, Jorge, Michael Ehrenstein, Antonio Domínguez-Ramos, Ángel Galán-Martín, Carlos Pozo, María Margallo, Rubén Aldaco, Laureano Jiménez, Ángel Irabien, and Gonzalo Guillén-Gosálbez. 2021. "Unraveling the Links between Public Spending and Sustainable Development Goals: Insights from Data Envelopment Analysis." Science of the Total Environment 786:147459. doi: https://doi.org/10.1016/j.scitotenv.2021.147459.
D'elia, Vanesa, and Gustavo Ferro. 2021. "Efficiency in Public Higher Education: A Stochastic Frontier Analysis Considering Heterogeneity." Revista de Análisis Económico (RAE) 36(2):21–51.
D'Inverno, Giovanna, Laura Carosi, and Letizia Ravagli. 2018. "Global Public Spending Efficiency in Tuscan Municipalities." Socio-Economic Planning Sciences 61:102–13. doi: https://doi.org/10.1016/j.seps.2017.01.006.
Dinh Thanh, Su, Neil Hart, and Nguyen Phuc Canh. 2020. "Public Spending, Public Governance and Economic Growth at the Vietnamese Provincial Level: A Disaggregate Analysis." Economic Systems 44(4):100780. doi: https://doi.org/10.1016/j.ecosys.2020.100780.
Dominique, Deprins, Simar Leopoldo, and Tulken Henry. 2006. "Measuring Labor-Efficiency in Post Offices." Springer Science+Business Media, LLC. doi: https://doi.org/10.1007/978-0-387-25534-7_16.
Dumont, Jorge Rafael Díaz, Luis Alberto Núñez Lira, and Katty Verónica Cáceres Limaco. 2018. "Influencia de Las Competencias Gerenciales y La Gestión Por Resultados En La Imagen Institucional." Fides et Ratio-Revista de Difusión Cultural y Científica de La Universidad La Salle En Bolivia 16(6):169–97.
Edilberto, Irvin, and Guerra Rodríguez. 2020. "Modelo de Gestión Por Resultados Para Mejorar La Calidad de Gasto En La Unidad de Gestión Educativa Local , San Martín Results-Based Management Model to Improve the Quality of Spending in the Local Educational Management Unit , San Martín." 2215:738–58.
Eslava Zapata, Rolando, Edixon Chacón Guerrero, and Hilario Gonzáles Junior. 2019. "Gestión Del Presupuesto Público: Alcance y Limitaciones." Visión Interncional 2(1):8–14.
Espinoza-Beraún, Liz M., Juan C. Espinoza-Beraún, and Silvana Molina-Espinoza. 2020. "El Seguimiento En La Gestión de Los Programas Sociales." Gaceta Científica 6(2):69–79. doi: 10.46794/gacien.6.2.783.
Flavin, Patrick. 2019. "State Government Public Goods Spending and Citizens' Quality of Life." Social Science Research 78(April 2018):28–40. doi: 10.1016/j.ssresearch.2018.11.004.
French-Davis, Ricardo, and Álvaro Díaz. 2019. "La Inversión Productiva En El Desarrollo Económico de Chile : Evolución y Desafíos." Revista de La CEPAL 124:1–27.
Fuentes Vega, José Ramón, Víctor Millo Carmenate, Juan Bautista Cogollos Martínez, Anairys Pérez Chaviano, and Pedro Fundora Beltrán. 2021. "The System of Indicators to Evaluate the Performance of Cargo Transportation." Universidad y Sociedad 13(3):342–53.
Garmatz, Aline, Guilherme Bergmann Borges Vieira, and Sérgio Antonio Sirena. 2021. "Assessing the Technical Efficiency of Brazil's Teaching Hospitals Using Data Envelopment Analysis." Ciencia e Saude Coletiva 26:3447–57. doi: DOI: 10.1590/1413-81232021269.2.34632019.
González Cisneros, América Lorena, and Norma Angélica Pedraza Melo. 2021. "Factores Del Capital Humano y Desempeño En Instituciones de Educación Media Superior." Perfiles Educativos 43(174):1–20. doi: 10.22201/iisue.24486167e.2021.174.59393.
Greene, William H. 2008. "The Econometric Approach to Efficiency Analysis." Oxford University Press, UK. P. 92–250. doi: DOI: 10.1093/acprof:oso/9780195183528.003.0002.
Halaskova, Martina, Renata Halaskova, and Viktor Prokop. 2018. "Evaluation of Efficiency in Selected Areas of Public Services in European Union Countries." Sustainability (Switzerland) 10(12):1–17. doi: 10.3390/su10124592.
Hernández Sampieri, Roberto, Carlos Fernández Collado, and Pilar Baptista Lucio. 2014. Metodología de La Investigación. Sexta Edic. México: McGRAW-HILL /Interamericana Editores, S.A. de C.V.
Herrera, Pedro, and Pedro Francke. 2007. "Análisis de La Eficiencia Del Gasto Municipal y de Sus Determinantes." Consejo Nacional de Ciencia y Tecnología 1–101.
Huacchillo Pardo, Letty Angélica, Noé Torres Surita, and Emma Verónica Ramos Farroñán. 2020. "Public Investment: Contributing Factor for Growth and Business Entrepreneurship." Universidad y Sociedad NIVERSIDAD Y SOCIEDAD | Have Scientific of the University of Cienfuegos| Have Scientific of the University of Cienfuegos 12(2):350–55.
Hurtado de Barrera, Jacqueline. 2010. Metodología de La Investigación: Guía Para La Comprensión Holística de La Ciencia. Cuarta. edited by Centro Internacional de Estudios Avanzados Sypal y Ediciones Quirón S. A. Caracas, República Bolivariana de Venezuela.
Ibarra Pardo, Luis Alberto. 2021. "El Sistema de Evaluación Del Gasto Público En México En Los Proyectos de Presupuesto de Egresos de La Federación 2018 y 2021: Avances y Retrocesos." The Anáhuac Journal 21(1):94–117. doi: 10.36105/theanahuacjour.2021v21n1.04.
INEI. 2021. "Perú: Estado de La Población En El Año Del Bicentenario, 2021." Instuto Nacional de Estadística e Informática 3:3–75.
IPE. 2021. Índice de Competitividad Regional - INCORE 2021. Vol. 148.
Izquierdo, Alejandro, and Carola Pessino. 2018. "Mejor Gasto Para Mejores Vidas: Cómo América Latina y El Caribe Puede Hacer Más Con Menos." Mejor Gasto Para Mejores Vidas: Cómo América Latina y El Caribe Puede Hacer Más Con Menos.
De Jorge-Moreno, Justo, Javier Díaz Castro, Diana Victoria Rodríguez Vega, and José Miguel Segura Gutiérrez. 2018. "Analysis of Educational Efficiency and Its Explanatory Factors Considering the Effect of Ownership in Colombia with Pisa 2012 Data." Desarrollo y Sociedad 2018(80):89–118. doi: 10.13043/dys.80.3.
Labarca Ferrer, Nelson, Luis Márquez Ortiz, and Lelly Useche Castro. 2021. "De La Teoría Del Crecimiento Económico Exógeno Al Endógeno: Un Recorrido Analítico y Conceptual." Revista Venezolana de Gerencia 26(6 Edición Especial):245–65. doi: 10.52080/rvgluz.26.e6.15.
López-Torres, Laura, and Diego Prior. 2020. "Long-Term Efficiency of Public Service Provision in a Context of Budget Restrictions. An Application to the Education Sector." Socio-Economic Planning Sciences (September):100946. doi: 10.1016/j.seps.2020.100946.
Lucas, Robert E. 1988. "On the Mechanics of Economic Development." Journal of Monetary Economics 22(1):3–42. doi: 10.1016/0304-3932(88)90168-7.
Mankiw Gregory, N., David Romer, and David N. Weil. 1992. "A Contribution to the Empirics of Economic Growth." Quarterly Journal of Economics 107(2):407–37. doi: 10.2307/2118477.
MEF. 2022a. "Aplicativo Consulta Inversiones." Retrieved (http://ofi5.mef.gob.pe/inviertePub/ConsultaPublica/ConsultaAvanzada).
MEF. 2022b. "Glosario de Presupuesto Público."
MEF. 2022c. "Marco Macroeconomico Multianual 2022-2025." República Del Perú Ministerio De Economía Y Finanzas Marco 235.
Mesías-Tamayo, Rita Alexandra, Edíson Bolívar Reza-Paocarina, and Lady Andrea León-Serrano. 2020. "Eficiencia Del Gasto Público En Educación y Salud En América Latina." Revista Cumbres 6 No 2:35–52.
Milanesi, Alejandro. 2018. "La Gestión Por Resultados: Una Revisión de La Literatura y Sus Desafíos En América Latina." Administración y Desarrollo 48(1):170–99. doi: 10.22431/25005227.425.
Olivos Campos, Carlos, and Víctor Daniel Quiñones Jaico. 2018. "Análisis de La Eficiencia Del Gasto Público de La Municipalidad Provincial de Chiclayo y Su Impacto Socioeconómico." In Crescendo. Institucional 6(1):120–32. doi: https://doi.org/10.21895/incres.2015.v6n1.11.
Pacheco-Feria, Ulises, Rosa Marina Castellanos-Dorado, and Milagros Morales Pérez. 2020. "Importance of the Integral Focus of the Economic Efficiency to Improve Decision Making." 143–54.
Pérez-Romero, Carmen, M. Isabel Ortega-Díaz, Ricardo Ocaña-Riola, and José Jesús Martín-Martín. 2019. "Multilevel Analysis of the Technical Efficiency of Hospitals in the Spanish National Health System by Property and Type of Management." Gaceta Sanitaria 33(4):325–32. doi: 10.1016/j.gaceta.2018.02.005.
Petrera Pavon, Margarita, and Eduardo Jiménez Sánchez. 2019. "Determinants of Out-of-Pocket Spending on Health among the Poor Population Served by Public Services of Health in Peru, 2010–2014." Revista Panamericana de Salud Pública 1–7. doi: https://doi.org/10.26633/RPSP.2018.20.
Portillo Melo, Danyeli Maricel, Francely Brigit Enriquez Guerra, and Julio César Riascos Hermoza. 2019. "Factores Económicos Que Inciden Sobre El Índice de Eficiencia Técnica de Los Hospitales Públicos Del Departamento de Nariño - Colombia 2008 – 2014." Apuntes Del Cenes 38(67):193–225. doi: 10.19053/01203053.v38.n67.2019.7364.
Prebisch, Raúl. 1949. "The Economic Development of Latin America and Its Principal Problems." Economic Commission for Latin America 1–93.
Rodríguez Pánduro, María Séfora, Gabriela del Pilar Palomino Alvarado, and Carlos Miguel Aguilar Saldaña. 2020. "Eficiencia, Eficacia y Transparencia Del Gasto Público Municipal." Revista Científica Multidisciplinar 4 No 2:704–19. doi: 10.37811/cl_rcm.v4i2.108.
Salas-Velasco, Manuel. 2018. "Production Efficiency Measurement and Its Determinants across OECD Countries: The Role of Business Sophistication and Innovation." Economic Analysis and Policy 57:60–73. doi: 10.1016/j.eap.2017.11.003.
Salinas Jimenez, Javier, and Francisco Pedraja Chaparro. 2018. "Análisis de La Eficiencia Del Gasto Público En Educación Secundaria." Pp. 1–10 in Encuentro de Economía Pública.
Sanmartín-Durango, Daysi, María Alejandra Henao-Bedoya, Yair Tadeo Valencia-Estupiñán, and Jairo Humberto Restrepo-Zea. 2019. "Efficiency of Health Expenditure in the OECD and LAC: A Data Envelopment Analysis." Lecturas de Economia (91):41–78. doi: 10.17533/udea.le.n91a02.
Sen, Amartya. 2000. "Desarrollo y Liberdad." Desarrollo y Libertad 435.
Smelser, Neil J. 1967. "Toward a Theory of Modernization." Tribal and Peasant Economies 29–48.
Suchecki, Adam M. 2020. "An Evaluation of the Technical Efficiency of Cultural Institutions in Poland: A Case Study of the Regional System of Public Libraries." Argumenta Oeconomica 2020(2):163–87. doi: 10.15611/aoe.2020.2.07.
Tello Miranda, Marco Antonio, and José Ovidio Flores Guitiérrez. 2021. "Technical Efficiency of Public Universities in Peru." Revista Industrial Data 24(1):166–77. doi: https://dx.doi.org/10.15381/idata.v24i1.19661 Production.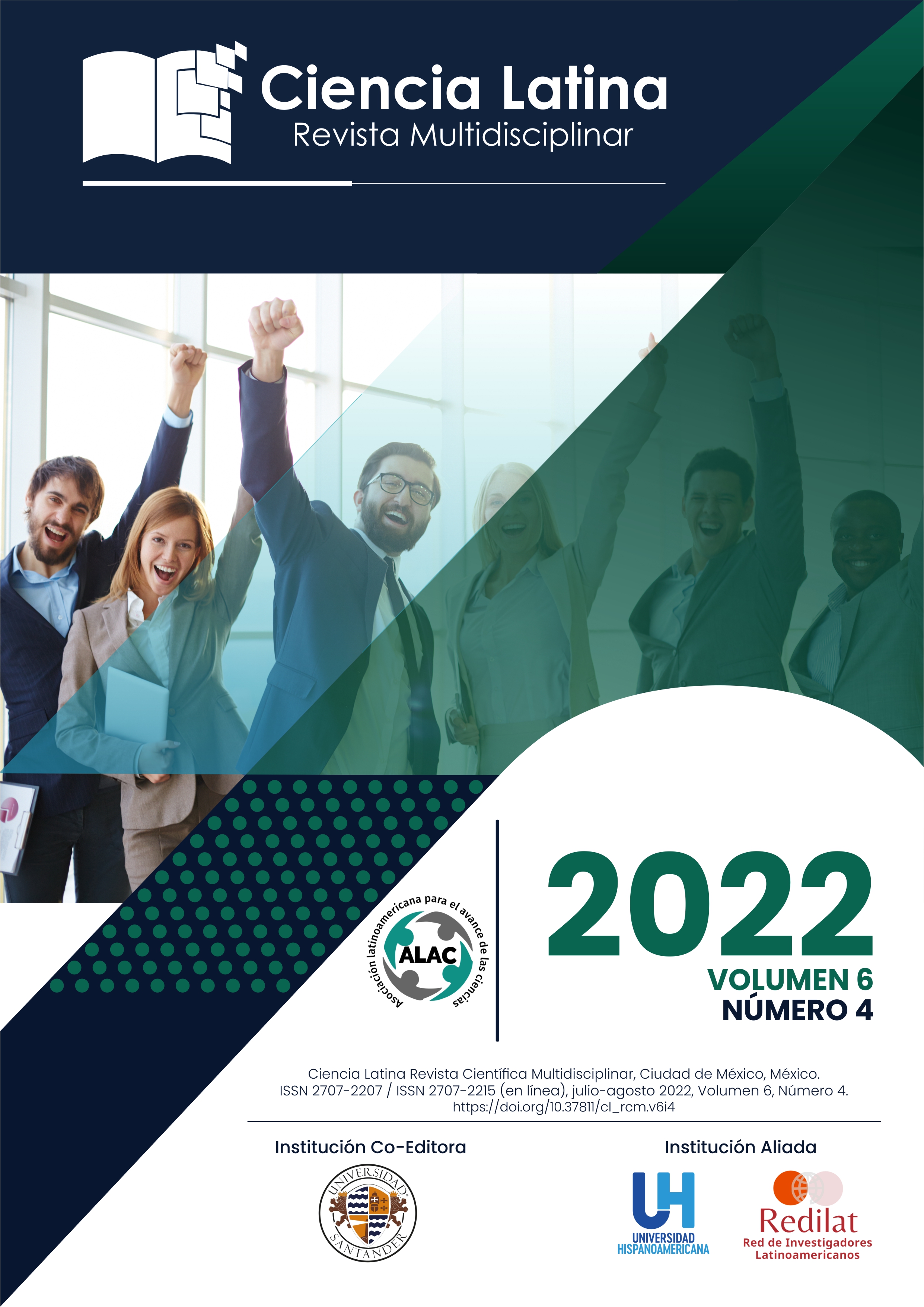 Cómo citar
Nunura Vite, L. A., & Luján Johnson, G. L. (2022). Eficiencia del gasto de las inversiones en una entidad pública. Piura, 2022. Ciencia Latina Revista Científica Multidisciplinar, 6(4), 34-51. https://doi.org/10.37811/cl_rcm.v6i4.2515
Derechos de autor 2022 Luis Angel Nunura Vite;Gladys Lola Luján Johnson
Esta obra está bajo licencia internacional
Creative Commons Reconocimiento 4.0
.