Afectación cardíaca del SARS-COV-2
Carlos Andrés Genes Vasquez

https://orcid.org/0000-0001-8189-7363

María Mónica Alejandra Cardenas Moreno

Médico general, Universidad Cooperativa de Colombia

Maria Fernanda Portilla Galván

Medico general, Universidad de Santander UDES

German Adolfo Flórez Moreno

Médico general, Universidad Industrial de Santander Bucaramanga, Colombia

https://orcid.org/0000-0002-4153-8443

Yefferson David Salinas Herrera

Médico general, Universidad de Santander UDES

Mario Enrique Sayas Herazo

Médico general, Corporación Universitaria Rafael Nuñez

Lisbeth Abaneth Trillos Robles

Médico general, Corporación Universitaria Rafael Nuñez

Elian Eugenio Reyes Cortecero

Médico general, Corporación Universitaria Rafael Nuñez
Palabras clave:
sars cov 2, covid-19, cardiopatías, epidemiologia
Resumen
Antecedentes: Al igual que otros virus de ARN, el SARS-CoV-2, mientras se adapta a sus nuevos huéspedes humanos, es propenso a la evolución genética con el desarrollo de mutaciones. La aparición de nuevas variantes del SARS-CoV-2 amenaza con anular el importante progreso logrado hasta ahora con respecto a las vacunas. Al interactuar el Sars-Cov-2 con el sistema cardiovascular puede afectarlo, ocasionando un daño miocárdico tanto leve como grave. Metodología: Se realizó una revisión sistemática a través de diversas bases de datos de diciembre de 2019 a Julio de 2022; la búsqueda y selección de artículos fue llevada a cabo en revistas indexadas en idioma inglés. Resultados: Los principales mecanismos conocidos son el del Receptor ACE2, el del SARS-COV-2 y la respuesta inmune entre otros. La Linfopenia, El lactato deshidrogenasa, Enzimas hepáticas, Ferritina y proteína C reactiva, Tiempo de protrombina, Troponina, Creatina fosfoquisana, creatinina sérica y dímero D son exámenes atribuidos a afectación cardiaca. Conclusiones: La presente revisión ofrece información actualizada y detallada de los aspectos epidemiológicos de afectación cardiaca por COVID-19, al igual que los principales mecanismos fisiopatológicos e inmunológicos de la afectación cardiaca por SARS-COV-2 y los exámenes diagnósticos sugestivos de enfermedad cardiaca.
Descargas
La descarga de datos todavía no está disponible.
Citas
Chan JF, Kok KH, Zhu Z, Chu H, To KK, Yuan S, Yuen KY. Genomic characterization of the 2019 novel human-pathogenic coronavirus isolated from a patient with atypical pneumonia after visiting Wuhan. Emerg Microbes Infect. 2020;9(1):221-236.
Taquet M, Geddes JR, Husain M, Luciano S, Harrison PJ. 6-month neurological and psychiatric outcomes in 236 379 survivors of COVID-19: a retrospective cohort study using electronic health records. Lancet Psychiatry. 2021 May;8(5):416-427.
Zhou X, Cheng Z, Luo L, Zhu Y, Lin W, Ming Z, Chen W, Hu Y. Incidence and impact of disseminated intravascular coagulation in COVID-19 a systematic review and meta-analysis. Thromb Res. 2021 May;201:23-29.
Collie S, Champion J, Moultrie H, Bekker LG, Gray G. Effectiveness of BNT162b2 Vaccine against Omicron Variant in South Africa. N Engl J Med. 2022 Feb 03;386(5):494-496.
Abu-Raddad LJ, Chemaitelly H, Butt AA., National Study Group for COVID-19 Vaccination. Effectiveness of the BNT162b2 Covid-19 Vaccine against the B.1.1.7 and B.1.351 Variants. N Engl J Med. 2021 Jul 08;385(2):187-189.
Alroy-Preis S, Ash N, Huppert A. Waning Immunity after the BNT162b2 Vaccine in Israel. N Engl J Med. 2021 Dec 09;385(24):e85.
Sadoff J, Gray G, Vandebosch A, Cárdenas V, Shukarev G, Grinsztejn B, Goepfert PA, Truyers C, Fennema H, Spiessens B, Offergeld K, Scheper G, Taylor KL, Robb ML, Treanor J, Barouch DH, Stoddard J, Ryser MF, Marovich MA, Neuzil KM, Corey L, Cauwenberghs N, Tanner T, Hardt K, Ruiz-Guiñazú J, Le Gars M, Schuitemaker H, Van Hoof J, Struyf F, Douoguih M., ENSEMBLE Study Group. Safety and Efficacy of Single-Dose Ad26.COV2.S Vaccine against Covid-19. N Engl J Med. 2021 Jun 10;384(23):2187-2201.
Berlin DA, Gulick RM, Martinez FJ. Severe Covid-19. N Engl J Med. 2020 Dec 17;383(25):2451-2460.
Stebbing J, Phelan A, Griffin I, Tucker C, Oechsle O, Smith D, Richardson P. COVID-19: combining antiviral and anti-inflammatory treatments. Lancet Infect Dis. 2020 Apr;20(4):400-402.
Cellina M, Orsi M, Bombaci F, Sala M, Marino P, Oliva G. Favorable changes of CT findings in a patient with COVID-19 pneumonia after treatment with tocilizumab. Diagn Interv Imaging. 2020 May;101(5):323-324.
Caly L, Druce JD, Catton MG, Jans DA, Wagstaff KM. The FDA-approved drug ivermectin inhibits the replication of SARS-CoV-2 in vitro. Antiviral Res. 2020 Jun;178:104787.
Zhang R, Mylonakis E. In inpatients with COVID-19, none of remdesivir, hydroxychloroquine, lopinavir, or interferon β-1a differed from standard care for in-hospital mortality. Ann Intern Med. 2021 Feb;174(2):JC17.
Xu L, Liu J, Lu M, Yang D, Zheng X. Liver injury during highly pathogenic human coronavirus infections. Liver Int. 2020 May;40(5):998-1004.
Yang AP, Liu JP, Tao WQ, Li HM. The diagnostic and predictive role of NLR, d-NLR and PLR in COVID-19 patients. Int Immunopharmacol. 2020 Jul;84:106504.
Zubair AS, McAlpine LS, Gardin T, Farhadian S, Kuruvilla DE, Spudich S. Neuropathogenesis and Neurologic Manifestations of the Coronaviruses in the Age of Coronavirus Disease 2019: A Review. JAMA Neurol. 2020 Aug 01;77(8):1018-1027.
Huang C, Wang Y, Li X, Ren L, Zhao J, Hu Y, Zhang L, Fan G, Xu J, Gu X, Cheng Z, Yu T, Xia J, Wei Y, Wu W, Xie X, Yin W, Li H, Liu M, Xiao Y, Gao H, Guo L, Xie J, Wang G, Jiang R, Gao Z, Jin Q, Wang J, Cao B. Clinical features of patients infected with 2019 novel coronavirus in Wuhan, China. Lancet. 2020 Feb 15;395(10223):497-506.
Sze S, Pan D, Nevill CR, Gray LJ, Martin CA, Nazareth J, Minhas JS, Divall P, Khunti K, Abrams KR, Nellums LB, Pareek M. Ethnicity and clinical outcomes in COVID-19: A systematic review and meta-analysis. EClinicalMedicine. 2020 Dec;29:100630.
Vaughan A. Omicron emerges. New Sci. 2021 Dec 04;252(3363):7.
Davies NG, Jarvis CI, CMMID COVID-19 Working Group. Edmunds WJ, Jewell NP, Diaz-Ordaz K, Keogh RH. Increased mortality in community-tested cases of SARS-CoV-2 lineage B.1.1.7. Nature. 2021 May;593(7858):270-274
Mahmud E, Dauerman HL, Welt FGP, Messenger JC, Rao SV, Grines C, Mattu A, Kirtane AJ, Jauhar R, Meraj P, Rokos IC, Rumsfeld JS, Henry TD. Management of acute myocardial infarction during the COVID-19 pandemic: A Consensus Statement from the Society for Cardiovascular Angiography and Interventions (SCAI), the American College of Cardiology (ACC), and the American College of Emergency Physicians (ACEP). Catheter Cardiovasc Interv. 2020 Aug;96(2):336-345.
Salah HM, Mehta JL. Takotsubo cardiomyopathy and COVID-19 infection. Eur Heart J Cardiovasc Imaging. 2020 Oct 20;21(11):1299-1300.
Argulian E, Sud K, Vogel B, Bohra C, Garg VP, Talebi S, Lerakis S, Narula J. Right Ventricular Dilation in Hospitalized Patients With COVID-19 Infection. JACC Cardiovasc Imaging. 2020 Nov;13(11):2459-2461.
Puntmann VO, Carerj ML, Wieters I, Fahim M, Arendt C, Hoffmann J, Shchendrygina A, Escher F, Vasa-Nicotera M, Zeiher AM, Vehreschild M, Nagel E. Outcomes of Cardiovascular Magnetic Resonance Imaging in Patients Recently Recovered From Coronavirus Disease 2019 (COVID-19). JAMA Cardiol. 2020 Nov 01;5(11):1265-1273.
Guo T, Fan Y, Chen M, Wu X, Zhang L, He T, Wang H, Wan J, Wang X, Lu Z. Cardiovascular Implications of Fatal Outcomes of Patients With Coronavirus Disease 2019 (COVID-19). JAMA Cardiol. 2020 Jul 01;5(7):811-818.
Nishiga M, Wang DW, Han Y, Lewis DB, Wu JC. COVID-19 and cardiovascular disease: from basic mechanisms to clinical perspectives. Nat Rev Cardiol. 2020 Sep;17(9):543-558.
Agarwal S, Agarwal SK. Lopinavir-Ritonavir in SARS-CoV-2 Infection and Drug-Drug Interactions with Cardioactive Medications. Cardiovasc Drugs Ther. 2021 Jun;35(3):427-440.
Han Y, Chen T, Bryant J, Bucciarelli-Ducci C, Dyke C, Elliott MD, Ferrari VA, Friedrich MG, Lawton C, Manning WJ, Ordovas K, Plein S, Powell AJ, Raman SV, Carr J. Society for Cardiovascular Magnetic Resonance (SCMR) guidance for the practice of cardiovascular magnetic resonance during the COVID-19 pandemic. J Cardiovasc Magn Reson. 2020 Apr 27;22(1):26.
Zheng YY, Ma YT, Zhang JY, Xie X. COVID-19 and the cardiovascular system. Nat Rev Cardiol. 2020 May;17(5):259-260.
Li B, Yang J, Zhao F, Zhi L, Wang X, Liu L, Bi Z, Zhao Y. Prevalence and impact of cardiovascular metabolic diseases on COVID-19 in China. Clin Res Cardiol. 2020 May;109(5):531-538.
Wei-Ting C. Han Siong T. Chia-Te L. Wen-Liang Y. Cardiac Involvement of COVID-A Comprehensive Review. Am J Med Sci. 2021 Jan; 361(1): 14–22. doi: 10.1016/j.amjms.2020.10.002
Nathaniel M. Bradley J. Jonathan A. Kimberly G. Stephanie A. SARS-CoV-2 Cardiac Involvement in Young Competitive Athletes. Circulation. 2021 Jul 27;144(4):256-266. doi: 10.1161/CIRCULATIONAHA.121.054824.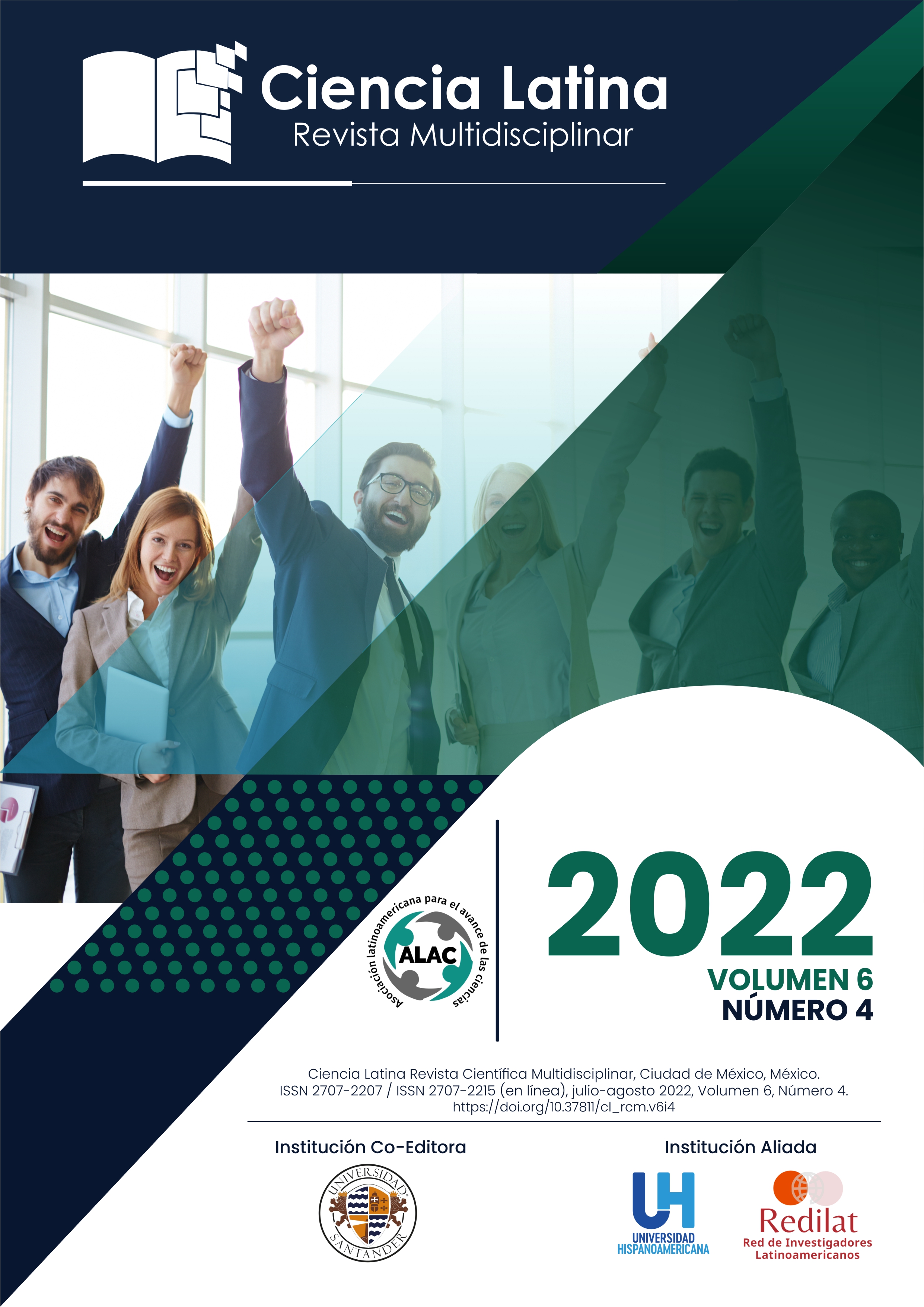 Cómo citar
Genes Vasquez, C. A., Cardenas Moreno, M. M. A., Portilla Galván, M. F., Flórez Moreno, G. A., Salinas Herrera, Y. D., Sayas Herazo, M. E., Trillos Robles, L. A., & Reyes Cortecero, E. E. (2022). Afectación cardíaca del SARS-COV-2. Ciencia Latina Revista Científica Multidisciplinar, 6(4), 885-897. https://doi.org/10.37811/cl_rcm.v6i4.2634
Derechos de autor 2022 Carlos Andrés Genes Vasquez;María Mónica Alejandra Cardenas Moreno;Maria Fernanda Portilla Galván;German Adolfo Flórez Moreno;Yefferson David Salinas Herrera;Mario Enrique Sayas Herazo;Lisbeth Abaneth Trillos Robles;Elian Eugenio Reyes Cortecero
Esta obra está bajo licencia internacional
Creative Commons Reconocimiento 4.0
.