Validez y confiabilidad del cuestionario de aceptación/rechazo-control parental (PARQ/C) en adolescentes del Valle de Toluca
Resumen
El estudio del constructo de aceptación-rechazo en diferentes contextos ha mostrado su eficacia al relacionarlo con diferentes variables psicológicas, de ahí que el objetivo general de la presente investigación sea obtener las propiedades psicométricas del Cuestionario de Aceptación-Rechazo/Control parental (PARQ/C) de Rohner (2005) en adolescentes de la Ciudad de Toluca. Se trabajó con 290 participantes, los criterios de inclusión fueron que tuvieran entre 12 y 17 años, que habitaran con sus padres en el Valle de Toluca con ambos padres y que se encontraran cursando los niveles de secundaria o medio superior. El Cuestionario está constituido por 29 ítems y cinco dimensiones idénticas para ambos padres, se aplicó por medio de formulario de Google form, a través de diferentes plataformas, se les proporcionó el asentimiento y el consentimiento informado a sus padres. Las pruebas utilizadas para el análisis de datos fueron el KMO, la prueba de esfericidad de Barlett, el análisis factorial exploratorio y el coeficiente de Alfa de Cronbach. El análisis arrojó dos factores (cariño-afecto y hostilidad-indiferencia) para los padres y α= .900, para las madres tres factores (cariño-afecto, hostilidad-rechazo y control) α= .893. Se concluye que el PARQ/C, posee adecuados niveles de validez y confiabilidad para adolescentes del Valle de Toluca, México.
Palabras clave:
validez, confiabilidad, aceptación, rechazo, control parental
Descargas
La descarga de datos todavía no está disponible.
Citas
Becoña, E., Martínez, Ú., Calafat, A., Fernández-Hermida, J.R, Juan, M., Sumnall, H., Mendes, F. & Gabrhelík, R. (2013). Parental permissiveness, control, and affect and drug use among adolescents. Psicothema, 25 (3), 292-298. Doi: 10.7334/psicothema2012.294. PMID: 23910741.
Berger, P. y Luckmann, T. (2012). La construcción social de la realidad. Amorrortu.
Calleja, N., Álvarez, A., Contreras, R. y Nares, P. (2018). Estilos de crianza como predictores del comportamiento tabáquico adolescente. Pensamiento Psicológico, 16 (1), 7-18. Doi:10.11144/Javerianacali.PPSI16-1.ecpc
Ceballos, M., García, M.J. y Lagunes, R. (2017). Adaptación y validación en población mexicana del Cuestionario de personalidad tipo C (PCTC). Universitas Psychologica, 16 (2), 1-11. Doi.org/10.11144/Javeriana.upsy16-2.avpm
Del Barrio, V., Ramírez-Uclés, I. Romero, C. y Carrasco, M. (2014). Adaptación del Child-PARQ/Control: Versiones para el padre y la madre en población infantil y adolescente española. Acción Psicológica, 11 (2), 27-46. https://www.researchgate.net/publication/275518274
Epli, H., Batık, M. V., Çabuker, N. D. & Çelik, S. B. (2021). Relationship between psychological resilience and parental acceptance-rejection: The mediating role of self-compassion. Current Psychology. 1-9. Doi: 10.1007/s12144-021-01822-4
Esteinou, R. (2015). Autonomía adolescente y apoyo y control parental en familias indígenas mexicanas. Revista Latinoamericana de Ciencias Sociales, 13 (1), 749–766. Doi:10.11600/1692715x.13214230114
Clavijo, R. Palacios, M., Mora, C. y Villavicencio, F. (2018). Percepción de aceptación y rechazo parental de los hijos y su relación con las características de los padres. Maskana, 1 (9), 1-11. Doi: 10.18537/mskn.09.01.01
Flora, D. B., & Flake, J. K. (2017). The purpose and practice of exploratory and confirmatory factor analysis in psychological research: Decisions for scale development and validation. Canadian Journal of Behavioral Science/Revue Canadienne des sciences du comportment, 49 (2), 78–88. https://doi.org/10.1037/cbs0000069
García-Méndez, M., Rivera-Aragón y Reyes-Lagunes, I. (2014). La percepción de los padres sobre la crianza de los hijos. Acta Colombiana de Psicología,17 (2), 133-141. https://doi.org/10.14718/ACP.2014.17.2.14
Hasicic, C. (2018). Jóvenes y cuidado: un análisis sobre las prácticas de crianza y cuidado de padres varones de un barrio popular del Gran La Plata (Argentina). Polis. Revista Latinoamericana, 50, 1-16. file:///C:/Users/52722/Downloads/polis-15550.pdf
Khaleque, A., Rohner, R. & Laukkala, H. (2008). Aceptación de la pareja íntima, aceptación de los padres, control del comportamiento y ajuste psicológico entre adultos finlandeses en relaciones de apego en curso. Cross-Cultural, 42 (1), 33-https://doi.org/10.1177%2F1069397107309755
Khanh P. & Ashdown, B. K. (2021). Examining the Reliability of Various Interpersonal Acceptance-Rejection Theory (IPARTheory) Measures in Vietnamese adolescents. Journal of Genetic Psychology, 182 (1), 1–17. Doi:10.1080/00221325.2020.1827218
Mendo-Lázaro S, León-Del-Barco B, Polo-Del-Río MI, Yuste-Tosina R. & López-Ramos VM. (2019). The Role of Parental Acceptance⁻Rejection in Emotional Instability During Adolescence. International Journal Environmental Reearch and Public Health, 16 (7),1194. Doi: 10.3390/ijerph16071194. PMID: 30987100; PMCID: PMC6480184.
Musito, G, y García, F. (2001). ESPA 29 Escala de Socialización Parental en la Adolescencia. Madrid: Ediciones TEA.
Lila, M. y Gracia, E. (2005). Determinantes de la aceptación-rechazo parental. Psicothema, 17 (1), 107-111. https://www.redalyc.org/pdf/727/72717117.pdf
Lorijn, S., Engels, M., Huisman, M.& Veenstra, R. (2022). Long-Term Effects of Acceptance and Rejection by Parents and Peers on Educational Attainment: A Study from Pre-dolescence to Early Adulthood. Journal of Youth and Adolescence. 51 (3), 540–555. Doi: 10.1007/s10964-021-01506-z
Lloret-Segura, S., Ferreres-Traver, A., Hernández-Baeza, A., y Tomás-Marco, I. (2014). El análisis factorial exploratorio de los ítems: una guía práctica, revisada y actualizada. Anales de Psicología/ Annals of Psychology, 30 (3), 1151-1169. https://doi.org/10.6018/analesps.30.3.1 99361
Palacios, M. D., Villavicencio, F., Clavijo, R., Mora, C., Conforme, G., y Arpi, N. (2018). Aceptación, rechazo y control parental asociados a características sociodemográficas de padres en Cuenca, Ecuador. INNOVA Research Journal, 3 (12), 38-54. https://doi.org/10.33890/innova.v3.n12.2018.697
Peixoto, C., Coelho, V., Macahdo, F. y Fonseca, S. (2022). Associations between perceived maternal acceptance–rejection and social and emotional competence of preschool children. Early Child Development and Care. Doi: 10.1080/03004430.2022.2066091
Peña-Ramos, M. O., Vera-Noriega, J. A. y Santiz-López, J. E. (2018). Niñez y crianza en una zona rural tseltal en Altos de Chiapas. Revista Latinoamericana de Ciencias Sociales, Niñez y Juventud, 16 (1), 149-162. https://doi.org/10.11600/1692715x.16108
Perris, C., Jacobsson, L., Lindström, H., Von Knorring, L. & Perris, H. (1980). Development of a new inventory for assessing memories of parental rearing behaviour. Acta Psychiatrica Scandinavica, 61 (4), 265–274. https://doi.org/10.1111/j.1600- 0447.1980.tb00581.x
Pizarro, K. y Martínez, O. (2020). Análisis factorial exploratorio mediante el uso de las medidas de adecuación muestral kmo y esfericidad de bartlett para determinar factores principales. Journal of Science and Research, 5(CININGEC), 903-924. https://revistas.utb.edu.ec/index.php/sr/article/view/1046
Putnick, DL., Bornstein, M.H., Lansford, J. E., Malone, P. S., Pastorelli, C., Skinner, A. T., Sorbring, E., Tapanya, S., Uribe, LM, Zelli, A., Alampay, L. P., Al-Hassan, S. M., Bacchini, D., Bombi, A. S., Chang, L., Deater-Deckard, K., Di Giunta, L., Dodge, K.A. & Oburu, P. (2015). Perceived mother and father acceptance-rejection predict four unique aspects of child adjustment across nine countries. J Child Psychol Psychiatry. 56 (8), 923-32. Doi: 10.1111/jcpp.12366. Epub 2014 Dec 10. PMID: 25492267; PMCID: PMC4465055.
Rising, D. & Rohner, R. (2020). Recovery From Rejection: A Manual of Client Handouts for Clinical Practice. Storrs, Connecticut: Eighth Day Creations. https://csiar.uconn.edu/wp-content/uploads/sites/494/2022/04/IPARTheory-Clinical-Handouts-Manual-Third-Edition-1.0-_-4-2022-FINAL.pdf
Rohner, R. (1975). They love me, they love me not: a worldwide study of the effects of parental acceptance-rejection. Connecticut: HRAF.
Rohner, R. P. (2005). Parental acceptance-rejection questionnaire (PARQ): Test manual. In R. P. Rohner y A. Khaleque (Eds.), Handbook for the study of parental acceptance and rejection, 4th ed. (pp. 43-106). Storrs, Connecticut: Rohner Research Publications.
Rohner, R. (2005). The parental acceptance-rejection syndrome. Universal correlates of perceived rejection. American Psychologist, 59, 830-840. https://doi:10.1337/0003-066x.59.8.830
Rohner, R. P., & Khaleque, A. (2008). Cross-cultural perspectives on parental acceptance and rejection. In R. Harwood, S. A. Miller, & R. Vasta (Eds.), Child Psychology: Development in a Changing Society (pp. 630-631). New York: John Wiley & Sons, Inc.
Rohner, R., Khaleque, A. & Cournoyer, D. (2012). Introduction to parental acceptance-rejection theory, methods, evidence, and implications. Connecticut: University of Connecticut. https://craigbarlow.co.uk/_webedit/uploaded-files/All%20Files/Risk/INTRODUCTION-TO-PARENTAL-ACCEPTANCE-3-27-12.pdf
Rohner, R. & Carrasco, M. (2014). Teoría de la Aceptación-Rechazo Interpersonal (IPARTheory): Bases Conceptuales, Método y Evidencia Empírica [Interpersonal Acceptance - Rejection Theory (IPARTheory): Theoretical Bases, Method and Empirical Evidence Antecedentes. Acción Psicológica, 11, 9–26. http://scielo.isciii.es/pdf/acp/v11n2/monografico1.pdf
Rohner, R. P. & Khaleque, A (Eds.). (2005). Handbook for the study of parental acceptance and rejection (4th Edition). Storrs, Connecticut: Rohner Research Publications. https://www.researchgate.net/publication/255729046_Parental_acceptance-rejection_theory_methods_and_implications
Ruiz-Cárdenas, C., Reidl, L. y Gallegos, R. (2017). Validez de constructo de escala de ambiente familiar para adolescentes. Revista especializada en Ciencias de la Salud, 20 (1), 35-42. http://www.revistas.unam.mx/index.php/vertientes/article/view/64545
Schucksmith, J., Glendinning, A. & Henry, L. (1997). Adolescent drinking behavior and the role of family life: A Scottish perspective. Journal of Adolescence, 20, 85-101. https://www.sciencedirect.com/science/article/abs/pii/S0140197196900664
Steinberg, L., Lamborn, S., Darling, N., Mounts, N. & Dornbusch, S. (1994). Over-Time Changes in Adjustment and Competence among Adolescents from Authoritative, Authoritarian, Indulgent, and Neglectful Families. Child Development, 65 (3), 7-54. Doi: 10.2307/1131416.
Tacca, D. R., Alva, M. A. y Chire, F. (2020). Estrés parental y las actitudes de las madres solteras hacia la relación con los hijos. Revista de Investigación Psicológica, (23), 51-66. http://www.scielo.org.bo/scielo.php?script=sci_arttext&pid=S2223-30322020000100005&lng=es&tlng=es.
The jamovi projet (2020). Jamovi. (Version 1.2) [Computer Software]. Retrieved from http://cran.r-projet.org/
Tilano, L. M., Luengo, P., Pastorelli, C. G., Lunetti, C., Uribe, L., Thartori, E. y Lansford, J. (2021). Violencia de Barrio y Crianza Materna en Medellín-Roma: Rol de la Autoeficacia Emocional Negativa. Psykhe, 30(2). https://dx.doi.org/10.7764/psykhe.2019.21813
Villavicencio, F., Clavijo, R., Mora, C., Palacios, M. D., Arpi, N., y Conforme, G. (2017). Creencias parentales sobre la crianza de los hijos: características de padres e hijos, aceptación-rechazo y control parental en Cuenca, Ecuador. Maskana, 8, 13–24. https://publicaciones.ucuenca.edu.ec/ojs/index.php/maskana/article/view/1873
Villegas-Pantoja, M., Guzmán-Facundo, F., Alonso-Castillo, M., de la Rubia, J. M., & López-García, K. (2018). Parenting behaviors and their relationship with alcohol involvement in Mexican teenagers and young adults. Journal of Child & Adolescent Substance Abuse, 27 (4), 227–237. https://doi.org/10.1080/1067828X.2018.1455612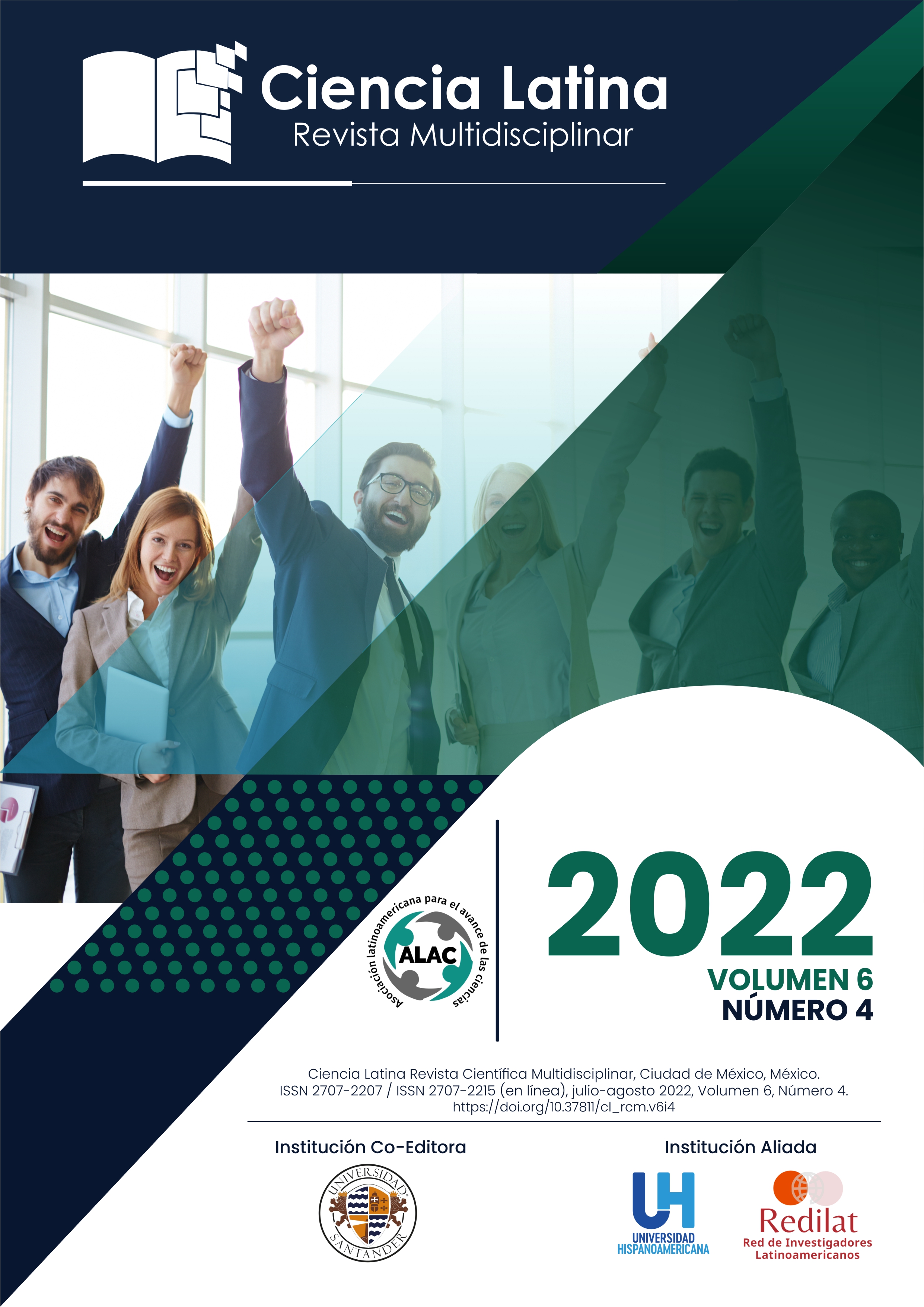 Cómo citar
Romero Celis, M. L., Robles Estrada, E., van Barneveld, H. O., Mercado Maya, A., & Del Carpio Ovando, P. S. (2022). Validez y confiabilidad del cuestionario de aceptación/rechazo-control parental (PARQ/C) en adolescentes del Valle de Toluca. Ciencia Latina Revista Científica Multidisciplinar, 6(4), 1550-1568. https://doi.org/10.37811/cl_rcm.v6i4.2679
Derechos de autor 2022 Mildred Leticia Romero Celis;Erika Robles Estrada;Hans Oudhof van Barneveld;Aída Mercado Maya;Perla Shiomara Del Carpio Ovando
Esta obra está bajo licencia internacional
Creative Commons Reconocimiento 4.0
.