Evaluación de los niveles séricos de vitamina D en pacientes infectados con covid 19 en un hospital de Colombia
Shalom Esther Doria Mangones

Médico general de la Universidad del Sinú Cartagena, Colombia

Mario Alberto Gutiérrez Villarreal

Médico general de la Universidad del Norte Barranquilla

Lizeth Tatiana González Ramírez

Médico general Universidad de Santander Colombia

Andrés Camilo Angarita Guerrero

Médico general Universidad de Santander

Natalia Taborda Taborda

Médico general de la Universidad del Sinú Montería, Colombia

Jahir Andrés Ávila Gelvez

Médico general de la Universidad de Caldas Colombia

Jorge Luis Julio Fabra

Médico general de la Universidad del Sinú Colombia

Karen Dayana Jaimes Horta

Médico general de la Universidad de Cartagena Colombia
Resumen
Introducción: La enfermedad originada por el covid 19 es una patologia que afecta no solo al sistema respiratorio, sino que también conduce a falla multiorgánica. Hasta la fecha actual en que se redacta este manuscrito, no existe ningun tratamiento eficaz para contrarrestarla, la prevención es la única forma de reducir el número de infectados y muertes producto de esta. Materiales y métodos: Se seleccionaron y analizaron retrospectivamente un total de 160 historias clínicas de pacientes con COVID-19 de un hospital de Colombia. La recolección de datos se llevó a cabo en el período comprendido entre el 09/4/2020 y el 09/04/2021. Conclusiones: Se pudo llegar a la conclusion que los niveles bajos de vitamina D en suero se asociaron significativamente con un mayor riesgo de adquirir una infección por covid 19 y desarrollar un curso mas grave de la enfermedad, que puede conducir incluso a la muerte. Por lo cual la suplementación con vitamina D proporcionaria niveles sericos de vitamina D para que se pueda prevenir la infección o minimizar la gravedad del covid 19.
Palabras clave:
covid 19, deficiencia, vitamina d
Descargas
La descarga de datos todavía no está disponible.
Citas
Hernigou P, Auregan JC, Dubory A. Vitamin D: part II; cod liver oil, ultraviolet radiation, and eradication of rickets. Int Orthop. 2019 Mar;43(3):735-749.
Fink C, Peters RL, Koplin JJ, Brown J, Allen KJ. Factors Affecting Vitamin D Status in Infants. Children (Basel). 2019 Jan 08;6(1)
Häusler D, Weber MS. Vitamin D Supplementation in Central Nervous System Demyelinating Disease-Enough Is Enough. Int J Mol Sci. 2019 Jan 08;20
Maurya VK, Aggarwal M. Factors influencing the absorption of vitamin D in GIT: an overview. J Food Sci Technol. 2017 Nov;54(12):3753-3765.
Marcinowska-Suchowierska E, Kupisz-Urbańska M, Łukaszkiewicz J, Płudowski P, Jones G. Vitamin D Toxicity-A Clinical Perspective. Front Endocrinol (Lausanne). 2018;9:550.
Teymoori-Rad M, Shokri F, Salimi V, Marashi SM. The interplay between vitamin D and viral infections. Rev Med Virol. 2019 Mar;29(2):e2032.
Nair R, Maseeh A. Vitamin D: The "sunshine" vitamin. J Pharmacol Pharmacother. 2012 Apr;3(2):118-26.
Gröber U, Kisters K. Influence of drugs on vitamin D and calcium metabolism. Dermatoendocrinol. 2012 Apr 01;4(2):158-66.
Pereira-Santos M, Costa PR, Assis AM, Santos CA, Santos DB. Obesity and vitamin D deficiency: a systematic review and meta-analysis. Obes Rev. 2015 Apr;16(4):341-9.
Palacios C, Gonzalez L. Is vitamin D deficiency a major global public health problem? J Steroid Biochem Mol Biol. 2014 Oct;144 Pt A:138-45.
Tripkovic L, Lambert H, Hart K, Smith CP, Bucca G, Penson S, Chope G, Hyppönen E, Berry J, Vieth R, Lanham-New S. Comparison of vitamin D2 and vitamin D3 supplementation in raising serum 25-hydroxyvitamin D status: a systematic review and meta-analysis. Am J Clin Nutr. 2012 Jun;95(6):1357-64.
Jolliffe DA, Greenberg L, Hooper RL, Mathyssen C, Rafiq R, de Jongh RT, Camargo CA, Griffiths CJ, Janssens W, Martineau AR. Vitamin D to prevent exacerbations of COPD: systematic review and meta-analysis of individual participant data from randomised controlled trials. Thorax. 2019 Apr;74(4):337-345.
Gani LU, How CH. PILL Series. Vitamin D deficiency. Singapore Med J. 2015 Aug;56(8):433-6; quiz 437.
Galesanu C, Mocanu V. Vitamin D deficiency and the clinical consequences. Rev Med Chir Soc Med Nat Iasi. 2015;119(2):310–318
Zdrenghea MT, Makrinioti H, Bagacean C, Bush A, Johnston SL, Stanciu LA. Vitamin D modulation of innate immune responses to respiratory viral infections. Rev Med Virol. 2017;27(1):e1909. doi: 10.1002/rmv.1909
Jiménez-Sousa M, Martínez I, Medrano LM, Fernández-Rodríguez A, Resino S. Vitamin D in human immunodeficiency virus infection: influence on immunity and disease. Front Immunol. 2018;9:458. doi: 10.3389/fimmu.2018.00458
Zu ZY, Jiang MD, Xu PP, et al. Coronavirus disease 2019 (COVID-19): a perspective from China. Radiology. 2020;296(2):200490. doi: 10.1148/radiol.2020200490
Martín Giménez VM, Inserra F, Tajer CD, et al. Lungs as target of COVID-19 infection: protective common molecular mechanisms of vitamin D and melatonin as a new potential synergistic treatment. Life Sci. 2020;254:117808. doi: 10.1016/j.lfs.2020.117808
Zabetakis I, Lordan R, Norton C, Tsoupras A. COVID-19: the inflammation link and the role of nutrition in potential mitigation. Nutrients. 2020;12(5):1466. doi: 10.3390/nu12051466
Wang L, He W, Yu X, et al. Coronavirus disease 2019 in elderly patients: characteristics and prognostic factors based on 4-week follow-up. J Infect. 2020;80(6):639–645. doi: 10.1016/j.jinf.2020.03.019
De Smet D, De Smet K, Herroelen P, Gryspeerdt S, Martens GA. Vitamin D deficiency as risk factor for severe COVID-19: a convergence of two pandemics. MedRxiv. 2020
Im JH, Je YS, Baek J, Chung M-H, Kwon HY, Lee J-S. Nutritional status of patients with coronavirus disease 2019 (COVID-19). Int J Infect Dis. 2020;100:390–393. doi: 10.1016/j.ijid.2020.08.018
Kara M, Ekiz T, Ricci V, Kara Ö. 'Scientific strabismus' or two related pandemics: COVID-19 & vitamin D deficiency. Br J Nutr. 2020;1–20.
Lau FH, Majumder R, Torabi R, et al. Vitamin D insufficiency is prevalent in severe COVID-19. medRxiv. 2020.
Panagiotou G, Tee SA, Ihsan Y, et al. Low serum 25‐hydroxyvitamin D (25 [OH] D) levels in patients hospitalized with COVID‐19 are associated with greater disease severity. Clin Endocrinol (Oxf). 2020.
Ferrari D, Locatelli M, Briguglio M, Lombardi G. Is there a link between vitamin D status, SARS-CoV-2 infection risk and COVID-19 severity? Cell Biochem Funct. 2020. doi: 10.1002/cbf.3597
Carpagnano GE, Di Lecce V, Quaranta VN, et al. Vitamin D deficiency as a predictor of poor prognosis in patients with acute respiratory failure due to COVID-19. J Endocrinol Invest. 2020;1–7.
Mendy A, Apewokin S, Wells AA, Morrow AL. Factors associated with hospitalization and disease severity in a racially and ethnically diverse population of COVID-19 patients. medRxiv. 2020.
Merzon E, Tworowski D, Gorohovski A, et al. Low plasma 25 (OH) vitamin D level is associated with increased risk of COVID‐19 infection: an Israeli population‐based study. FEBS J. 2020;287(17):3693–3702. doi: 10.1111/febs.15495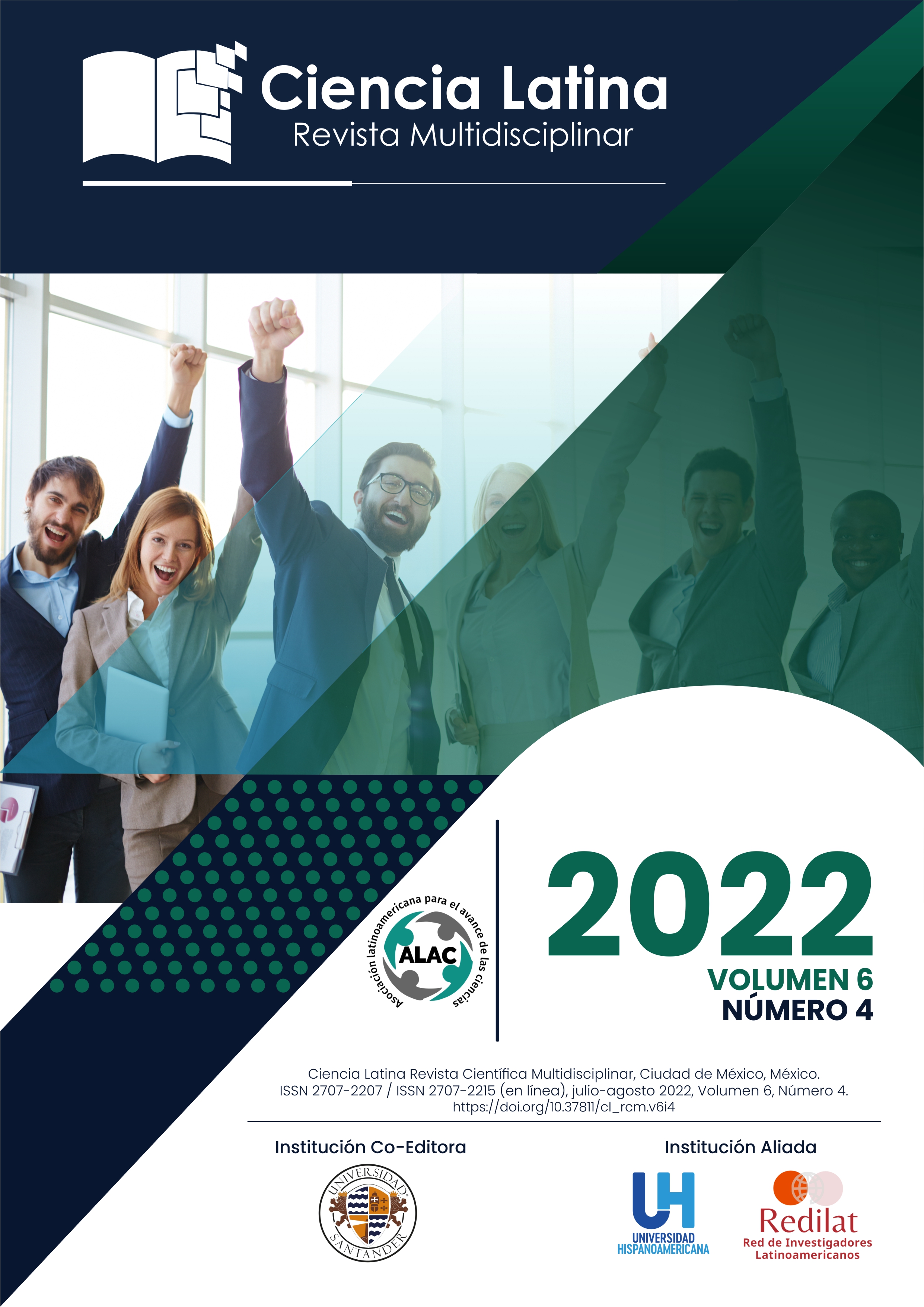 Cómo citar
Doria Mangones, S. E., Gutiérrez Villarreal, M. A., González Ramírez, L. T., Angarita Guerrero, A. C., Taborda Taborda, N., Ávila Gelvez, J. A., Julio Fabra, J. L., & Jaimes Horta, K. D. (2022). Evaluación de los niveles séricos de vitamina D en pacientes infectados con covid 19 en un hospital de Colombia. Ciencia Latina Revista Científica Multidisciplinar, 6(4), 2486-2496. https://doi.org/10.37811/cl_rcm.v6i4.2775
Derechos de autor 2022 Shalom Esther Doria Mangones;Mario Alberto Gutiérrez Villarreal;Lizeth Tatiana González Ramírez;Andrés Camilo Angarita Guerrero;Natalia Taborda Taborda;Jahir Andrés Ávila Gelvez;Jorge Luis Julio Fabra;Karen Dayana Jaimes Horta
Esta obra está bajo licencia internacional
Creative Commons Reconocimiento 4.0
.