Consecuencias sobre el feto debido al uso de meformina en diabetes gestacional
Resumen
Antecedentes: La metformina es un fármaco biguanida que reduce los niveles de glucosa en sangre. La metformina generalmente se considera segura y bien tolerada. La DM es cualquier grado de intolerancia a la glucosa con início o primer reconocimiento durante el embarazo. El lactógeno placentario humano es la principal hormona relacionada con el aumento de la resistencia a la insulina en la DMG. La mortalidad perinatal aun es frecuente, y las malformaciones congénitas son evidentes en la actualidad.
Metodología: Se realizó una revisión narrativa a través de diversas bases de datos de Enero de 2013 a diciembre de 2021; la búsqueda y selección de artículos fue llevada a cabo en revistas indexadas en idioma inglés. Se utilizaron como palabras clave: Consecuencias, feto, metformina, Diabetes gestacional.
Resultados: La meformina no presenta relación con el desarrollo de malformaciones congénitas o anomalías congénitas. Los recién nacidos expuestos a metformina presentan un menor peso al nacer y un crecimiento posnatal acelerado. La metformina reduce el riesgo a largo plazo de obesidad y riesgo cardiometabólico en la descendencia, al igual que está asociada con una distribución de grasa más saludable con menos grasa visceral y ectópica.
Conclusiones: La presente revisión ofrece una información actualizada y precisa de los efectos a corto y largo plazo sobre el uso de metformina en mujeres con diabetes gestacional.
Palabras clave:
Consecuencias, Feto, Metformina, Diabetes gestacional
Descargas
La descarga de datos todavía no está disponible.
Citas
L. Blonde, S. Dipp, D. Cadena. Combination Glucose-Lowering Therapy Plans in T2DM: Case-Based Considerations. Adv Ther. 2018 Jul;35(7):939-965.
American Diabetes Association. 8. Pharmacologic Approaches to Glycemic Treatment: Standards of Medical Care in Diabetes-2018. Diabetes Care. 2018 Jan;41(Suppl 1):S73-S85.
YW. Wang, SJ. He, X. Feng, J. Cheng, YT. Luo, L. Tian, Q. Huang. Metformin: a review of its potential indications. Drug Des Devel Ther. 2017;11:2421-2429.
Chamberlain JJ, Johnson EL, Leal S, Rhinehart AS, Shubrook JH, Peterson L. Cardiovascular Disease and Risk Management: Review of the American Diabetes Association Standards of Medical Care in Diabetes 2018. Ann Intern Med. 2018 May 01;168(9):640-650.
N. Hamid, R. Mahmoud. Metformin: Current knowledge. J Res Med Sci. 2014 Jul; 19(7): 658–664.
L. Ziquan, G. Yajie. Metformin and Its Benefits for Various Diseases. Front Endocrinol (Lausanne). 2020; 11: 191. doi: 10.3389/fendo.2020.00191
Coustan DR. Gestational diabetes mellitus. Clin Chem. 2013 Sep;59(9):1310-21
ACOG Practice Bulletin No. 190: Gestational Diabetes Mellitus. Obstet Gynecol. 2018 Feb;131(2):e49-e64.
Law KP, Zhang H. The pathogenesis and pathophysiology of gestational diabetes mellitus: Deductions from a three-part longitudinal metabolomics study in China. Clin Chim Acta. 2017 May;468:60-70.
Chiefari E, Arcidiacono B, Foti D, Brunetti A. Gestational diabetes mellitus: an updated overview. J Endocrinol Invest. 2017 Sep;40(9):899-909.
H. David, C. Patrick, Z. Cuilin, D. Gernot. Gestational diabetes mellitus. Nat Rev Dis Primers. 2019 Jul 11;5(1):47. doi: 10.1038/s41572-019-0098-8.
E. Joanne, L. Maria, G. Ester, C. Marie. Metformin exposure in first trimester of pregnancy and risk of all or specific congenital anomalies: exploratory case-control study. BMJ. 2018; 361: k2477. doi: 10.1136/bmj.k2477
P. Alice, R. Valentin, V. Thierry, B. Nathalie, B. David. Pregnancy outcomes in women on metformin for diabetes or other indications among those seeking teratology information services. Br J Clin Pharmacol. 2018 Mar; 84(3): 568–578. doi: 10.1111/bcp.13481
L. Jane, E. Catherine, E. Susan. Neonatal, infant, and childhood growth following metformin versus insulin treatment for gestational diabetes: A systematic review and meta-analysis. PLoS Med. 2019 Aug; 16(8): e1002848. doi: 10.1371/journal.pmed.1002848
G. Consolacion, V. Marta, P. Jose, T. Laura. Maternal Metformin Treatment Improves Developmental and Metabolic Traits of IUGR Fetuses. Biomolecules. 2019 May; 9(5): 166. doi: 10.3390/biom9050166
G. Consolacion, V. Marta, P. Jose, H. Ana. The Effects of Maternal Metformin Treatment on Late Prenatal and Early Postnatal Development of the Offspring Are Modulated by Sex. Pharmaceuticals (Basel). 2020 Nov; 13(11): 363. doi: 10.3390/ph13110363
P. Gagan, K. Sanjay. Metformin in the management of diabetes during pregnancy and lactation. Drugs Context. 2018; 7: 212523. doi: 10.7573/dic.212523
V. Anita, H. Outi, T. Kati, T. Tarja. Therapeutic doses of metformin do not have impact on angiogenesis in presence of sera from pre-eclamptic, IUGR and healthy pregnancies. Pregnancy Hypertens. 2020 Oct;22:7-13. doi: 10.1016/j.preghy.2020.06.008. Epub 2020 Jul 6.
J. Amanda, L. Jennie, R. Andrea, M. Jodie. Effect of metformin in addition to an antenatal diet and lifestyle intervention on fetal growth and adiposity: the GRoW randomised trial. BMC Endocr Disord. 2020; 20: 139. doi: 10.1186/s12902-020-00618-0
A. Jairo, A. Gabriel, R. Manuela, E. Analida. Metformina: Mas alla del control glucemico. Endocrinologia. 4 de noviembre de 2016. DOI: http://dx.doi.org/10.18273/revmed.v30n1-2017005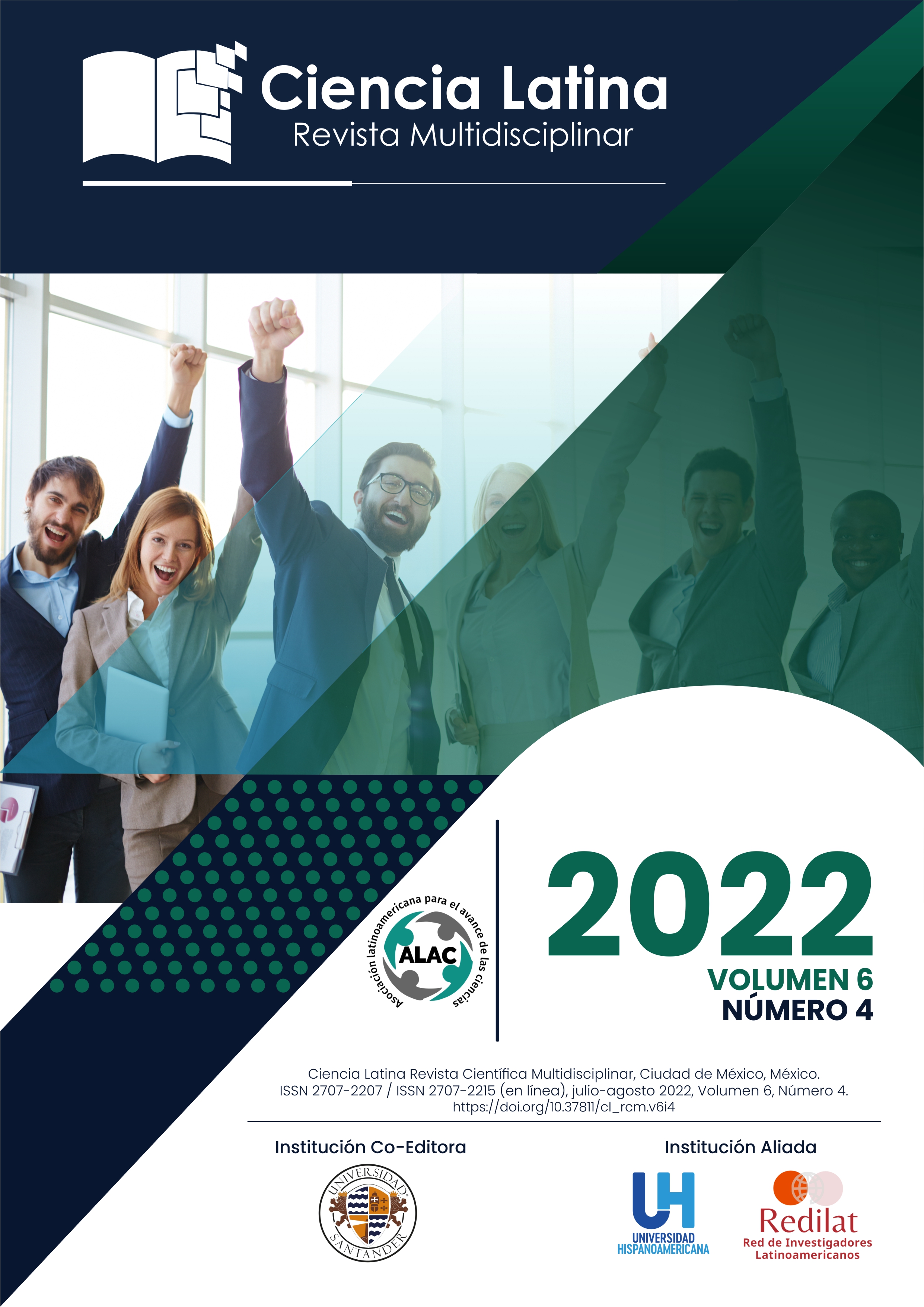 Cómo citar
Lora Barrios, R. A., Echavez Cervantes, I. D., Genes Vásquez, C., Merlano Calderón, A. M., & Silva Vargas , S. A. (2022). Consecuencias sobre el feto debido al uso de meformina en diabetes gestacional. Ciencia Latina Revista Científica Multidisciplinar, 6(4), 4555-4565. https://doi.org/10.37811/cl_rcm.v6i4.2955
Derechos de autor 2022 Ronald Alberto Lora Barrios;Israel David Echavez Cervantes;Carlos Genes Vásquez;Ana María Merlano Calderón;Sergio Alejandro Silva Vargas
Esta obra está bajo licencia internacional
Creative Commons Reconocimiento 4.0
.