Lúcuma (Pouteria lúcuma): Potencial bioactivo y agroindustrial del valle interandino peruano
Rafael Julian Malpartida Yapias

Universidad Nacional Autónoma Altoandina de Tarma, Perú

Perfecto Chagua Rodríguez

Universidad Nacional Autónoma Altoandina de Tarma, Perú

Jimmy Pablo Echevarría Victorio

Universidad Nacional Autónoma Altoandina de Tarma, Perú

Jhuliana Milagros Adama Astete

Universidad Nacional Autónoma Altoandina de Tarma, Perú
Resumen
El lúcumo es un fruto andino, reconocido como oro de los incas, que tiene origen en el valle interandino del Perú; el objetivo de la investigación es mostrar un panorama amplio sobre las potencialidades de esta fruta, en cuanto se refiere a su caracterización química, producción, transformación y comercialización. El estudio fundamentado en la investigación documental, siendo las unidades de análisis artículos científicos y datos estadísticos; la información obtenida fue procesada mediante el uso de estadística descriptiva. Confirmamos que el fruto del lúcumo es un alimento nutraceútico por su valor nutricional y compuestos bioactivos, los cuales le confieren propiedades terapéuticas contra la diabetes y la hipertensión, además juega un papel importante en la agroindustria, debido a su demanda internacional, coadyuvando al crecimiento económico local.
Palabras clave:
Lúcuma, potencial bioactivo, interandino, agroindustrial
Descargas
La descarga de datos todavía no está disponible.
Citas
Alegre, M., Del Carmen, A. (2017). Caracterización de macrocomponentes en pulpa congelada de tres biotipos de Lúcuma (Pouteria lucuma) [Universidad San Ignacio De Loyola]. http://repositorio.usil.edu.pe/bitstream/USIL/2749/1/2017_Alegre_Caracterizacion-de-microcomponentes.pdf
Barrena, MÁ. (2011). Modelamiento de la cinética de secado de Lúcuma (Pouteria lucuma) [Universidad Nacional de Trujillo]. http://dspace.unitru.edu.pe/bitstream/handle/UNITRU/8185/Tesis DoctoradoX - Miguel Angel Barrena Gurbillón.pdf?sequence=1&isAllowed=y
Bravo, ST. (2012). Plan de negocios sobre la exportación de harina de lúcuma para el mercado americano [Universidad Peruana de Ciencias Aplicadas]. http://hdl.handle.net/10757/315487
Cárdenas, LM. (2012). Efecto de las temperaturas y tipos de congelación en las propiedades sensoriales y fisico-químicas en la conservación de pulpa de Lúcuma (Pouteria obovata) [Universidad Nacional del Centro del Perú]. http://repositorio.uncp.edu.pe/bitstream/handle/UNCP/2665/Cárdenas Escobar.pdf?sequence=1&isAllowed=y
Collachagua, BE. (2011). Utilización de la harina del subproducto de Lúcuma (Pouteria lucuma Ruíz & Pav.) en la alimentación de cuyes de engorde - Ayacucho. Universidad Nacional de San Cristóbal de Huamanga.
Da Silva, M., Ranilla, LG., Apostolidis, E., Lajolo, FM., Genovese, MI., Shetty, K. (2009). Evaluation of Antihyperglycemia and Antihypertension Potential of Native Peruvian Fruits Using In Vitro Models. Journal of Medicinal Food, 12(2), 278–291. https://doi.org/10.1089/jmf.2008.0113
Dini, I. (2011). Flavonoid glycosides from Pouteria obovata (R. Br.) fruit flour. Food Chemistry, 124(3), 884–888. https://doi.org/10.1016/j.foodchem.2010.07.013
Fuentealba, C., Gálvez, L., Cobos, A., Olaeta, JA., Defilippi, BG., Chirinos, R., Campos, D., Pedreschi, R. (2016). Characterization of main primary and secondary metabolites and in vitro antioxidant and antihyperglycemic properties in the mesocarp of three biotypes of Pouteria lucuma. Food Chemistry, 190, 403–411. https://doi.org/10.1016/j.foodchem.2015.05.111
García, DH. (2016). Caracterización de algunos metabolitos primarios y secundarios en dos variedades comerciales de Lúcuma (Pouteria lucuma) [Universidad Nacional Agraria La Molina]. http://repositorio.lamolina.edu.pe/handle/UNALM/2565
Gómez-Maqueo, A., Bandino, E., Hormaza, JI., Cano, MP. (2020). Characterization and the impact of in vitro simulated digestion on the stability and bioaccessibility of carotenoids and their esters in two Pouteria lucuma varieties. Food Chemistry, 316, 126369. https://doi.org/10.1016/j.foodchem.2020.126369
Guerrero-Castillo, P., Reyes, S., Robles, J., Simirgiotis, MJ., Sepulveda, B., Fernandez-Burgos, R., y Areche, C. (2019). Biological activity and chemical characterization of Pouteria lucuma seeds: A possible use of an agricultural waste. Waste Management, 88, 319–327. https://doi.org/10.1016/j.wasman.2019.03.055
INDECOPI (Instituto Nacional de Defensa de la Competencia y de la Protección de la Propiedad Intelectual). (2015). BIOPAT/PERÚ. Tema: Lúcuma. https://www.indecopi.gob.pe/documents/20791/202940/08.-Boletin_N8_LUCUMA.pdf/680d0eb2-a793-4e5f-a96a-9e433e52852d
INEI (Instituto Nacional de Estadística e Informática). (2019). In Perú Enfermedades no transmisibles y trasmisibles (Vol. 53, Issue 9). https://doi.org/10.1017/CBO9781107415324.004
Inga, M., García, J. M., Aguilar-Galvez, A., Campos, D., Osorio, C. (2019). Chemical characterization of odour-active volatile compounds during lucuma (Pouteria lucuma) fruit ripening. CYTA - Journal of Food, 17(1), 494–500. https://doi.org/10.1080/19476337.2019.1593248
INS (Instituto Nacional de Salud). (2017). Tablas peruanas de composición de alimentos (Decima). https://repositorio.ins.gob.pe/xmlui/bitstream/handle/INS/1034/tablas-peruanas-QR.pdf?sequence=3&isAllowed=y
Kuntze, O. (1893). Revisio generum plantarum. A. Felix [etc.],. https://doi.org/https://doi.org/10.5962/bhl.title.327
Lavado, MA., Yenque, JA., Robles, R. (2012). Estudio de rendimiento de harina de lúcuma a partir del fruto fresco. Revista de La Facultad de Ingeniería Industrial, 15(1), 127–130.
León, J. (2000). Botanica de los cultivos tropicales (Editorial Agroamérica (ed.); Tercera). https://doi.org/581.0724
Ma, J., Yang, H., Basile, MJ., y Kennelly, EJ. (2004). Analysis of polyphenolic antioxidants from the fruits of three Pouteria species by selected ion monitoring liquid chromatography-mass spectrometry. Journal of Agricultural and Food Chemistry, 52(19), 5873–5878. https://doi.org/10.1021/jf049950k
Mejía, CV. (2017). Evaluación de Metabolitos secundarios y propiedades antioxidantes e hipoglucemiante de Lúcuma (Pouteria lucuma) en dos estados de madurez [Universidad Nacional Agraria La Molina]. http://repositorio.lamolina.edu.pe/handle/UNALM/3047
MINAGRI (Ministerio de Agricultura y Riego del Perú). (2019). Boletín Estadístico Mensual "El Agro en Cifras." http://siea.minagri.gob.pe/siea/?q=boletin-estadistico-mensual-el-agro-en-cifras-2019
MINAM (Ministerio del Ambiente). (2016). Historia ambiental del Perú Siglos XVIII y XIX (Primera). https://sinia.minam.gob.pe/node/22836/backlinks
Mostacero, J., Mejía, F., Gastañadui, D., De La Cruz, J. (2017). Inventario taxonómico, fitogreográfico y etnobotánico de frutales nativos del norte del Perú. Scientia Agropecuaria, 8(3), 215–224. https://doi.org/10.17268/sci.agropecu.2017.03.04
National Research Council. (1989). Lost Crops of the Incas (F. Bostid (ed.)).
Rojo, LE., Villano, CM., Joseph, G., Schmidt, B., Shulaev, V., Shuman, JL., Lila, MA., Raskin, I. (2010). Original Contribution: Wound-healing properties of nut oil from Pouteria lucuma. Journal of Cosmetic Dermatology, 9(3), 185–195. https://doi.org/10.1111/j.1473-2165.2010.00509.x
Salazar, JM. (2019). Identificación preliminar de fitoconstituyentes en el extracto etanólico de semillas de Pouteria lúcuma (Lúcuma) procedentes del distrito de Chalaco en la Provincia de Morropón en el Departamento de Piura. Universidad Maria Auxiliadora.
SIICEX (Sistema Integral de Información de Comercio Exterior). n.d. Exportaciones del producto Lúcuma. Retrieved March 17, 2020, from http://www.siicex.gob.pe/siicex/apb/ReporteProducto.aspx?psector=1025&preporte=prodpresvolu&pvalor=1933
Silva, C., Simeoni, L., Silveira, D. (2009). Genus Pouteria: Chemistry and biological activity. Brazilian Journal of Pharmacognosy, 19(2 A), 501–509. https://doi.org/10.1590/S0102-695X2009000300025
Valiente, KE., Pazos, YA. (2014). Estudio comparativo de la calidad de la harina de Lúcuma (Pouteria lucuma) deshidratada mediante liofilización y aire caliente [Universidad Nacional del Santa]. http://repositorio.uns.edu.pe/handle/UNS/1957
Yahia, E., Guttierrez-Orozco, F. (2011). Lucuma (Pouteria lucuma (Ruiz and Pav.) Kuntze). In Postharvest Biology and Technology of Tropical and Subtropical Fruits: Cocona to Mango (pp. 443–449). Elsevier Ltd. https://doi.org/10.1533/9780857092885.443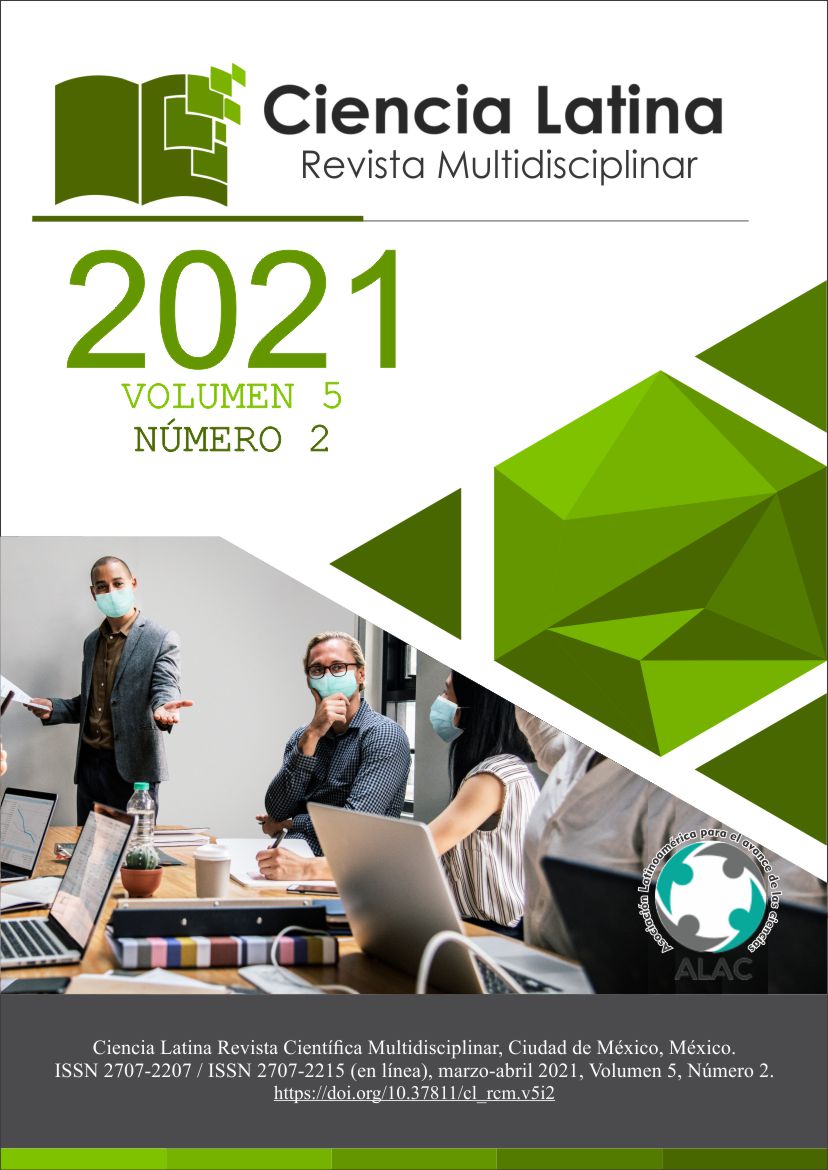 Cómo citar
Malpartida Yapias, R. J., Chagua Rodríguez, P., Echevarría Victorio, J. P., & Adama Astete, J. M. (2021). Lúcuma (Pouteria lúcuma): Potencial bioactivo y agroindustrial del valle interandino peruano. Ciencia Latina Revista Científica Multidisciplinar, 5(2), 1250-1266. https://doi.org/10.37811/cl_rcm.v5i2.326
Derechos de autor 2021 Rafael Julian Malpartida Yapias;Perfecto Chagua Rodríguez;Jimmy Pablo Echevarría Victorio;Jhuliana Milagros Adama Astete
Esta obra está bajo licencia internacional
Creative Commons Reconocimiento 4.0
.