Resurgimiento de parotiditis en Centros Penales de Costa Rica
Rafael González Cortes

Servicios Médicos penitenciarios, Ministerio de Justicia y Paz, Costa Rica
Resumen
Introducción: A pesar de poseer poblaciones altamente vacunadas, se siguen presentando brotes y Costa Rica no es la excepción, tras 20 años de relativa calma, se presenta un brote sin precedentes en centros penitenciarios de todo el país. Métodos: Se realiza un estudio descriptivo de serie de casos/control, de personas masculinas privadas de libertad, relacionado con el brote de parotiditis, durante 65 días, observado en el Centro de Atención Institucional (CAI) Carlos Luis Fallas (CLF) y Unidad de Atención Integral (UAI) 20 de diciembre de 1979, en el período correspondiente del 22 de agosto al 25 de octubre del 2019, ambos centros ubicados en Punta Riel, del distrito de Roxana, Cantón de Pococí, Provincia de Limón. Discusión: El virus de la parotiditis es un miembro de la familia del Paramixoviridae, del género Rubulavirus, es una enfermedad viral aguda, caracterizada por fiebre, edema y sensibilidad de las glándulas salivales principalmente la parótida, con un período prodrómico muy inespecífico. Se trasmite por gotitas respiratorias y contacto con fómites contaminados. El período promedio de incubación es de 12 a 25 días. Conclusiones: Se evidencia respecto a los datos obtenidos, una población susceptible a padecer parotiditis clínica (25-30 años), por tanto la vacunación de los mismos en etapas tempranas del brote, asociado a la convivencia cercana con personas que probablemente tuvieron contacto con la cepa salvaje, una menor densidad poblacional, además de medidas estrictas de prevención e higiene, parecen ser determinantes claves que influyeron en la cantidad de casos reportados en el CAI CLF en contraparte con la UAI 20 de diciembre de 1979. La Amilasa sérica en el contexto de parotiditis clínica, parece ser una prueba promisoria. Es recomendable el uso de una tercera dosis de SRP previo al ingreso a los centros penitenciarios del país independientemente del esquema de vacunación previo. En el contexto del brote, la aplicación de una tercera dosis de SRP, parece ser segura y eficaz ya que no hubo reportes de efectos adversos de importancia, y tras 21 días posterior a la vacunación a gran escala se evidencia el descenso en la aparición de casos nuevos.
Palabras clave:
Parotiditis, Vacuna contra la parotiditis, Brotes de enfermedades, Prisiones, Amilasas
Descargas
La descarga de datos todavía no está disponible.
Citas
Kuba Y, Kyan H, Arakaki E, Takara T, Kato T, Okano S, Oshiro Y, Kudaka J, Kidokoro M. (2017) Molecular Epidemiological Study of Mumps Epidemics of 2015 in Okinawa, Japan. Jpn J Infect Dis. May 24;70(3):329-332. doi: 10.7883/yoken.JJID.2016.390.
Zhu H, Zhao H, Ou R, Xiang H, Hu L, Jing D, Sharma M, Ye M. (2019) Epidemiological Characteristics and Spatiotemporal Analysis of Mumps from 2004 to 2018 in Chongqing, China. Int J Environ Res Public Health. Aug 22;16(17):3052. doi: 10.3390/ijerph16173052.
Béraud G, Abrams S, Beutels P, Dervaux B, Hens N (2018). Resurgence risk for measles, mumps and rubella in France in 2018 and 2020. Euro Surveill. Jun;23(25):1700796. doi: 10.2807/1560-7917.ES.2018.23.25.1700796.
Compés-Dea C, Guimbao-Bescós J, Gaspar-Escayola JI, Lázaro-Belanche MÁ, Aznar-Brieba A. Brote escolar de parotiditis: estimación de la efectividad vacunal. Zaragoza 2011 [An outbreak of mumps in a high school: Estimation of vaccine effectiveness. Enferm Infecc Microbiol Clin. Jun-Jul;33(6):385-90. Spanish. doi: 10.1016/j.eimc.2014.09.011.
Deeks SL, Lim GH, Simpson MA, Gagné L, Gubbay J, Kristjanson E, Fung C, Crowcroft NS. (2011). An assessment of mumps vaccine effectiveness by dose during an outbreak in Canada. CMAJ. 2011 Jun 14;183(9):1014-20. doi: 10.1503/cmaj.101371.
Barskey AE, Glasser JW, LeBaron CW. (2009) Mumps resurgences in the United States: A historical perspective on unexpected elements. Vaccine. Oct 19;27(44):6186-95. doi: 10.1016/j.vaccine.2009.06.109.
Le-Corre N, Barría S, López T, Martínez-Valdebenito C, Contreras AM, Ferrés M. (2018) Parotiditis en Chile: caracterización clínica y molecular de dos casos en una población altamente. Rev Chilena Infectol. Apr;35(2):198-203. Spanish. doi: 10.4067/s0716-10182018000200198.
Dayan GH, Quinlisk MP, Parker AA, Barskey AE, Harris ML, Schwartz JM, Hunt K, Finley CG… (2008). Recent resurgence of mumps in the United States. N Engl J Med. Apr 10;358(15):1580-9. doi: 10.1056/NEJMoa0706589.
Walkty A, Van Caeseele P, Hilderman T, Buchan S, Weiss E, Sloane M, Fatoye B. (2011) Mumps in prison: description of an outbreak in Manitoba, Canada. Can J Public Health. Sep-Oct;102(5):341-4. doi: 10.1007/BF03404173.
Rubin S, Eckhaus M, Rennick LJ, Bamford CG, Duprex WP. (2015) Molecular biology, pathogenesis and pathology of mumps virus. J Pathol. Jan;235(2):242-52. doi: 10.1002/path.4445.
Bankamp B, Hickman C, Icenogle JP, Rota PA. (2019) Successes and challenges for preventing measles, mumps and rubella by vaccination. Curr Opin Virol. Feb;34:110-116. doi: 10.1016/j.coviro.2019.01.002.
Bockelman C, Frawley TC, Long B, Koyfman A. (2018) Mumps: An Emergency Medicine-Focused Update. J Emerg Med. Feb;54(2):207-214. doi: 10.1016/j.jemermed.2017.08.037.
Rota JS, Turner JC, Yost-Daljev MK, Freeman M, Toney DM, Meisel E, Williams N, Sowers SB… (2009) Investigation of a mumps outbreak among university students with two measles-mumps-rubella (MMR) vaccinations, Virginia, September-December 2006. J Med Virol.Oct;81(10):1819-25. doi: 10.1002/jmv.21557.
Rasheed MAU, Hickman CJ, McGrew M, Sowers SB, Mercader S, Hopkins A, Grimes V, Yu T... (2019). Decreased humoral immunity to mumps in young adults immunized with MMR vaccine in childhood. Proc Natl Acad Sci U S A. Sep 17;116(38):19071-19076. doi: 10.1073/pnas.1905570116.
Gouma S, Hahné SJ, Gijselaar DB, Koopmans MP, van Binnendijk RS (2016). Severity of mumps disease is related to MMR vaccination status and viral shedding. Vaccine. Apr 7;34(16):1868-73. doi: 10.1016/j.vaccine.2016.02.070.
Grennan D. Mumps. (2019) JAMA. Sep 10;322(10):1022. doi: 10.1001/jama.2019.10982.
Patel LN, Arciuolo RJ, Fu J, Giancotti FR, Zucker JR, Rakeman JL, Rosen JB. (2017). Mumps Outbreak Among a Highly Vaccinated University Community-New York City, January-April 2014. Clin Infect Dis. Feb 15;64(4):408-412. doi: 10.1093/cid/ciw762.
Huang, A. S., Cortese, M. M., Curns, A. T., Bitsko, R. H., Jordan, H. T., Soud, F., Villalon-Gomez, J., Denning, P. M., Ens, K. A., Hanson, G. R., & Dayan, G. H. (2009). Risk factors for mumps at a university with a large mumps outbreak. Public health reports (Washington, D.C.: 1974), 124(3), 419–426. https://doi.org/10.1177/003335490912400311
Lau RK, Turner MD. (2019) Viral mumps: Increasing occurrences in the vaccinated population. Oral Surg Oral Med Oral Pathol Oral Radiol. Oct;128(4):386-392. doi: 10.1016/j.oooo.2019.06.012.
Phadke MA, Patki PS, Kulkarni PS, Jadhav SS, Kapre SV. (2004) Pharmacovigilance on MMR vaccine containing L-Zagreb mumps strain. Vaccine. Oct 22;22(31-32):4135-6. doi: 10.1016/j.vaccine.2004.04.002.
Nolan T, McIntyre P, Roberton D, Descamps D. (2002). Reactogenicity and immunogenicity of a live attenuated tetravalent measles-mumps-rubella-varicella (MMRV) vaccine. Vaccine. Dec 13;21(3-4):281-9. doi: 10.1016/s0264-410x(02)00459-0.
Buynak EB, Hilleman MR. (1966) Live attenuated mumps virus vaccine. 1. Vaccine development. Proc Soc Exp Biol Med. Dec;123(3):768-75. doi: 10.3181/00379727-123-31599.
Opstelten W, Hahné SJ, van Roijen JH, van Paridon L, Wolters B, Swaan CM. Bof, terug van weggeweest (2012). Mumps makes a comeback. Ned Tijdschr Geneeskd. 156(43):A5187.
Lee JE, Lee SO, Kang JS, Yi J, Kim KH. (2019). Investigation of a Mumps Outbreak in a Dental Clinic at a University Hospital. Infect Chemother. Sep;51(3):256-262. doi: 10.3947/ic.2019.51.3.256.
Cardemil CV, Dahl RM, James L, Wannemuehler K, Gary HE, Shah M, Marin M, Riley J… (2017) Effectiveness of a Third Dose of MMR Vaccine for Mumps Outbreak Control. N Engl J Med. 2017 Sep 7;377(10):947-956. doi: 10.1056/NEJMoa1703309.
Marlow M, Even S, Hoban MT, Moore K, Patel M, Marin M. (2021). Universities' experience with mumps outbreak response and use of a third dose of MMR vaccine. J Am Coll Health. Jan;69(1):53-58. doi: 10.1080/07448481.2019.1651730.
Marlow MA, Moore K, DeBolt C, Patel M, Marin M. (2020). Health Departments' Experience With Mumps Outbreak Response and Use of a Third Dose of Measles, Mumps, and Rubella Vaccine. J Public Health Manag Pract. Mar/Apr;26(2):101-108. doi: 10.1097/PHH.0000000000000965.
Chaiwarith R, Praparattanapan J, Nuket K, Kotarathitithum W, Supparatpinyo K. (2016) Seroprevalence of antibodies to measles, mumps, and rubella, and serologic responses after vaccination among human immunodeficiency virus (HIV)-1 infected adults in Northern Thailand. BMC Infect Dis. Apr 30;16:190. doi: 10.1186/s12879-016-1499-x.
The Public Health Agency of Canada, Guidelines for the prevention and control of Mumps Outbraks in Canada, January 2010, volumen 36s1. ISSN: 1481-853.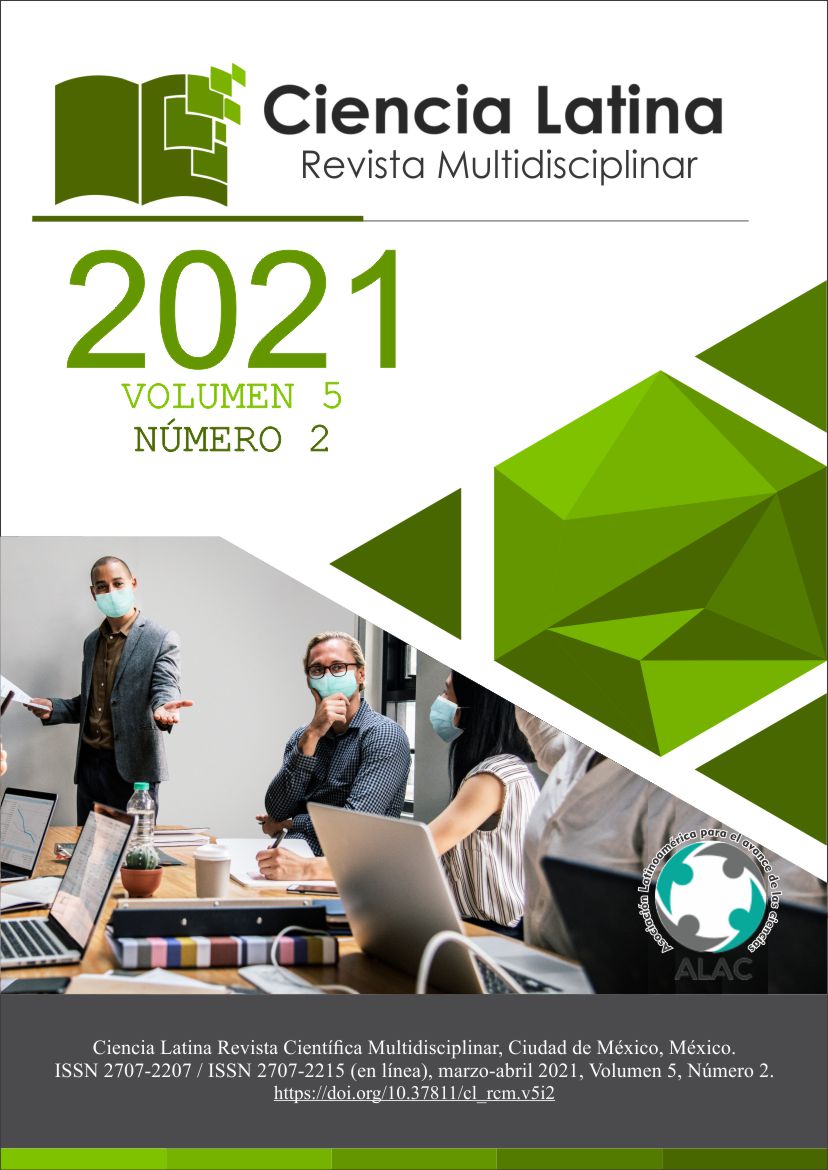 Cómo citar
González Cortes, R. (2021). Resurgimiento de parotiditis en Centros Penales de Costa Rica. Ciencia Latina Revista Científica Multidisciplinar, 5(2), 1445-1460. https://doi.org/10.37811/cl_rcm.v5i2.355
Derechos de autor 2021 Rafael González Cortes
Esta obra está bajo licencia internacional
Creative Commons Reconocimiento 4.0
.