Relato de Caso: Canino com Diagnóstico Prévio de Linfoma e Diagnóstico Final de Leucemia Linfocítica Aguda (LLA) de Células T
Resumen
Un canino macho adulto de 10 años de edad raza Golden Retriever acude a consulta con linfadenomegalia periférica y diagnóstico previo de linfoma multicéntrico El PCR para el reordenamiento de receptores de antígeno (PARRs) indicó reordenamiento clonal positivo de linfocitos T. Se instauró tratamiento quimioterapéutico al cual no respondió favorablemente. Al sospechar de un cuadro neoplásico hematopoyético, se realiza biopsia de médula ósea alcanzando el diagnóstico de leucemia linfocítica aguda (LLA) de linfocitos T. Las pruebas diagnósticas facilitan un estadiaje atinado para determinar el pronóstico acertado y protocolo terapéutico más adecuado.

Palabras clave:

golden retriever, canino, linfoma, leucemia, linfocitos T
Descargas
La descarga de datos todavía no está disponible.
Citas
Avery, A. The Genetic and Molecular Basis for Canine Models of Human Leukemia and Lymphoma. (2020) DOI: https://doi.org/10.3389/fonc.2020.00023
Bennett, A., Williams, L., Ferguson, M., Hauck, M., Suter, S., Lanier, C. y Hess, P. Canine acute leukaemia: 50 cases (1989-2014) (2016) Veterinary and Comparative Oncology. DOI: https://doi.org/10.1111/vco.12251
Brown, P., Tzannes, S., Nguyen, S., White, J. y Langova, V. LOPP chemotherapy as a first-line treatment for dogs with T-cell lymphoma. (2017) Veterinary and Comparative Oncology. DOI: https://doi.org/10.1111/vco.12318
Campbell, O., MacDonald, V.S., Dickinson, R.M. y Gagnon, J. Evaluation of the effect of vincristine on platelet count in dogs with lymphoma. (2019) Journal of Small Animal Practice 60 734-738. DOI: 10.1111/jsap.13080
Comazzi, S., Martini, V., Riondato, F., Poggi, A., Stefanello, D., Marconato, L., Albonico, F. y Gelain ME. Chronic Lymphocytic Leukemia Transformation into High Grade Lymphoma: a Description of Richter Syndrome in 8 Dogs. (2022) Veterinary and Comparative Oncology. DOI:10.1111/vco.12172
Comazzi, S. y Riondato, F. Flow Cytometry in the Diagnosis of Canine T-cell Lymphoma (2021) DOI: https://doi.org/10.3389/fvets.2021.600963
Deravi, N., Berke, O., Paul, J. y Bienzle, D. Specific Inmunotypes of Canine T cell lymphoma are associated with different outcomes. (2017) Elsevier DOI: http://dx.doi.org/10.1016/j.vetimm.2017.07.008
Elliott, J. y Baines, S. A Retrospective Study of Multi-Agent Chemotherapy including either Cyclophosphamide or Lomustine as Initial Therapy for Canine High-grade Lymphoma T-Cell Lymphoma (2019) Australian Veterinary Journal vol 97 308-315. Doi: 10.1111/avj.12847
Ferrari, A., Cozzi, M., Aresu, L. y Martini, V. Tumor staging in a Beagle dog with concomitant large B-cell lymphoma and T-cell acute lymphoblastic leukemia. (2021) Journal of Veterinary Diagnostic Investigation Vol 33 (4) 792-796. https://doi.org/10.1177/10406387211011024
Kim, S., Kim, H., Lee, S., Cho, I., Kang, S., Bae, J., Kim, W., Ahn, S., Choi, J., Kim, S., Do, Y., Yoo, J.Park, J. y Yu, D. Diagnosis of Lymphoid Malignancy by PCR for Analysis of Antigen Receptor Rearrangement after Blood Transfusion in a dog with Acute Lymphocytic Leukemia. (2017). Immune Network 17(4): 269-274. https://doi.org/10.4110/in.2017.17.4.269
López, F. La quimioterapia vence al linfoma canino hasta en un 90% de los casos. (2019) Diario Animal's Health. https://www.animalshealth.es/profesionales/linfoma-canino-quimioterapia-remite-90-casos
Makauskité, K. Analysis of laboratory tests' results of Canine patients diagnosed with Leukemia (2022). Tesis de maestría. Universidad de Lituania.
Málaga, G. Frecuencia de neoplasias malignas en perros y su caracterización citológica y/o histopatológica en la clínica ''Dr. Mascota'', Arequipa-Perú periodo 2017-2018. https://tesis.ucsm.edu.pe/repositorio/bitstream/handle/UCSM/9975/D7.2059.MG.pdf?sequence=1&isAllowed=y
Meuten, D. Tumors in Domestic Animals. 2017. 5ta edición. 44-320
Pedros, G. Canine Leukemia: concerning to two clinical cases. (2018) https://ddd.uab.cat/pub/tfg/2018/194879/TFG_gpedrosfaura_poster.pdf
Pittaway, C., Schofield, I., Dobson, J., O'Neill, D. y Brodbelt, D. Incidence and risk factors for the diagnostic of lymphoma in dogs in UK primary-care practice. (2019) Journal of Small Animal Practice. DOI: https://doi.org/10.1111/jsap.13054
Pretti, R., Massone, A. y Fontana, L. Estudio retrospectivo de medulograma como herramienta diagnóstica en procesos linfoproliferativos. (2019) http://sedici.unlp.edu.ar/bitstream/handle/10915/83443/Documento_completo.pdf-PDFA.pdf?sequence=1&isAllowed=y
Sánchez, D., Sánchez-Verin, R., Corona, H., Gutiérrez, A., Núñez-Ochoa, L., Paredes, J. y Cesarman-Maus, G. Canine Lymphoma: Pathological and clinical characteristics of patients treated at a referral hospital. (2019) DOI: http://dx.doi.org/10.22201/fmvz.24486760e.2019.2.495
Sindhur, A., Kumar, A., Chaudhary, R., Kumar, D. y Prahba, N. Effect of Doxorubicin on Haematological and Blood Biochemical Profile of Healthy Dogs. (2019) Rev Haryana Vet vol 58 (1) 11-14.
Vail, D., Thamm, D, and Liptak J. Withrow and MacEwen's Small Animal Clinical Oncology. 2020. 6ta edición. 688-739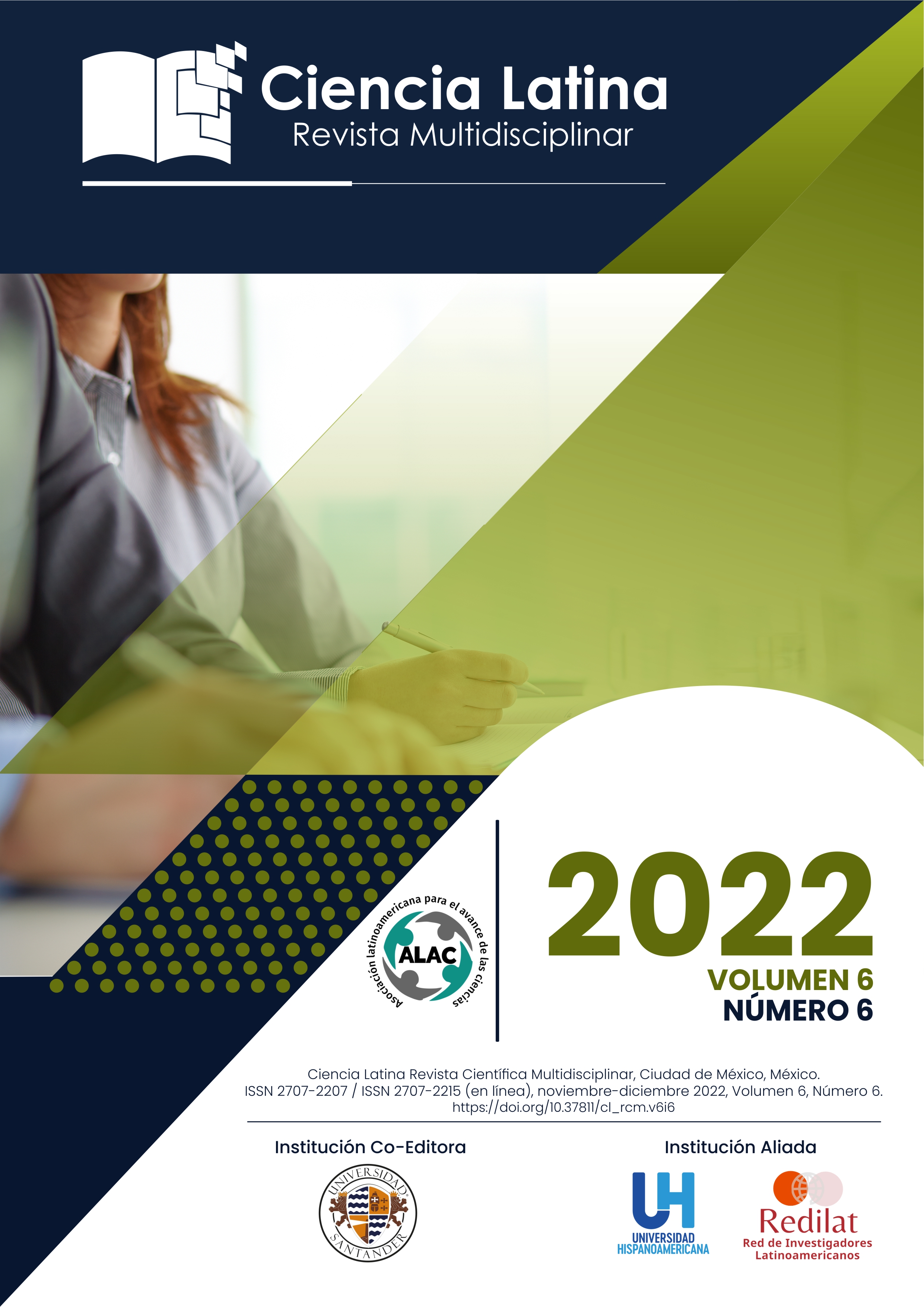 Cómo citar
Urrunaga, V., & Rojas, G. (2022). Relato de Caso: Canino com Diagnóstico Prévio de Linfoma e Diagnóstico Final de Leucemia Linfocítica Aguda (LLA) de Células T. Ciencia Latina Revista Científica Multidisciplinar, 6(6), 793-802. https://doi.org/10.37811/cl_rcm.v6i6.3571
Derechos de autor 2022 Vielka Urrunaga;Gilberto Rojas
Esta obra está bajo licencia internacional
Creative Commons Reconocimiento 4.0
.