Síndrome post-covid-19: manifestaciones clínicas más frecuentes
Gissell Andrea Galarza Vera

Universitario en Prevención de Riesgos Laborales

John Carlos Delgado Zambrano

Investigador Independiente

Adriana Elizabeth Alvia Párraga

Investigador Independiente

Víctor Alfonso Andrade Zambrano

Hospital IEES Ceibos

Michell Estefanía Franco Ortega
Resumen
El COVID-19 desde su aparición en Wuhan, China, se ha propagado y ha tenido un profundo impacto en la vida y la salud de los individuos a nivel mundial. Hasta el 4 de julio de 2021, se habían registrado más de 183 millones de casos confirmados de SARS-CoV-2 y 3,97 millones de muertes a nivel mundial.
El síndrome post-COVID es el término empleado en los pacientes que se han recuperado del SARS-CoV-2 pero los síntomas persisten. Estos síntomas involucran trastornos físicos persistentes que producen condicionamiento en las actividades regulares como el trabajo y actividad física, también produce secuelas cognitivas, en muchos casos la inmunosupresión es persistente, muchos de los pacientes tienen fibrosis pulmonar, cardíaca y vascular después de haber culminado con la fase de infección aguda por COVID-19.
Los síntomas del síndrome post- COVID incluyen fatiga, disnea, dolor muscular, trastornos del sueño, deterioro cognitivo, anomalías cardíacas, síntomas de trastorno de estrés postraumático, problemas de concentración y cefalea. Esta revisión resume los síntomas más frecuentes que cursan los pacientes hospitalizados y no hospitalizados que superaron la infección aguda por SARS-CoV-2, también se discute las guías terapéuticas para dichos pacientes.
Palabras clave:
covid-19, sars-cov-2, síntomas persistentes, infección aguda, secuelas
Descargas
La descarga de datos todavía no está disponible.
Citas
Organización Panamericana de la Salud. Informes de situación de la COVID-19. [Online].; 2022 [cited 2022 11 28. Available from: https://www.paho.org/es/informes-situacion-covid-19.
Lauren L. O´ Mahoney ARCGWEAWAZea. The prevalence and long-term health effects of Long Covid among hospitalised and non-hospitalised populations: A systematic review and meta-analysis. The Lancelet. 2023 Jan; 55(101762).
Mora-Romo JF. Health psychology on long COVID: Strategies based on NICE and WHO guidelines recommendations. Redalyc. 2021 Jun; 45(4): p. 199-208.
Excellence NIfHaC. COVID-19 rapid guideline: managing the longterm effects of COVID-19. Guías médicas. Royal College of General Practitioners, Scottish Intercollegiate Guidelines Network; 2022.
Medline Plus. Post-COVID Conditions (Long COVID). [Online].; 2020 [cited 2022 11 26. Available from: https://medlineplus.gov/postcovidconditionslongcovid.html.
Nasserie T ea. Assessment of the frequency and variety of persistent symptoms among patients with COVID-19: A systematic review. JAMA Netw Open. 2021 May; 06(2111417).
The BMJ. Long covid—mechanisms, risk factors, and management. [Online].; 2021 [cited 01 12 2022. Available from: https://www.bmj.com/content/374/bmj.n1648.abstract?casa_token=msLWbW39SVkAAAAA:azvxsmUidYt2zDtN_Un_X9k3unkdpmGwVB0WIRFjpG0Vt01Vd6DV51NBCqHGhFwq0v46pOxrANg.
Organización Panoamericana de la Salud. Actualización Epidemiológica: Enfermedad por coronavirus (COVID-19). [Online].; 2021 [cited 2022 11 26. Available from: https://www.paho.org/es/documentos/actualizacion-epidemiologica-enfermedad-por-coronavirus-covid-19-2-diciembre-2021.
Organización Panoamericana de la Salud. Alerta Epidemiológica Brotes recurrentes de COVID-19. 15 de junio de 2022. [Online].; 2022 [cited 2022 11 26. Available from: https://www.paho.org/es/documentos/alerta-epidemiologica-brotes-recurrentes-covid-19-15-junio-2022.
Hoffmann M KWHSSea. SARSCell entry depends on ACE2 and TMPRSS2 and is blocked by a clinically proven protease inhibitor. Cell. 2020;(181:271-280.e8).
P G. BMJ Opinion. [Online].; 2020 [cited 2022 11 28. Available from: https://blogs.bmj.com/bmj/2020/05/05/paul-garner-peoplewho-have-a-more-protracted-illness-need-help-to-understand-andcope-with-the-constantly-shifting-bizarre-symptoms/.
Perego E CFSLMJBPRAN. Why the patient-made term 'long covid' is needed. Welcome Open Research. 2020; 5.
Greenhalgh Trisha KMACBMHL. Management of post-acute covid-19 in primary care. BMJ Opinion. 2020;(370).
Forte G FFTRCM. COVID-19 pandemic in the Italian population: validation of a post-traumatic stress disorder questionnaire and prevalence of PTSD symptomatology. Int J Environ Res Publ Health. 2020; 17(4151).
Jiang H-j NJLZyea. Psychological impacts of the COVID-19 epidemic on Chinese people: exposure, post-traumatic stress symptom, and emotion regulation. Asian Pac J Trop Med. 2020; 13(252).
Bryan Oronsky CLTCHAOSKMLea. Una revisión del síndrome post-COVID persistente (PPCS). SPRINGER. 2021 Jan.
Mao L WMCSHOCJea. Neurological manifestations of hospitalized patients with COVID-19 in Wuhan, China: a retrospective case series study. medRxiv. 2022 Feb.
Yao X YFZMCCHBNPa. In Vitro Antiviral Activity and Projection of Optimized Dosing Design of Hydroxychloroquine for the Treatment of Severe Acute Respiratory Syndrome Coronavirus 2 SARS-CoV-12. Clin InfectDis. 2020.
Baud D QXNSKMDPLFG. Real estimates of mortality following COVID-19 infection. Lancet Infect Dis. 2020.
Eleni Korompoki MGRSHISEKDea. Epidemiology and organ specific sequelae of post-acute COVID19: A narrative review. Science Direct. 2021 Jun; 83(1): p. 1-16.
McKaylee M Robertson SAQSGKCATHJMMea. The epidemiology of long COVID in US adults. Clinical Infectious Diseases. 2022 Dec.
Q. Li XGPWXWLZYTea. Early transmission dynamics in Wuhan, China, of novel Coronavirus-infected pneumonia. N Engl J Med. 2020; 382: p. 1199-1207.
J.F. Chan GKCAKTKMTHYLCCYea. Development and evaluation of novel real-time reverse transcription-PCR Assays with locked nucleic acid probes targeting leader sequences of human-pathogenic Coronaviruses. J Clin Microbiol. 2020; 53: p. 2722-2726.
De Wit E VDNFDMV. SARS and MERS: Recent insights into emerging coronaviruses. Nat Rev Microbiol. 2019; 14(8): p. 523-34.
Tian S XYLHea. Pathological study of the 2019 novel coronavirus disease (COVID-19) through postmortem core biopsies. Emerg Infect Dis. 2020; 9(9): p. 1064-9.
Shi H HXJNCYea. Radiological findings from 81 patients with COVID-19 pneumonia in Wuhan, China: A descriptive study. Lancet Infect Dis. 2020; 20(4): p. 425-434.
McCarthy B CDDDMKMELY. Pulmonary rehabilitation for chronic obstructive pulmonary disease. Cochrane Database Syst Rev. 2021.
Moodley YP SAMNea. Fibroblasts isolated from normal lungs and those with idiopathic pulmonary fibrosis differ in interleukin-6/gp130-mediated cell signaling and proliferation. Am J Pathol. .
Harry Crook SRJNMYPE. Long covid—mechanisms, risk factors, and management. BMJ. 2021 Jun;: p. 1-19.
Mandal S BJBSea. ARC Study Group. 'Long-COVID': a cross-sectional study of persisting symptoms, biomarker and imaging abnormalities following hospitalisation for COVID-19. Thorax. 2021;(76:396-8).
Heneka MT GDLEMDBR. Immediate and long-term consequences of COVID-19 infections for the development of neurological disease. Alzheimers Res Ther. 2020; 12(69).
Taquet M LSGJHP. Bidirectional associations between COVID-19 and psychiatric disorder: retrospective cohort studies of 62 354 COVID-19 cases in the USA. Lancet Psychiatry. 2021; 8: p. 130-40.
Needham EJ CSCAMD. Neurological implications of COVID-19 infections. Neurocrit Care. 2020; 32: p. 667-71.
Caress JB CRSZea. COVID-19-associated Guillain-Barré syndrome: The early pandemic experience. Muscle Nerve. 2020;(62): p. 485-91.
South K MLMBEMASSC. Preceding infection and risk of stroke: An old concept revived by the COVID-19 pandemic. Int J Stroke. 2020; 15: p. 722-32.
Kaseda ET LA. Post-traumatic stress disorder: A differential diagnostic consideration for COVID-19 survivors. Clin Neuropsychol. 2020;(34): p. 1498-514.
Nalbandian A SKGAea. Post-acute COVID-19 syndrome. Nat Med. 2021;(27): p. 601-15.
Lee SY SKLCea. Operation and management of Seoul Metropolitan City Community Treatment Center for mild condition COVID-19 patients. J Korean Med Sci. 2020;(35).
Usher K BNJD. Life in the pandemic: Social isolation and mental health. J Clin Nurs. 2020;(29:2756-7.).
W. Zhang RHDBLXSZXLYBHea. Molecular and serological investigation of 2019-nCoV infected patients: implication of multiple shedding routes. Emerg Microbes Infect. 2020;(9): p. 386-389.
Xu H ZLDJea. High expression of ACE2 receptor of 2019-nCoV on the epithelial cells of oral mucosa. Int J Oral Sci. 2020; 12(8).
Pushpass RG PNKCPGCG. Reduced salivary mucin binding and glycosylation in older adults influences taste in an in vitro cell model. Nutrients. 2020; 11(3).
Huang C HLWYea. 6-month consequences of COVID-19 in patients discharged from hospital: a cohort study. Lancet. 2021;(397:220-32.).
Chan L CKSAea. Acute Kidney Injury in Hospitalized Patients with COVID-19. JASN 31. 2021.
Fignani DLGBNea. SARS-CoV-2 receptor Angiotensin I-converting Enzyme type 2 is expressed in human pancreatic islet β-cells and is upregulated by inflammatory stress. bioRxiv preprint. 2020.
Hadi A WMKKea. Coronavirus Disease-19 (COVID-19) associated with severe acute pancreatitis: Case report on three family members. Pancreatology. 2020. ;: p. 20:665-7.
Liu F LXZBZWCXZZ. ACE2 expression in pancreas may cause pancreatic damage after SARS-CoV-2 infection. Clin Gastroenterol Hepatol. 2020;(18:2128-2130.e2).
Zuo T ZFLGea. Alterations in gut microbiota of patients with COVID-19 during time of hospitalization. Gastroenterology Int. 2020.
Venkatesan P. NICE guideline on long COVID. The Lancet Resp. 2021; 9(2).
National Institute for Health and Care Excellence. COVID-19 rapid guideline: managing the long-term effects of COVID-19. [Online].; 2020 [cited 2022 12 12. Available from: https://www.nice.org.uk/guidance/NG188.
NIHR. Hidden lung damage from COVID-19 revealed in new study. [Online].; 2020 [cited 2022 12 12. Available from: https://oxfordbrc.nihr.ac.uk/hidden-lung-damage-from-covid-19-revealed-in-new-study/.
AV R. Long COVID-19: challenges in the diagnosis and proposed diagnostic criteria. Diabetes Metab Syndr. 2020; 15(1): p. 145e6.
Köhler CA FTSBea. Peripheral alterations in cytokine and chemokine levels after antidepressant drug treatment for major depressive disorderr: systematic review and meta-analysis. Mol Neurobiol. 2021;(55:4195-206).
Omran HM AM. Influence of NAD+ as an ageing-related immunomodulator on COVID 19 infection: A hypothesis. J Infect Public Health. 2020;(13:1196-201).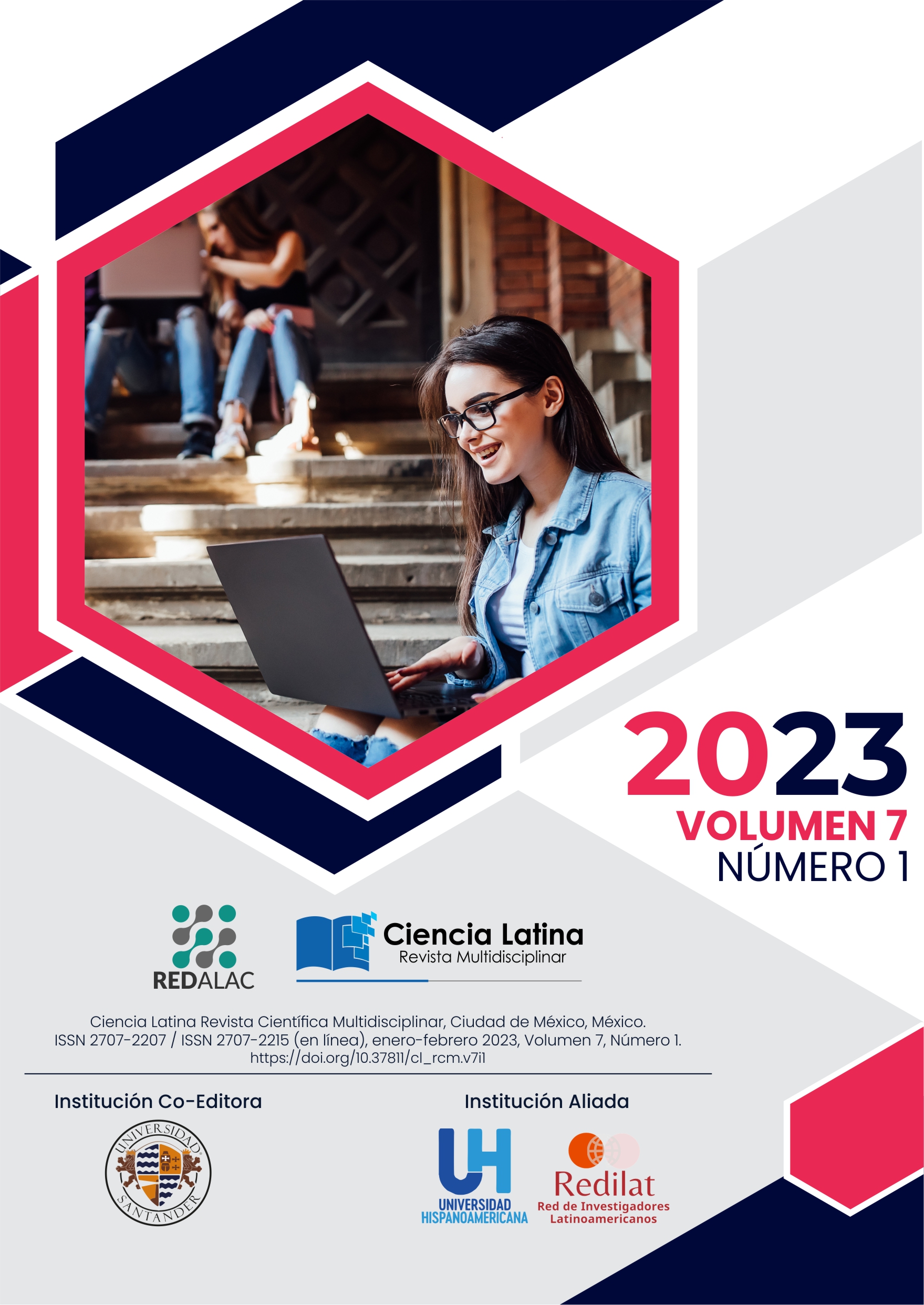 Cómo citar
Galarza Vera, D. G. A., Delgado Zambrano, D. J. C., Alvia Párraga , D. A. E., Andrade Zambrano, D. V. A., & Franco Ortega , D. M. E. (2023). Síndrome post-covid-19: manifestaciones clínicas más frecuentes. Ciencia Latina Revista Científica Multidisciplinar, 7(1), 859-887. https://doi.org/10.37811/cl_rcm.v7i1.4436
Derechos de autor 2023 Dra. Gissell Andrea Galarza Vera;Dr. John Carlos Delgado Zambrano;Dra. Adriana Elizabeth Alvia Párraga ;Dr. Víctor Alfonso Andrade Zambrano;Dra. Michell Estefanía Franco Ortega
Esta obra está bajo licencia internacional
Creative Commons Reconocimiento 4.0
.