Nanopartículas de quitosano: una prometedora estrategia para combatir la resistencia a antimicrobianos
Resumen
La resistencia a antimicrobianos es un problema creciente de salud pública mundial, pues cada vez hay más microorganismos patógenos resistentes a los agentes antimicrobianos tradicionales. Esto ha originado una creciente necesidad por investigar y desarrollar nuevas terapias para combatir a estas cepas resistentes. Las nanopartículas de quitosano se han convertido en una alternativa atractiva y prometedora para solucionar este problema, pues ya se ha demostrado su actividad contra bacterias multirresistentes. Además, como sistemas acarreadores de agentes antimicrobianos para liberación controlada, han demostrado ser una alternativa adecuada a la administración convencional de fármacos. Por tanto, en el presente artículo se resumirá brevemente el estado actual de la investigación en nanopartículas de quitosano aplicada en combatir la resistencia a antimicrobianos.
Palabras clave:
quitosano, nanopartículas, resistencia a antimicrobianos
Descargas
La descarga de datos todavía no está disponible.
Citas
Abd El-Hack, M. E., El-Saadony, M. T., Shafi, M. E., Zabermawi, N. M., Arif, M., Batiha, G. E., Khafaga, A. F., Abd El-Hakim, Y. M., & Al-Sagheer, A. A. (2020). Antimicrobial and antioxidant properties of chitosan and its derivatives and their applications: A review. International Journal of Biological Macromolecules, 164, 2726–2744. https://doi.org/10.1016/j.ijbiomac.2020.08.153
Ashvini, H. M., Balla, A., & Mutta, S. K. (2019). Clarithromycin-loaded Chitosan Nanoparticles: Preparation, Characterisation and Antibacterial Activity on Streptococcus pneumonia. Indian Journal of Pharmacological Science, 81(2), 302–308. www.ijpsonline.com
Baldrick, P. (2010). The safety of chitosan as a pharmaceutical excipient. Regulatory Toxicology and Pharmacology, 56(3), 290–299. https://doi.org/10.1016/j.yrtph.2009.09.015
Banoub, N. G., Saleh, S. E., Helal, H. S., & Aboshanab, K. M. (2021). Antibiotics combinations and chitosan nanoparticles for combating multidrug resistance acinetobacter baumannii. Infection and Drug Resistance, 14, 3327–3339. https://doi.org/10.2147/IDR.S328788
Begines, B., Ortiz, T., Pérez-Aranda, M., Martínez, G., Merinero, M., Argüelles-Arias, F., & Alcudia, A. (2020). Polymeric nanoparticles for drug delivery: Recent developments and future prospects. Nanomaterials, 10(7), 1–41. https://doi.org/10.3390/nano10071403
Boyd, N. K., Teng, C., & Frei, C. R. (2021). Brief Overview of Approaches and Challenges in New Antibiotic Development: A Focus On Drug Repurposing. In Frontiers in Cellular and Infection Microbiology (Vol. 11). Frontiers Media S.A. https://doi.org/10.3389/fcimb.2021.684515
Brar, A., Majumder, S., Navarro, M. Z., Benoit-Biancamano, M. O., Ronholm, J., & George, S. (2022). Nanoparticle-Enabled Combination Therapy Showed Superior Activity against Multi-Drug Resistant Bacterial Pathogens in Comparison to Free Drugs. Nanomaterials, 12(13). https://doi.org/10.3390/nano12132179
Christaki, E., Marcou, M., & Tofarides, A. (2020). Antimicrobial Resistance in Bacteria: Mechanisms, Evolution, and Persistence. Journal of Molecular Evolution, 88(1), 26–40. https://doi.org/10.1007/s00239-019-09914-3
Chung, Y. C., & Chen, C. Y. (2008). Antibacterial characteristics and activity of acid-soluble chitosan. Bioresource Technology, 99(8), 2806–2814. https://doi.org/10.1016/J.BIORTECH.2007.06.044
Divya, K., & Jisha, M. S. (2018). Chitosan nanoparticles preparation and applications. Environmental Chemistry Letters, 16(1), 101–112. https://doi.org/10.1007/s10311-017-0670-y
Dutta, P. K., Kumar Dutta, P., Dutta, J., & Tripathi, V. S. (2004). Chitin and chitosan: Chemistry, properties and applications. In Journal of Scientific & Industrial Research (Vol. 63). https://www.researchgate.net/publication/242294346
El-Naggar, N. E. A., Shiha, A. M., Mahrous, H., & Mohammed, A. B. A. (2022). Green synthesis of chitosan nanoparticles, optimization, characterization and antibacterial efficacy against multi drug resistant biofilm-forming Acinetobacter baumannii. Scientific Reports, 12(1). https://doi.org/10.1038/s41598-022-24303-5
Essa, E. E., Hamza, D., Khalil, M. M. H., Zaher, H., Salah, D., Alnemari, A. M., Rady, M. H., & Mo`men, S. A. A. (2022). The Antibacterial Activity of Egyptian Wasp Chitosan-Based Nanoparticles against Important Antibiotic-Resistant Pathogens. Molecules, 27(21). https://doi.org/10.3390/molecules27217189
Gzyra-Jagiela, K., Peczek, B., Wisniewska-Wrona, M., & Gutowska, N. (2020). Physicochemical Properties of Chitosan and its Degradation Products. In L. van den Broek & C. G. Boeriu (Eds.), Chitin and Chitosan: properties and applications (1st ed., Vol. 1, pp. 61–80). John Wiley & Sons Ltd.
Hutchings, M., Truman, A., & Wilkinson, B. (2019). Antibiotics: past, present and future. In Current Opinion in Microbiology (Vol. 51, pp. 72–80). Elsevier Ltd. https://doi.org/10.1016/j.mib.2019.10.008
Jain, A., Duvvuri, L. S., Farah, S., Beyth, N., Domb, A. J., & Khan, W. (2014). Antimicrobial Polymers. Advanced Healthcare Materials, 3(12), 1969–1985. https://doi.org/10.1002/adhm.201400418
Jesus, S., Marques, A. P., Duarte, A., Soares, E., Costa, J. P., Colaço, M., Schmutz, M., Som, C., Borchard, G., Wick, P., & Borges, O. (2020). Chitosan Nanoparticles: Shedding Light on Immunotoxicity and Hemocompatibility. Frontiers in Bioengineering and Biotechnology, 8. https://doi.org/10.3389/fbioe.2020.00100
Kim, S.-K. (2011). Chitin, Chitosan, Oligosaccharides and Their Derivatives: Biological Activities and Applications (S.-K. Kim, Ed.; 1st ed., Vol. 1). CRC Press.
Liu, H., Du, Y., Wang, X., & Sun, L. (2004). Chitosan kills bacteria through cell membrane damage. International Journal of Food Microbiology, 95(2), 147–155. https://doi.org/10.1016/J.IJFOODMICRO.2004.01.022
Ma, Z., Garrido-Maestu, A., & Jeong, K. C. (2017). Application, mode of action, and in vivo activity of chitosan and its micro- and nanoparticles as antimicrobial agents: A review. In Carbohydrate Polymers (Vol. 176, pp. 257–265). Elsevier Ltd. https://doi.org/10.1016/j.carbpol.2017.08.082
Marei, N., Elwahy, A. H. M., Salah, T. A., el Sherif, Y., & El-Samie, E. A. (2019). Enhanced antibacterial activity of Egyptian local insects' chitosan-based nanoparticles loaded with ciprofloxacin-HCl. International Journal of Biological Macromolecules, 126, 262–272. https://doi.org/10.1016/j.ijbiomac.2018.12.204
Morrison, L., & Zembower, T. R. (2020). Antimicrobial Resistance. Gastrointestinal Endoscopy Clinics of North America, 30(4), 619–635. https://doi.org/10.1016/j.giec.2020.06.004
Murray, C. J., Ikuta, K. S., Sharara, F., Swetschinski, L., Robles Aguilar, G., Gray, A., Han, C., Bisignano, C., Rao, P., Wool, E., Johnson, S. C., Browne, A. J., Chipeta, M. G., Fell, F., Hackett, S., Haines-Woodhouse, G., Kashef Hamadani, B. H., Kumaran, E. A. P., McManigal, B., … Naghavi, M. (2022). Global burden of bacterial antimicrobial resistance in 2019: a systematic analysis. The Lancet, 399(10325), 629–655. https://doi.org/10.1016/S0140-6736(21)02724-0
Pădurețu, C. cezarina, Isopescu, R., Rău, I., Apetroaei, M. R., & Schröder, V. (2019). Influence of the parameters of chitin deacetylation process on the chitosan obtained from crab shell waste. Korean Journal of Chemical Engineering, 36(11), 1890–1899. https://doi.org/10.1007/s11814-019-0379-7
Rasweefali, M. K., Sabu, S., Sunooj, K. v., Sasidharan, A., & Xavier, K. A. M. (2021). Consequences of chemical deacetylation on physicochemical, structural and functional characteristics of chitosan extracted from deep-sea mud shrimp. Carbohydrate Polymer Technologies and Applications, 2. https://doi.org/10.1016/j.carpta.2020.100032
Rizeq, B. R., Younes, N. N., Rasool, K., & Nasrallah, G. K. (2019). Synthesis, bioapplications, and toxicity evaluation of chitosan-based nanoparticles. In International Journal of Molecular Sciences (Vol. 20, Issue 22). MDPI AG. https://doi.org/10.3390/ijms20225776
Singla, A. K., & Chawla, M. (2010). Chitosan: some pharmaceutical and biological aspects - an update. Journal of Pharmacy and Pharmacology, 53(8), 1047–1067. https://doi.org/10.1211/0022357011776441
Sivakanthan, S., Rajendran, S., Gamage, A., Madhujith, T., & Mani, S. (2020). Antioxidant and antimicrobial applications of biopolymers: A review. In Food Research International (Vol. 136). Elsevier Ltd. https://doi.org/10.1016/j.foodres.2020.109327
Sobhani, Z., Samani, S. M., Montaseri, H., & Khezri, E. (2017). Nanoparticles of chitosan loaded ciprofloxacin: Fabrication and antimicrobial activity. Advanced Pharmaceutical Bulletin, 7(3), 427–432. https://doi.org/10.15171/apb.2017.051
Tacconelli, E., Carrara, E., Savoldi, A., Harbarth, S., Mendelson, M., Monnet, D. L., Pulcini, C., Kahlmeter, G., Kluytmans, J., Carmeli, Y., Ouellette, M., Outterson, K., Patel, J., Cavaleri, M., Cox, E. M., Houchens, C. R., Grayson, M. L., Hansen, P., Singh, N., … Zorzet, A. (2018). Discovery, research, and development of new antibiotics: the WHO priority list of antibiotic-resistant bacteria and tuberculosis. The Lancet Infectious Diseases, 18(3), 318–327. https://doi.org/10.1016/S1473-3099(17)30753-3
Tsaih, M. L., & Chen, R. H. (2003). The Effect of Reaction Time and Temperature During Heterogenous Alkali Deacetylation on Degree of Deacetylation and Molecular Weight of Resulting Chitosan. Journal of Applied Polymer Science, 88(1), 2917–2923.
World Health Organization. (2021). 2020 antibacterial agents in clinical and preclinical development: an overview and analysis. World Health Organization.
Zielinska, A., Carreiró, F., Oliveira, A. M., Neves, A., Pires, B., Nagasamy Venkatesh, D., Durazzo, A., Lucarini, M., Eder, P., Silva, A. M., Santini, A., & Souto, E. B. (2020). Polymeric Nanoparticles: Production, Characterization, Toxicology and Ecotoxicology. Molecules, 25(16). https://doi.org/10.3390/molecules25163731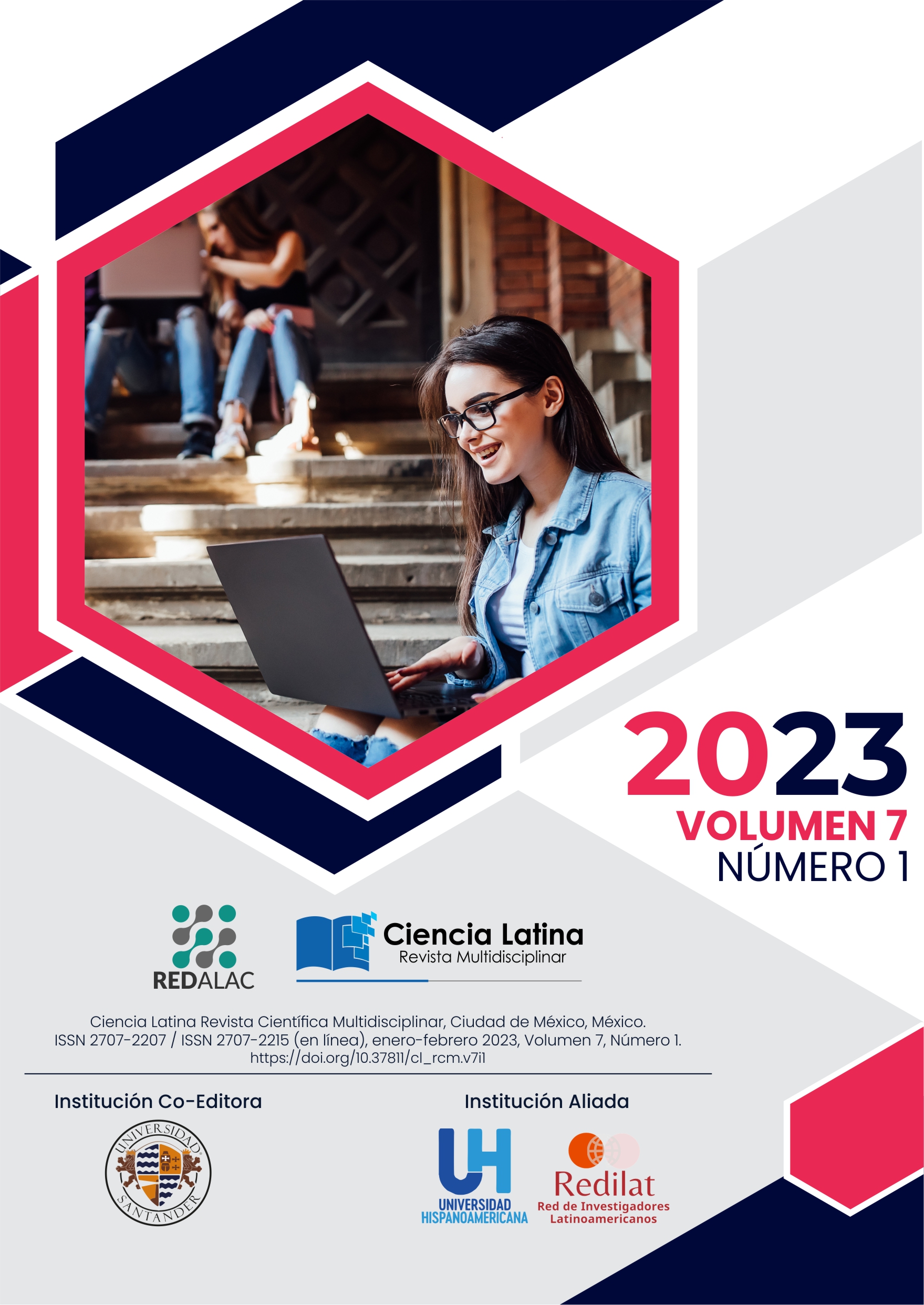 Cómo citar
Saucedo-Plascencia, M. D., Guevara Martínez, S. J., Zamudio-Ojeda, A., & Castillo-Romero, A. (2023). Nanopartículas de quitosano: una prometedora estrategia para combatir la resistencia a antimicrobianos. Ciencia Latina Revista Científica Multidisciplinar, 7(1), 9562-9575. https://doi.org/10.37811/cl_rcm.v7i1.5078
Derechos de autor 2023 Mauro Donaldo Saucedo-Plascencia;Santiago José Guevara Martínez;Adalberto Zamudio-Ojeda;Araceli Castillo-Romero
Esta obra está bajo licencia internacional
Creative Commons Reconocimiento 4.0
.