Tendencias del big data y cloud computing: Bibliometría del 2010 al 2020
Jesús Hernández Sánchez

Universidad Popular Autónoma del Estado de Puebla (UPAEP)

Erick Leobardo Álvarez Aros

Universidad Popular Autónoma del Estado de Puebla (UPAEP)

Rosa María Cantón Croda

Universidad Popular Autónoma del Estado de Puebla (UPAEP)
Resumen
En el presente estudio se identificaron las tendencias más significativas de los documentos científicos de alto impacto analizados con respecto al Big Data y Cloud Computing durante el periodo comprendido entre los años 2010 al 2020, cuya revisión se realizó en las bases de datos Web of Science (WoS) y Scopus de 111 artículos. Los resultados fueron varios, como, por ejemplo, B. Dong como el autor con más publicaciones, China, Estados Unidos e India como los países con más estudios y estos primeros los que más colaboran entre si; por mencionar algunos.
Palabras clave:
Big Data, Cloud Computing, Bibliometrix, ciencia de datos, tecnología, software R
Descargas
La descarga de datos todavía no está disponible.
Citas
Aria, M., & Cuccurullo, C. (2017). bibliometrix: An R-tool for comprehensive science mapping analysis. Journal of In- formetrics, 11(4), 959-975.
Baek, J., Vu, Q. H., Liu, J. K., Huang, X., & Xiang, Y. (2014). A secure cloud computing based framework for big data information management of smart grid. IEEE transac- tions on cloud computing, 3(2), 233-244. doi: 10.1109/TCC.2014.2359460
Belfiore, P., Iovino, S., & Tafuri, D. (2019). Sport manage- ment and educational management: a bibliometric analysis. Sport Science, 12(1), 61-64.
Cai, H., Xu, B., Jiang, L., & Vasilakos, A. V. (2016). IoT- based big data storage systems in cloud computing: perspectives and challenges. IEEE Internet of Things Journal, 4(1), 75-87. DOI: 10.1109/JIOT.2016.2619369
Chen, J., Li, K., Tang, Z., Bilal, K., Yu, S., Weng, C., & Li, K. (2016). A parallel random forest algorithm for big data in a spark cloud computing environment. IEEE Transac- tions on Parallel and Distributed Systems, 28(4), 919- 933. DOI: 10.1109/TPDS.2016.2603511
Gai, K., Qiu, M., Zhao, H., & Xiong, J. (2016, June). Privacy- aware adaptive data encryption strategy of big data in cloud computing. In 2016 IEEE 3rd International Confe- rence on Cyber Security and Cloud Computing (CSCloud) (pp. 273-278). IEEE. doi: 10.1109/CSCloud.2016.52
Hashem, I. A. T., Yaqoob, I., Anuar, N. B., Mokhtar, S., Gani, A., & Khan, S. U. (2015). The rise of "big data" on cloud computing: Review and open research issues. Informa- tion systems, 47, 98-115. DOI: 10.1016/j.is.2014.07.006
Hilbert, M. y López, P. (2011). The world's technological capacity to store, communicate, and compute information. Science, 332(60), 60-65.
Lo'ai, A. T., Mehmood, R., Benkhlifa, E., & Song, H. (2016). Mobile cloud computing model and big data analysis for healthcare applications. IEEE Access, 4, 6171-6180. DOI: 10.1109/ACCESS.2016.2613278
Lo'ai, A. T., Bakheder, W., & Song, H. (2016, June). A mobi- le cloud computing model using the cloudlet scheme for big data applications. In 2016 IEEE First International Conference on Connected Health: Applications, Systems and Engineering Technologies (CHASE) (pp. 73-77). IEEE. DOI: 10.1109/CHASE.2016.40
Li, M. y Cao, S. (2014). A serie method of massive information storage, retrieval and sharing. En Mechatronics and Automation (ICMA), 2014 IEEE International Conference on (pp. 1171-1175). IEEE.
Li, J., Huang, L., Zhou, Y., He, S., & Ming, Z. (2017).
Computation partitioning for mobile cloud computing in a big data environment. IEEE Transactions on Industrial Informatics, 13(4), 2009-2018. DOI: 10.1109/TII.2017.2651880
Li, Y., Gai, K., Qiu, L., Qiu, M., & Zhao, H. (2017). Intelligent cryptography approach for secure distributed big data storage in cloud computing. Information Sciences, 387, 103-115. DOI: 10.1016/j.ins.2016.09.005
Liu, X., Singh, P. V., & Srinivasan, K. (2016). A structured analysis of unstructured big data by leveraging cloud computing. Marketing Science, 35(3), 363-388. DOI: 10.1287/mksc.2015.0972
Lyman, P. y Varian, H. (2003). How much information. Estados Unidos: Universidad de California. Recuperado de http://www2.sims.berkeley.edu/research/projects/howmuchinfo2003
Manogaran, G., Thota, C., & Kumar, M. V. (2016). Meta- CloudDataStorage architecture for big data security in cloud computing. Procedia Computer Science, 87, 128- 133. DOI: 10.1016/j.procs.2016.05.138
Nafade, V., Nash, M., Huddart, S., Pande, T., Gebreselas- sie, N., Lienhardt, C., & Pai, M. (2018). A bibliometric analysis of tuberculosis research, 2007–2016. PLoS One, 13(6).
Pérez, M. M. S. (2015). Big Data O La Acumulación Masiva De Datos Sanitarios : Derechos En Riesgo, 10–12.
Sookhak, M. (2015). Dynamic remote data auditing for secu- ring big data storage in cloud computing (Doctoral dis- sertation, University of Malaya). DOI: 10.1016/j.ins.2015.09.004
Stergiou, C., & Psannis, K. E. (2017). Recent advances delivered by Mobile Cloud Computing and Internet of Things for Big Data applications: a survey. International Journal of Network Management, 27(3), e1930. DOI: 10.1002/nem.1930
Varatharajan, R., Manogaran, G., & Priyan, M. K. (2018). A big data classification approach using LDA with an en- hanced SVM method for ECG signals in cloud compu- ting. Multimedia Tools and Applications, 10195-10215. DOI:10.1007/s11042-017-5318-1 Yang, C., Huang, Q., Li, Z., Liu, K., & Hu, F. (2017). Big Data and cloud computing: innovation opportunities and cha- llenges. International Journal of Digital Earth, 10(1), 13- 53.
Wang, L., Ma, Y., Yan, J., Chang, V., & Zomaya, A. Y. (2018). pipsCloud: High performance cloud computing for remote sensing big data management and proces- sing. Future Generation Computer Systems, 78, 353- 368. DOI: 10.1016/j.future.2016.06.009
Xu, J., Huang, E., Chen, C. H., & Lee, L. H. (2015). Simula- tion optimization: A review and exploration in the new era of cloud computing and big data. Asia-Pacific Jour- nal of Operational Research, 32(03), 1550019. DOI:10.1142/S0217595915500190
Yang, C., Huang, Q., Li, Z., Liu, K., & Hu, F. (2017). Big Data and cloud computing: innovation opportunities and challenges. International Journal of Digital Earth, 10(1), 13-53.
Zhang, Q., Yang, L. T., Chen, Z., Li, P., & Bu, F. (2018). An adaptive dropout deep computation model for industrial IoT big data learning with crowdsourcing to cloud com- puting. IEEE Transactions on Industrial Informatics, 15(4), 2330-2337. DOI: 10.1109/TII.2018.2791424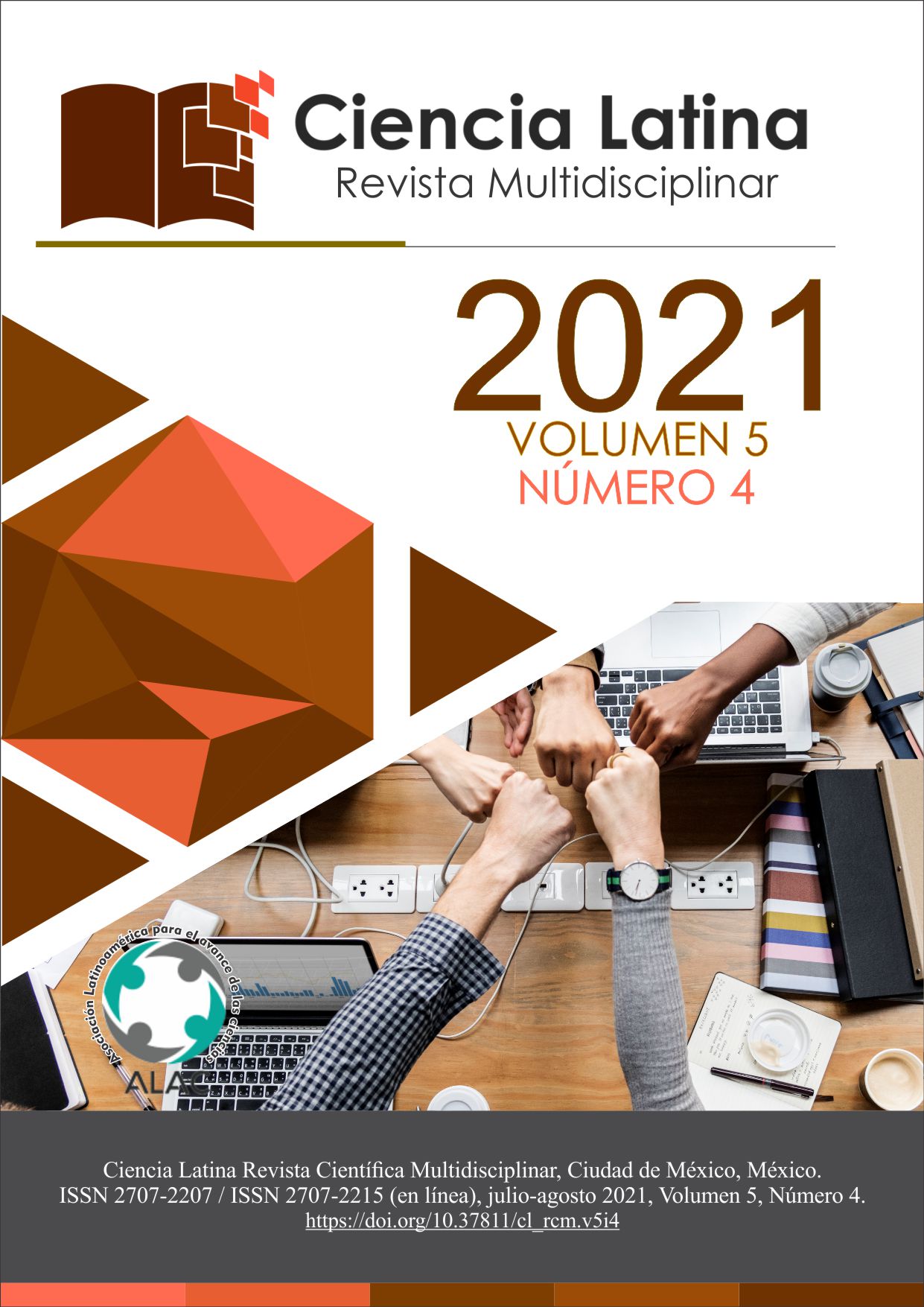 Cómo citar
Hernández Sánchez, J., Álvarez Aros, E. L., & Cantón Croda, R. M. (2021). Tendencias del big data y cloud computing: Bibliometría del 2010 al 2020. Ciencia Latina Revista Científica Multidisciplinar, 5(4), 3999-4016. https://doi.org/10.37811/cl_rcm.v5i4.601
Derechos de autor 2021 Francisco Hernández García
Esta obra está bajo licencia internacional
Creative Commons Reconocimiento 4.0
.