Chineses Na Economia Brasileira
Patrícia Wenhwa Liu

Faculdade Escola Brasileira de Medicina Chinesa ( EBRAMEC

Fabiano de Abreu Agrela Rodrigues

Logos University International
Palabras clave:
economia, economia chinesa, economia brasileira, comércio exterior
Resumen
Introdução: A China exporta uma ampla gama de produtos para o Brasil, incluindo eletrônicos, maquinaria, vestuário e produtos manufaturados. Essas exportações desempenham um papel significativo na economia brasileira, fornecendo produtos a preços competitivos. A relação comercial entre os dois países é uma parte importante do comércio internacional do Brasil, com impacto em vários setores da economia. É importante monitorar as tendências e as políticas comerciais para entender completamente a dinâmica das exportações chinesas para o Brasil. Objetivo: Compreender o impacto da economia chinesa e sua exportação e mudanças para comercialização no Brasil e tal influência na economia brasileira. Metodologia: O presente estudo é caracterizado como uma revisão bibliográfica, sobre o impacto da economia chinesa, na economia brasileira devido ao aumento da comercialização chinesa no Brasil. Conclusão: A relação comercial entre China e Brasil como visto anteriormente se faz importante para a economia brasileira. Porém, pode ocorrer influencia devido a fatores como flutuações nas taxas de câmbio, mudanças nas políticas comerciais e econômicas de ambos os países e outros eventos globais.
Descargas
La descarga de datos todavía no está disponible.
Citas
Barnes M, Coelho VS. Social participation in health in Brazil and England: inclusion, representation and authority. Health Expect. 2009;12(3):226-236. doi:10.1111/j.1369-7625.2009.00563.x
Becard DSR. O que esperar das relações Brasil-China?. Dossiê China • Rev. Sociol. Polit. 19 (suppl 1) • Nov 2011 • https://doi.org/10.1590/S0104-44782011000400004
Carvalho T. Site de compras da China: seis opções que entregam produtos no Brasil, TechTudo, 2022
Carvalho R, Top 10 sites internacionais de compras com entrega no Brasil, Edools, 2023.
Cunha AM, Bichara JS, Monsueto SE, Lélis MTC. Impactos da ascensão da China sobre a economia brasileira: comércio e convergência cíclica. Rev. econ. contemp. 15 (3) Dez 2011 https://doi.org/10.1590/S1415-98482011000300002
Costa GOM. Casagrande EE. A evolução do comércio entre brasil e china: uma análise das relações comerciais bilaterais sino-brasileiras, Monografia apresentada como avaliação para a obtenção do título de Bacharel em Economia do curso de Ciências Econômicas, da Faculdade de Ciências e Letras da Universidade Estadual Paulista, 2015
de Castilhos Ghisi N, Zuanazzi NR, Fabrin TMC, Oliveira EC. Glyphosate and its toxicology: A scientometric review. Sci Total Environ. 2020 Sep 1; 733:139359. doi: 10.1016/j.scitotenv.2020.139359.
de Mattos LT, Osorio-de-Castro CGS, Santos-Pinto CDB, Wettermark B, Tavares de Andrade CL. Consumption of antidepressants and economic austerity in Brazil. Expert Rev Pharmacoecon Outcomes Res. 2022;22(8):1221-1229. doi:10.1080/14737167.2022.2117691
Farayibi AO, Haouas I, Trinh HH, Akadiri SS. Economic growth, social, and welfare development during COVID-19 pandemic: do country-specific characters matter in the MENA region?. Environ Sci Pollut Res Int. 2023;30(21):60552-60573. doi:10.1007/s11356-023-26678-y
Hiratuka C, Sarti F. Relações econômicas entre brasil e china: análise dos fluxos de comércio e investimento direto estrangeiro. Revista tempo do mundo, rtm, v. 2, n. 1, jan. 2016
Huang Y, Liao R. Polycentric or monocentric, which kind of spatial structure is better for promoting the green economy? Evidence from Chinese urban agglomerations. Environ Sci Pollut Res Int. 2021 Nov;28(41):57706-57722. doi: 10.1007/s11356-021-14655-2.
Labonté R. Trade, investment and public health: compiling the evidence, assembling the arguments. Global Health. 2019;15(1):1. Published 2019 Jan 3. doi:10.1186/s12992-018-0425-y
Meng J, Liu J, Xu Y, et al. Globalization and pollution: tele-connecting local primary PM2.5 emissions to global consumption. Proc Math Phys Eng Sci. 2016;472(2195):20160380. doi:10.1098/rspa.2016.0380
Rodrigues A. Claudia M. Investimentos chineses voltam a crescer no Brasil após pandemia. Agencia Brasil, 2022. https://agenciabrasil.ebc.com.br/economia/noticia/2022-08/investimentos-chineses-voltam-crescer-no-brasil-apos-pandemia
Teng Y, Cox A, Chatziantoniou I. Environmental degradation, economic growth and tourism development in Chinese regions. Environ Sci Pollut Res Int. 2021 Jul;28(26):33781-33793. doi: 10.1007/s11356-021-12567-9
Villela, E.V.M. As relações comerciais entre Brasil e China e as possibilidades de crescimento e diversificação das exportações de produtos brasileiros no mercado consumidor chinês. PUCSP, 2004
Yan J, Feng L, Denisov A, Steblyanskaya A, Oosterom JP. Complexity theory for the modern Chinese economy from an information entropy perspective: Modeling of economic efficiency and growth potential. PLoS One. 2020 Jan 28;15(1):e0227206. doi: 10.1371/journal.pone.0227206. Erratum in: PLoS One. 2020 Mar 3;15(3):e0230165.
Yan Y, Lauerwald R, Wang X, et al. Increasing riverine export of dissolved organic carbon from China. Glob Chang Biol. 2023;29(17):5014-5032. doi:10.1111/gcb.16819
Watts J. Brazil's health system woes worsen in economic crisis. Lancet. 2016;387(10028):1603-1604. doi:10.1016/S0140-6736(16)30249-5.
Wang M, Liu D, Wang Z, Li Y. Structural Evolution of Global Soybean Trade Network and the Implications to China. Foods. 2023;12(7):1550. Published 2023 Apr 6. doi:10.3390/foods12071550.
Wei Y. Urban policy, economic policy, and the growth of large cities in China. Habitat Int. 1994;18(4):53-65. doi: 10.1016/0197-3975(94)90017-5.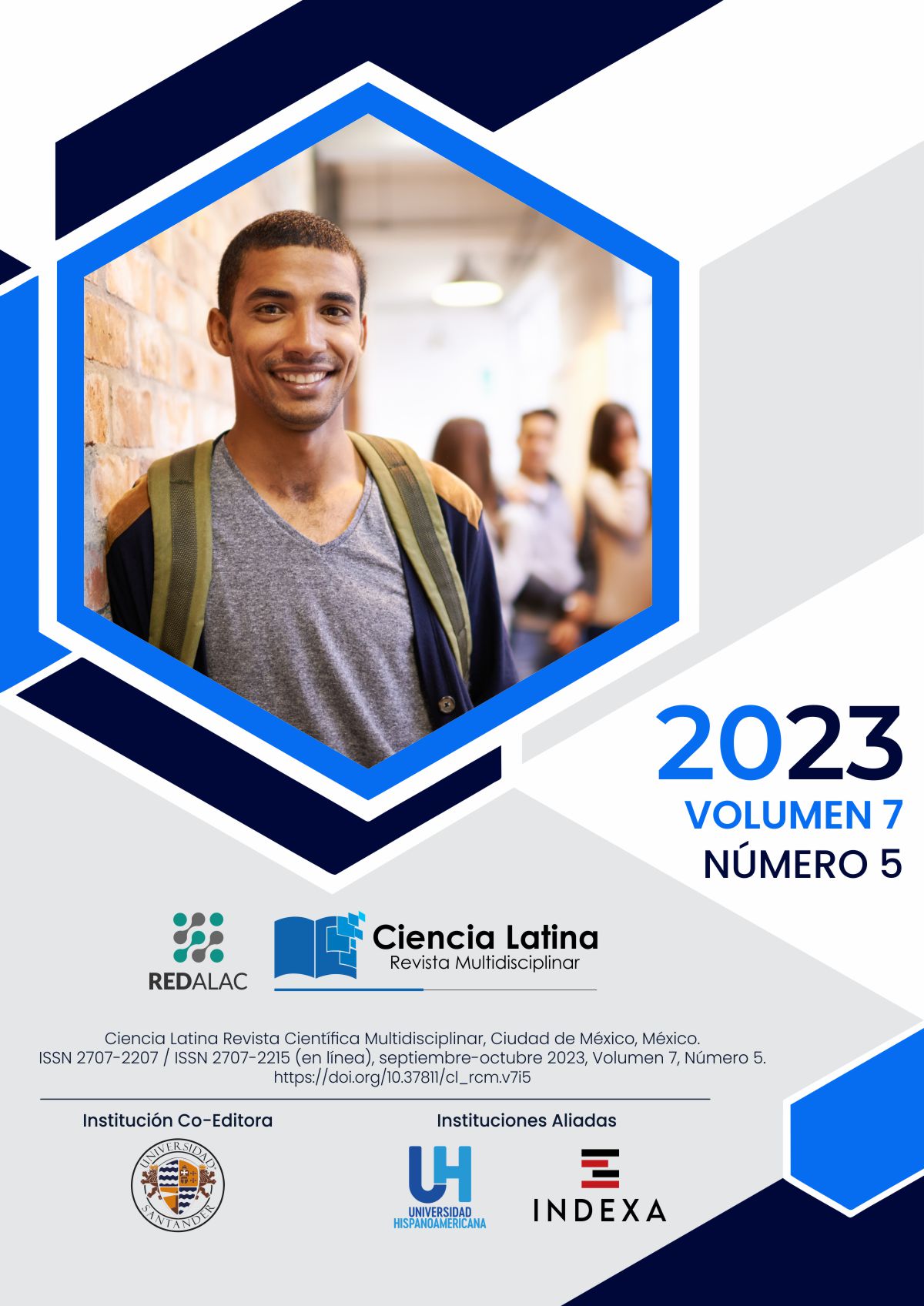 Cómo citar
Wenhwa Liu , P., & Agrela Rodrigues, F. de A. (2023). Chineses Na Economia Brasileira. Ciencia Latina Revista Científica Multidisciplinar, 7(5), 2927-2937. https://doi.org/10.37811/cl_rcm.v7i5.7931
Derechos de autor 2023 Patrícia Wenhwa Liu , Fabiano de Abreu Agrela Rodrigues
Esta obra está bajo licencia internacional
Creative Commons Reconocimiento 4.0
.