La Cultura y su Relación con la Interpretación de Implicaturas Conversacionales
Palabras clave:
cultura, implicatura, pragmática
Resumen
Durante el aprendizaje de un idioma, la lengua y la cultura son componentes que no pueden ser separados. El propósito de esta investigación es determinar el impacto de los cursos culturales de la carrera de enseñanza de la UNA y la UH en la habilidad de los estudiantes de último año del 2022 para interpretar implicaturas conversacionales. La metodología consiste en un estudio cualitativo y la aplicación de una encuesta, un cuestionario, y una entrevista. Los resultados muestran los medios de comunicación como la fuente principal de conocimiento cultural, algunas implicaturas son más difíciles de interpretar debido a su naturaleza, y que la falta de conocimiento cultural influencia la interpretación de implicaturas. La escasez de participantes representa la principal limitante.  Se recomienda realizar investigaciones de esta naturaleza aplicando distintas metodologías y con mayor participación.
Descargas
La descarga de datos todavía no está disponible.
Citas
Ali, S., Kazemian, B., & Mahar, I. (2015). The importance of culture in second and foreign language learning. Dinamika Ilmu, 15(1), 1-10. doi:10.21093/di.v15i1.99
Bennett, J., Bennett, M., & Allen, W. (2003). Developing intercultural competence in the language classroom. In D. L. Lange & R. M. Paige (Eds.), Culture as the core:
Perspectives on culture in second language learning. Greenwich, CT: Information Age
Publishing.
Brooks-Lewis, K. (2010). Learning about history in the foreign language classroom, Innovation in Language Learning and Teaching, 4(2), 137-150. DOI: 10.1080/17501220903536888
Bouton, L. (1988). A cross cultural study of ability to interpret implicatures in English. World
Englishes, 7(2), 183-196. https://doi.org/10.1111/j.1467-971X.1988.tb00230.x
Cenoz, J. & Valencia, J. (1996). Cross-cultural communication and Interlanguage Pragmatics:
American vs European requests, Semantic Scholars, 41-54.
https://files.eric.ed.gov/fulltext/ED400703.pdf
Dufva, H. (1994). Language Awareness and cultural awareness for language learners. In
Jyväsklä (Ed.), Hungarologische Beiträge 2. Probleme des Spracherwebs
Hungarológia (pp. 19-32).
Espinoza, L., Rodríguez, J. (2020). Improving culture teaching in the English major at
Universidad Nacional: Perceptions and practices. Actualidades Investigativas en
Educación, 20 (1), 1-19. doi: 10.12217/aie.v20i1.39886
Farnia, M. (2009). Contrastive Pragmatic study and teaching culture in English language
classroom – a case study [Paper presentation]. Conference: 7th International conference
by the School of Language and Linguistics Studies (SoLLs), FSSK.
researchgate.net/publication/213917404_Contrastive_pragmatic_study_and_teaching_cul
ture_in_English_language_classroom-_a_case_study
Grice, H. (1975). Logic and Conversation. In Cole, P. and Morgan, J (Eds.), Syntax and
Semantics, Vol. 3, Speech Acts, New York: Academic Press.
Ho, S. (2009). Addressing culture in the EFL classroom: the challenge of shifting from a
traditional to an intercultural stance. Electronic Journal of Foreign Language Teaching,
(1), 63-73. www.semanticscholar.org/paper/Addressing-Culture-in-EFL-Classrooms-
%3A-The-of-from-Ho/355390d9aa83bc03ba3894b1c14b1a0364fd2c6b
Hoan-Thu, T. (2010). Teaching culture in the EFL/ESL classroom [Paper presentation]. The Los
Angeles Regional California Teachers of English to Speakers of Other Languages,
Fullerton, California. https://eric.ed.gov/?id=ED511819
Hoyos, J. (2012). Exploring the explicit and implicit inclusion of the cultural component
through materials in EFL content-based and English as a subject matter classrooms for pre-
service teachers at a public university (A Colombian case) [dissertation, Universidad
Tecnologica de Pereira]. https://repositorio.utp.edu.co/handle/11059/3093
Jankovic-Paus, S. (2017). Misunderstandings in communication: Maxims of conversation and
intercultural differences between interlocutors. Colloquium:New Philologies, 2(2), 28-
doi:10.23963/cnp.2017.2.2.3
Kavetska, A. (2020). Understanding conversational implicatures by native and non-native
speakers of English: An empirical study inspired by Bouton (1998) [Master of arts
dissertation, Jagiellonian University of Kraków]. Forum for Contemporary Issues in
Language and Literature. czasopisma.uph.edu.pl/contemporary/article/view/2768
Kecskes, I. (2017). Cross-cultural and Interlanguage Pragmatic. In Yan Huang (ed.), The Oxford
Handbook of Pragmatics, Oxford University Press.
Levinson, S. (1983). Pragmatics. Cambridge: Cambridge University Press.
Mohamed Ali, H., Mohideen, S. (2016). Target culture teaching in the English as second/foreign
language classroom, Research Journal of English Language and Literature, 4(2), 47-53.
www.researchgate.net/publication/308320641_TARGET_CULTURE_TEACHING_IN_
THE_ENGLISH_AS_A_SECONDFOREIGN_LANGUAGE_CLASSROOM
Nassar, H. (2021). Reasons behind mis/understanding English conversational implicatures by
university learners in Yemen. Studies in Pragmatics and Discourse Analysis, 2(1), 40-55.
doi : 10.48185/spda.v2i1.291
Nemati, M. (2014). Development of Interlanguage Pragmatic competence: Input- and output-
based Instruction in the Zone of Proximal Development, Theory and Practice in
Language Studies, 4 (2), 262-270, doi:10.4304/tpls.4.2.262-270
Purba, H. (2011). The importance of including culture in EFL teaching. Journal of English
Teaching, 1(1), 44-56. doi:10.33541/jet.v1i1.51
Sun, L. (2013). Culture teaching in foreign language teaching. Theory and Practice in Language
Studies, 3(2), 371-375. doi:10.4304/tpls.3.2.371-375
Suryana, Y., Yulifar, L., and Syamsuddin, H. (2018). Historical awareness through the material acculturation in the textbook Indonesian history. [Paper presentation]. International Conference on History Education, Indonesia University of Education, Bandung, West Java, Indonesia
Taguchi, N. (2017). Interlanguage pragmatics. In A. Barron, P. Grundy, & G. Yueguo (eds.),The
Routledge Handbook of Pragmatics (pp. 153–167). Oxford/New York: Routledge.
Tomalin, B., and Stempleski, S. (1993). Cultural Awareness, Oxford University Press.
Zamora, E., Chaves, O. (2011). Teaching culture in the foreign language classroom: A reflective
model, Revista de Lenguas Modernas, 14, 283-303.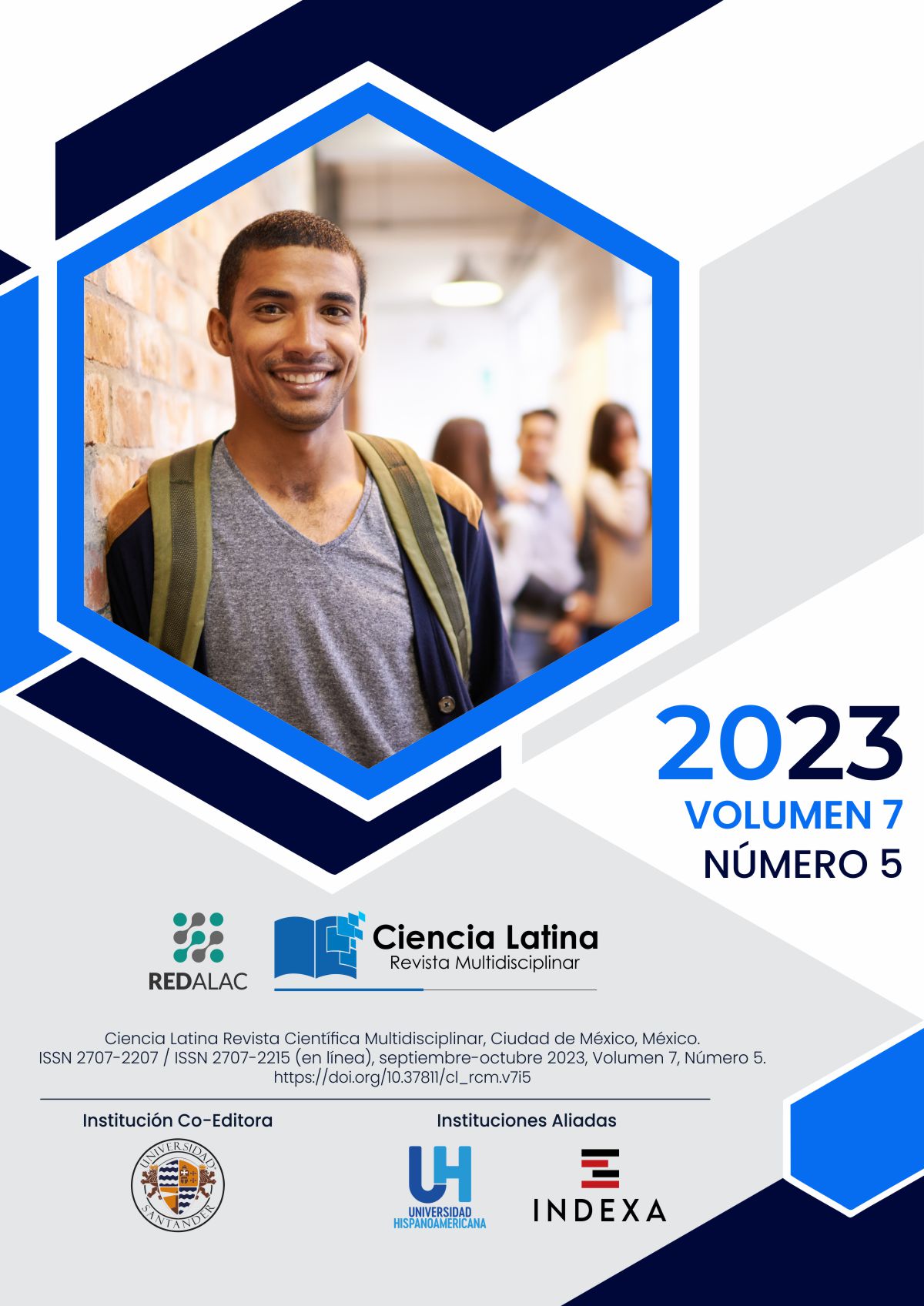 Cómo citar
Guido Suárez , N., & Alfaro Alfaro, R. (2023). La Cultura y su Relación con la Interpretación de Implicaturas Conversacionales. Ciencia Latina Revista Científica Multidisciplinar, 7(5), 3575-3597. https://doi.org/10.37811/cl_rcm.v7i5.7976
Derechos de autor 2023 Nicole Guido Suárez , Roy Alfaro Alfaro
Esta obra está bajo licencia internacional
Creative Commons Reconocimiento 4.0
.