Papel de la Resonancia Magnética en la Miocardiopatía Hipertrófica y Dilatada en Pacientes Críticos
Palabras clave:
resonancia magnética, miocardiopatías, diagnóstico, miocardiopatía hipertrófica
Resumen
Las miocardiopatías son un grupo variado de enfermedades. Entre las miocardiopatías más conocidas encontramos a la miocardiopatía hipertrófica y dilatada. En la miocardiopatía hipertrófica encontramos una hipertrofia ventricular preferiblemente del ventrículo izquierdo. En cambio, la miocardiopatía dilatada se caracteriza por una dilatación y deterioro de la función ventricular izquierda o de ambos ventrículos. Para su diagnóstico, la RM ha llegado a ser la referencia en la evaluación de los volúmenes y la función ventricular izquierda y derecha, permitiendo además identificar la contractilidad regional e identificar áreas de miocardio no viable con mayor sensibilidad que los estudios isotópicos. Por ello, hemos realizado una búsqueda bibliográfica dando como resultado diferentes reportes de casos en los que la RM ha resultado de gran utilidad en el diagnóstico de la miocardiopatía hipertrófica y dilatada. Por ende, podemos concluir que su utilidad en el área de cardiología permite una mayor precisión en cuanto a masa, volumen y función contráctil del ventrículo izquierdo en estos tipos de miocardiopatías.
Descargas
La descarga de datos todavía no está disponible.
Citas
Bayarri, Á. Alberich, et al. "Utilización segura de la resonancia magnética. Recomendaciones prácticas para el personal que trabaja con resonancia magnética." Radiología 55.2 (2013): 99-106.
Acuña, JM García, AM López Lago, and JR González Juanatey. "Miocardiopatía dilatada." Medicine-Programa de Formación Médica Continuada Acreditado 11.42 (2013): 2500-2506.
Maron BJ, Towbin JA, Thiene G, Antzelevitch C, Corrado D, Arnett D, et al. Contemporary definitions and classification of the cardiomyopathies. An American Heart Association scientific statement from the Council on Clinical Cardiology, Heart Failure and Transplantation Committee; Quality of Care and Outcomes Research and Functional Genomics and Translational Biology Interdisciplinary Working Groups; and Council of Epidemiology and Prevention. Circulation 2006; 113: 1807-16.
Maron BJ, McKenna WJ, Danielson GK, Kappenberger LJ, Kuhn HJ, Seidman CE, et al. American College of Cardiology/European Society of Cardiology Clinical expert consensus document on hypertrophic cardiomyopathy. Eur Heart J 2003; 24: 1965-91
Mazón, Carlos Santos Molina, Xenia Martín Cerezo, and Lorea Alvarez. "Miocardiopatía hipertrófica." Enfermería en cardiología: revista científica e informativa de la Asociación Española de Enfermería en Cardiología 66 (2015): 74-74.
Loss, Francisco Schossler, Leandro Shigueru Ikuta Ueda, and Alcirley de Almeida Luiz. "Miocardiopatía hipertrófica. Reporte de caso." Revista Uruguaya de Cardiología 34.3 (2019): 184-196.
Harris KM, Spirito P, Maron MS, Zenovich AG, Formisano F, Lesser JR, et al. Prevalence, clinical profile and significance of left ventricular remodeling in the end stage phase of hypertrophic cardiomyopathy. Circulation 2006; 114: 216-25.
Carlos Santos Molina Mazón1, Xenia Martín Cerezo2, Lorena Álvarez Vivas2, Susana Asensio Flores. Enferm Cardiol. 2015; 22 (66): 74
R.E. Hershberger, J.D. Siegfried Update 2011: clinical and genetic issues in familial dilated cardiomyopathy J Am Coll Cardiol, 57 (2011), pp. 1641-1649
Acuña, JM García, AM López Lago, and JR González Juanatey. "Miocardiopatía dilatada." Medicine-Programa de Formación Médica Continuada Acreditado 11.42 (2013): 2500-2506.
Saeed M, Liu H, Liang CH, Wilson MW. Magnetic resonance imaging for characterizing myocardial diseases. Int J Cardiovasc Imaging. 2017 Sep;33(9):1395-1414. doi: 10.1007/s10554-017-1127-x. Epub 2017 Mar 31. PMID: 28364177.
Kim PK, Hong YJ, Im DJ, Suh YJ, Park CH, Kim JY, Chang S, Lee HJ, Hur J, Kim YJ, Choi BW. Myocardial T1 and T2 Mapping: Techniques and Clinical Applications. Korean J Radiol. 2017 Jan-Feb;18(1):113-131. doi: 10.3348/kjr.2017.18.1.113. Epub 2017 Jan 5. PMID: 28096723; PMCID: PMC5240500.
Dass S, Suttie JJ, Piechnik SK, Ferreira VM, Holloway CJ, Banerjee R, et al. Myocardial tissue characterization using magnetic resonance noncontrast t1 mapping in hypertrophic and dilated cardiomyopathy. Circ Cardiovasc Imaging. 2012;5:726–733.
Tachi M, Amano Y, Kobayashi Y, Mizuno K, Kumita S. Evaluation of nonscarred myocardial T1 value using contrast-enhanced look-locker cardiac MRI and its relationship to cardiac function in dilated cardiomyopathy: Comparison of 1.5 and 3.0 Tesla MRI. J Magn Reson Imaging. 2013 Dec;38(6):1395-401. doi: 10.1002/jmri.24131. Epub 2013 Jul 12. PMID: 23852918.
Li Y, Xu Y, Tang S, Jiang X, Li W, Guo J, Yang F, Xu Z, Sun J, Han Y, Zhu Y, Chen Y. Left Atrial Function Predicts Outcome in Dilated Cardiomyopathy: Fast Long-Axis Strain Analysis Derived from MRI. Radiology. 2022 Jan;302(1):72-81. doi: 10.1148/radiol.2021210801. Epub 2021 Oct 26. PMID: 34698565.
Li Y, Xu Y, Li W, Guo J, Wan K, Wang J, Xu Z, Han Y, Sun J, Chen Y. Cardiac MRI to Predict Sudden Cardiac Death Risk in Dilated Cardiomyopathy. Radiology. 2023 May;307(3):e222552. doi: 10.1148/radiol.222552. Epub 2023 Mar 14. PMID: 36916890.
Han Y, Chen Y, Ferrari VA. Contemporary Application of Cardiovascular Magnetic Resonance Imaging. Annu Rev Med. 2020 Jan 27;71:221-234. doi: 10.1146/annurev-med-041818-015923. PMID: 31986088.
Hinojar, Rocio, et al. "Prognostic value of left atrial function by cardiovascular magnetic resonance feature tracking in hypertrophic cardiomyopathy." The International Journal of Cardiovascular Imaging 35 (2019): 1055-1065.
Ali LA, Marrone C, Martins DS, Khraiche D, Festa P, Martini N, Santoro G, Todiere G, Panaioli E, Bonnet D, Boddaert N, Aquaro GD, Raimondi F. Prognostic factors in hypertrophic cardiomyopathy in children: An MRI based study. Int J Cardiol. 2022 Oct 1;364:141-147. doi: 10.1016/j.ijcard.2022.06.043. Epub 2022 Jun 17. PMID: 35718011.
O'Brien AC, MacDermott R, Keane S, Ryan DT, McVeigh N, Durand R, Ferre M, Murphy DJ, Teekakirikul P, Keane D, McDonald K, Ledwidge M, Dodd JD. Cardiac MRI e-prime predicts myocardial late gadolinium enhancement and diastolic dysfunction in hypertrophic cardiomyopathy. Eur J Radiol. 2022 Apr;149:110192. doi: 10.1016/j.ejrad.2022.110192. Epub 2022 Feb 3. PMID: 35158215.
Sardanelli F, Molinari G, Petillo A, Ottonello C, Parodi RC, Masperone MA, Saitta S, Basso M, Caponnetto S. MRI in hypertrophic cardiomyopathy: a morphofunctional study. J Comput Assist Tomogr. 1993 Nov-Dec;17(6):862-72. doi: 10.1097/00004728-199311000-00005. PMID: 8227570.
Mazurkiewicz Ł, Ziółkowska L, Petryka J, Śpiewak M, Małek Ł, Kubik A, Marczak M, Misko J, Brzezińska-Rajszys G. Biatrial performance in children with hypertrophic cardiomyopathy: CMR study. Eur Radiol. 2018 Dec;28(12):5148-5159. doi: 10.1007/s00330-018-5519-7. Epub 2018 Jun 7. PMID: 29882072; PMCID: PMC6223845.
Antonopoulos AS, Boutsikou M, Simantiris S, Angelopoulos A, Lazaros G, Panagiotopoulos I, Oikonomou E, Kanoupaki M, Tousoulis D, Mohiaddin RH, Tsioufis K, Vlachopoulos C. Machine learning of native T1 mapping radiomics for classification of hypertrophic cardiomyopathy phenotypes. Sci Rep. 2021 Dec 8;11(1):23596. doi: 10.1038/s41598-021-02971-z. PMID: 34880319; PMCID: PMC8654857.
Porcari A, De Angelis G, Romani S, Paldino A, Artico J, Cannatà A, Gentile P, Pinamonti B, Merlo M, Sinagra G. Current diagnostic strategies for dilated cardiomyopathy: a comparison of imaging techniques. Expert Rev Cardiovasc Ther. 2019 Jan;17(1):53-63. doi: 10.1080/14779072.2019.1550719. Epub 2018 Nov 26. PMID: 30457393.
Cavigli L, Focardi M, Cameli M, Mandoli GE, Mondillo S, D'Ascenzi F. The right ventricle in "Left-sided" cardiomyopathies: The dark side of the moon. Trends Cardiovasc Med. 2021 Nov;31(8):476-484. doi: 10.1016/j.tcm.2020.10.003. Epub 2020 Oct 13. PMID: 33065314.
Marrow BA, Cook SA, Prasad SK, McCann GP. Emerging Techniques for Risk Stratification in Nonischemic Dilated Cardiomyopathy: JACC Review Topic of the Week. J Am Coll Cardiol. 2020 Mar 17;75(10):1196-1207. doi: 10.1016/j.jacc.2019.12.058. PMID: 32164893.
Captur G, Manisty C, Moon JC. Cardiac MRI evaluation of myocardial disease. Heart. 2016 Sep 15;102(18):1429-35. doi: 10.1136/heartjnl-2015-309077. Epub 2016 Jun 27. PMID: 27354273.
O'Hara RP, Prakosa A, Binka E, Lacy A, Trayanova NA. Arrhythmia in hypertrophic cardiomyopathy: Risk prediction using contrast enhanced MRI, T1 mapping, and personalized virtual heart technology. J Electrocardiol. 2022 Sep-Oct;74:122-127. doi: 10.1016/j.jelectrocard.2022.09.004. Epub 2022 Sep 17. PMID: 36183522; PMCID: PMC9729380.
Kim YJ, Choi BW, Hur J, Lee HJ, Seo JS, Kim TH, Choe KO, Ha JW. Delayed enhancement in hypertrophic cardiomyopathy: comparison with myocardial tagging MRI. J Magn Reson Imaging. 2008 May;27(5):1054-60. doi: 10.1002/jmri.21366. PMID: 18425835.
Kebed KY, Al Adham RI, Bishu K, Askew JW, Klarich KW, Oh JK, Julsrud PR, Foley TA, Glockner JF, Nishimura RA, Ommen SR, Anavekar NS. Evaluation of apical pouches in hypertrophic cardiomyopathy using cardiac MRI. Int J Cardiovasc Imaging. 2014 Mar;30(3):591-7. doi: 10.1007/s10554-013-0355-y. Epub 2014 Jan 5. PMID: 24390362.
Shi K, Huang S, Li X, Xu HY, Yang MX, Li Y, Guo YK, Yang ZG. Effect of Obesity on Left Ventricular Remodeling and Clinical Outcome in Chinese Patients With Hypertrophic Cardiomyopathy: Assessed by Cardiac MRI. J Magn Reson Imaging. 2023 Mar;57(3):800-809. doi: 10.1002/jmri.28306. Epub 2022 Jun 17. PMID: 35715897.
Cui Y, Chen Y, Cao Y, Liu J, Song J, Zhang S, Kong X, Han P, Shi H. Myocardial extracellular volume fraction measurements with MOLLI 5(3)3 by cardiovascular MRI for the discrimination of healthy volunteers from dilated and hypertrophic cardiomyopathy patients. Clin Radiol. 2019 Sep;74(9):732.e9-732.e16. doi: 10.1016/j.crad.2019.04.019. Epub 2019 May 20. PMID: 31122714.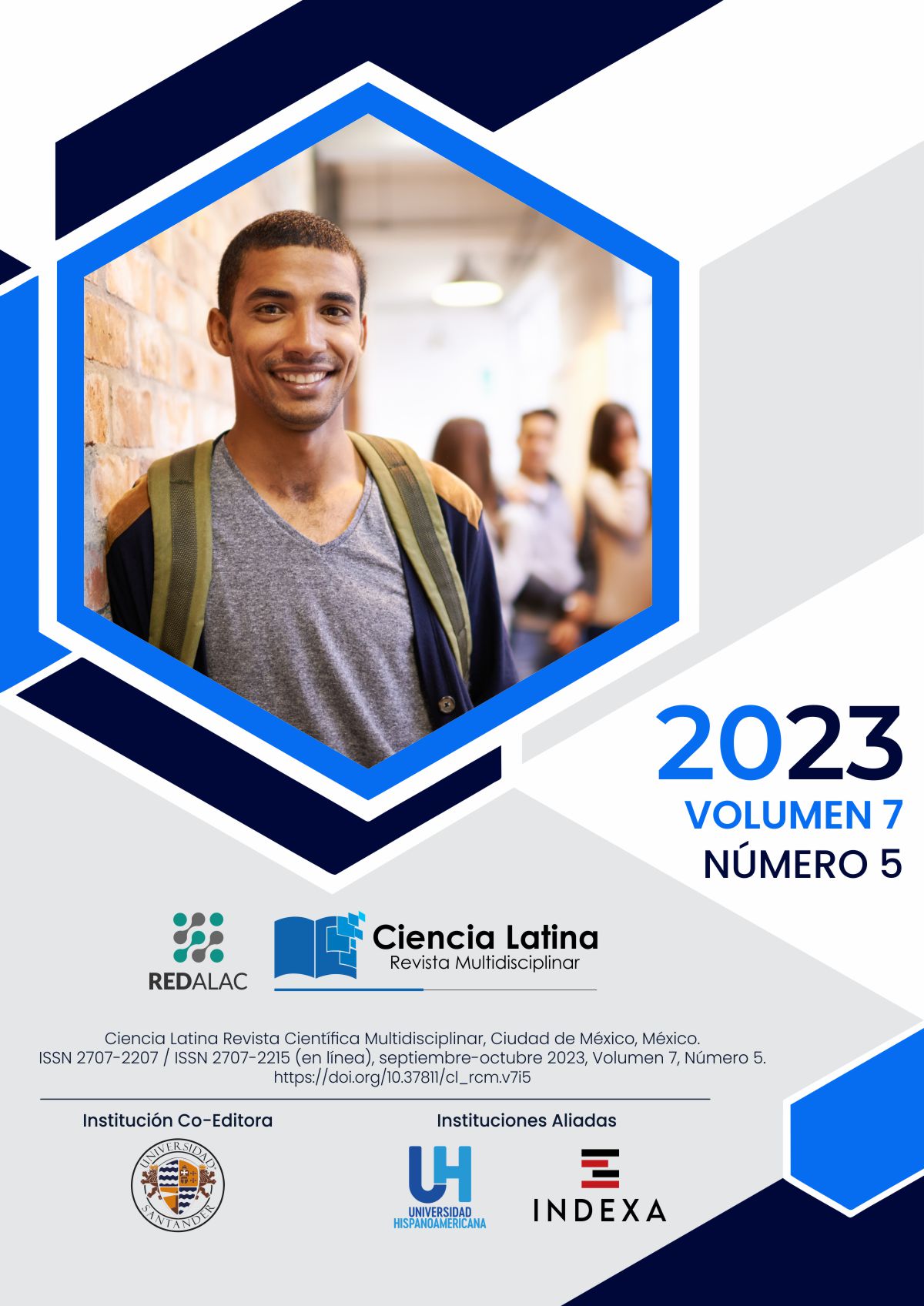 Cómo citar
Buendia Gomez , D. A., Díaz Cárdenas, V., Jaimes Bautista, J. D., Hernández Muñoz, D. M., Domínguez Olmos, F. J., Osorio Martínez, L. A., Hernández Ruiz, R. patricia, & Zea Ovando, M. (2023). Papel de la Resonancia Magnética en la Miocardiopatía Hipertrófica y Dilatada en Pacientes Críticos. Ciencia Latina Revista Científica Multidisciplinar, 7(5), 4973-4988. https://doi.org/10.37811/cl_rcm.v7i5.8099
Derechos de autor 2023 Daniel Augusto Buendia Gomez , Valentina Díaz Cárdenas, Jefferson David Jaimes Bautista, Diana Marcela Hernández Muñoz, Fabián José Domínguez Olmos, Leonardo Andrés Osorio Martínez, Ruth patricia Hernández Ruiz, Marian Zea Ovando
Esta obra está bajo licencia internacional
Creative Commons Reconocimiento 4.0
.