Responsabilidad social y ambiental de las organizaciones sobre la contaminación de la bahía interior del lago Titicaca, Puno
Mayda Yanira Flores Quispe

Universidad Nacional de Juliaca Juliaca – Perú

Jose Quiñonez Choquecota

Universidad Nacional del Altiplano Puno - Perú
Resumen
El modelo actual de desarrollo se torna insostenible para el planeta tanto a nivel ambiental como social. El presente trabajo tiene el propósito de analizar la influencia de la responsabilidad social civil asumida por las organizaciones sociales frente al daño ambiental producido en la bahía interior del Lago Titicaca de la ciudad de Puno. Se aplicó encuestas estructuradas a los representantes sociales de la ciudad Puno, utilizando el método de recopilación de datos de corte transversal, se tomó en cuenta tres dimensiones: comunidad, medio ambiente, gobierno y sociedad. Los resultados obtenidos fueron evaluados utilizando el modelo de regresión lineal múltiple de tipo Logit, determinando que la dimensión comunidad se relacional significativamente con: institución, ingreso y tamaños del hogar; la dimensión medio ambiente se relacional significativamente con: edad, genero, institución e ingreso; para la dimensión gobierno y sociedad son significativas, el ingreso, institución y género. Se concluye que, esta variabilidad de las características socioeconómicas incide considerablemente, reflejando una tendencia que asocia al escaso compromiso social y la contaminación ambiental.
Palabras clave:
organizaciones, responsabilidad social y ambiental, responsabilidad civil
Descargas
La descarga de datos todavía no está disponible.
Citas
Aguinis, H., & Glavas, A. (2012). What we know and don't know about corporate social responsibility: A review and research agenda. Journal of management, 38(4), 932-968.
Ajibike, W. A., Adeleke, A. Q., Mohamad, F., Bamgbade, J. A., Nawi, M. N. M., & Moshood, T. D. (2021). An evaluation of environmental sustainability performance via attitudes, social responsibility, and culture: A mediated analysis. Environmental Challenges, 4. doi:10.1016/j.envc.2021.100161
Aragonés-Beltrán, P., García-Melón, M., & Montesinos-Valera, J. (2017). How to assess stakeholders' influence in project management? A proposal based on the Analytic Network Process. International Journal of Project Management, 35(3), 451-462.
Arias, F. G. (2012). El Proyecto de Investigación. Introducción a la metodología científica. 5ta: Fidias G. Arias Odón.
Bastida-Aguilar, A. (2007). La Responsabilidad del Estado Frente al Daño Ambiental. Universidad Nacional Autónoma de México Toluca-México.
Benavides, F. G. (2021). Causalidad y responsabilidad en salud laboral. Gaceta Sanitaria, 35(5). doi:10.1016/j.gaceta.2020.03.005
Blanco, L. (2011). Libro blanco de la responsabilidad social corporativa. CEOE CEPYME, Cantabria, Santander, España.
Bracher, K. D. (2013). Die nationalsozialistische Machtergreifung: Studien zur Errichtung des totalitären Herrschaftssystems in Deutschland 1933/34 (Vol. 14): Springer-Verlag.
Canessa, G., & García, E. (2005). El ABC de la Responsabilidad Social Empresarial en el Perú y en el Mundo. Disponible desde Internet en: http://www.wbcsd. org/DocRoot/g4ZtDSneENKRPkOq1eGu/ABC-de-la-rse. pdf.
Cegarra-Leiva, D., Sánchez-Vidal, M. E., & Gabriel Cegarra-Navarro, J. (2012). Understanding the link between work life balance practices and organisational outcomes in SMEs: The mediating effect of a supportive culture. Personnel Review, 41(3), 359-379.
De Miguel, M. (2011). La Responsabilidad Social Empresarial en la pequeña y mediana empresa: Guía de buenas prácticas. Proyecto Impulsa-RSE Pyme financiado por el Ministerio de Industria, Turismo y Comercio.
Duarte, F. (2010). Working with corporate social responsibility in Brazilian companies: The role of managers' values in the maintenance of CSR cultures. Journal of Business Ethics, 96(3), 355-368.
Garavito, C. (2007). Responsabilidad social empresarial y mercado de trabajo. Retrieved from
Goodland, R. D., El Serafy, H. E., Von Droste, S., Goodland, B., Daly, R., & Von Droste, H. E. (1997). Medio ambiente y desarrollo sostenible: más allá del informe Brundtland.
Granillo, L., & Ojeda, J. (2011). ISO 26000, la norma para la sustentabilidad de las pymes. Revista Coepes, abril [consultado 21 Feb 2015]. Disponible en http://www.revistacoepesgto.mx/revistacoepes3/component/content/article/52-noviembre-2011/161-iso-26000-la-norma-para-la-sustentabilidad-de-laspymes.
Grünbaum, T. (2010). Action and agency. In Handbook of phenomenology and cognitive science (pp. 337-354): Springer.
Herrera, H. M. (2011). Responsabilidad social y ética empresarial: Ecoe Ediciones.
Lin, H., Zeng, S., Ma, H., Zeng, R., & Tam, V. W. (2017). An indicator system for evaluating megaproject social responsibility. International Journal of Project Management.
Locatelli, G., Mariani, G., Sainati, T., & Greco, M. (2017). Corruption in public projects and megaprojects: There is an elephant in the room! International Journal of Project Management, 35(3), 252-268.
Lozano, R. (2015). A holistic perspective on corporate sustainability drivers. Corporate Social Responsibility and Environmental Management, 22(1), 32-44.
Ma, H., Zeng, S., Shen, G. Q., Lin, H., & Chen, H. (2016). International diversification and corporate social responsibility: An empirical study of Chinese contractors. Management Decision, 54(3), 750-774.
Mani, V., Agarwal, R., Gunasekaran, A., Papadopoulos, T., Dubey, R., & Childe, S. J. (2016). Social sustainability in the supply chain: Construct development and measurement validation. Ecological Indicators, 71, 270-279.
Martínez Méndez, R., Muñoz, V., Monserrat, M. A., Muñoz, V., & Serafín, J. G. (2015). Responsabilidad Social Empresarial En Las Pequeñas Empresas Constructoras De Puebla, Mexico (Corporate Social Responsibility in Small Business Construction Companies from Puebla, Mexico).
Montes, J. (2008). Ecoeficiencia: una propuesta de responsabilidad ambiental empresarial para el sector financiero colombiano. Documento en línea]. Colombia, Disponible en: intranet. minas. medellin. unal. edu. co/index. php.
Patrus-Pena, R., & Castro, P. (2010). Ética nos Negócios. Condicoes, Desafios e Riscos. Sao Paulo: Editora Atlas.
Polanco, J., & Ramírez, F. (2017). La evaluación de la sostenibilidad en la empresa. Una investigación aplicada a hidroeléctricas. Medellín: Sello Editorial Universidad de Medellín (en evaluación).
Schneider, A., & Meins, E. (2012). Two dimensions of corporate sustainability assessment: Towards a comprehensive framework. Business Strategy and the Environment, 21(4), 211-222.
Severo, E. A., Ferro De Guimar, J. C., & Dellarmelin, M. L. (2021). Impact of the COVID-19 pandemic on environmental awareness, sustainable consumption and social responsibility: Evidence from generations in Brazil and Portugal. Journal of Cleaner Production, 286. doi:10.1016/j.jclepro.2020.124947
SoJung, L., Heelye (Jason), P., Kyung, H. K., & Choong-Ki, L. (2021). A moderator of destination social responsibility for tourists' pro-environmental behaviors in the VIP model. Journal of Destination Marketing & Management, 20. doi:10.1016/j.jdmm.2021.100610
Uecker-Mercado, H., & Walker, M. (2012). The value of environmental social responsibility to facility managers: Revealing the perceptions and motives for adopting ESR. Journal of Business Ethics, 110(3), 269-284.
Valenzuela, L. F. (2004). Perspectivas de la responsabilidad social empresarial con enfoque ambiental. Maestría thesis, Universidad Nacional de Colombia-Sede Manizales-See more at: http://www.bdigital. unal. edu. co/1182/sthash. ozQ8Qp6e. dpuf.
Wang, G., He, Q., Meng, X., Locatelli, G., Yu, T., & Yan, X. (2017). Exploring the impact of megaproject environmental responsibility on organizational citizenship behaviors for the environment: A social identity perspective. International Journal of Project Management.
Wenceslao, J., & Jiménez, I. (2004). Responsabilidad social de la empresa y finanzas sociales (Vol. 17): Ediciones AKAL.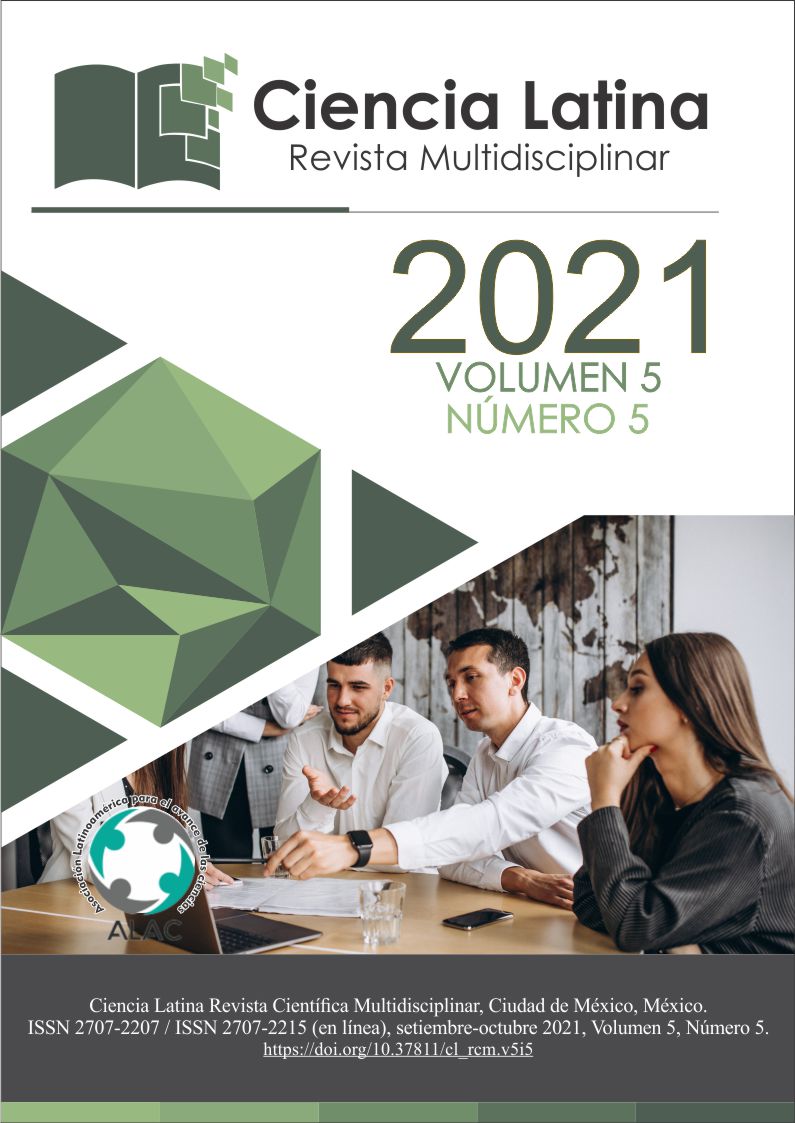 Cómo citar
Flores Quispe, M. Y., & Quiñonez Choquecota, J. (2021). Responsabilidad social y ambiental de las organizaciones sobre la contaminación de la bahía interior del lago Titicaca, Puno. Ciencia Latina Revista Científica Multidisciplinar, 5(5), 8270-8282. https://doi.org/10.37811/cl_rcm.v5i5.916
Derechos de autor 2021 Mayda Yanira Flores Quispe;Jose Quiñonez Choquecota
Esta obra está bajo licencia internacional
Creative Commons Reconocimiento 4.0
.