Gestión administrativa penitenciaria en Perú: revisión documental en Iberoamérica
Resumen
Se realiza una revisión documental sobre las publicaciones científicas realizadas según la variable Gestión Administrativa Penitenciaria en países iberoamericanos durante la década comprendida entre los años 2010 y 2020. La investigación se enfoca en conocer las características principales de las publicaciones sobre el tema relacionado anteriormente, y analizarlas desde el contexto peruano. Para conseguir este objetivo, se analizó un grupo de trabajos de investigación de autores iberoamericanos y se aplicó al caso Perú por medio de dos artículos publicados por autores de dicha nación. Se logra la identificación de 140 trabajos de investigación publicados en revistas indexadas en base de datos Scopus los cuales se organizan mediante tablas, gráficos y figuras para su posterior análisis bibliométrico, destacando aspectos relevantes como la evolución histórica de la producción científica, país de origen, área de conocimiento y tipo de publicación. Asimismo, se analizan algunos ejemplos de trabajos publicados con el propósito de conocer la postura de distintos autores frente a la temática principal del presente trabajo de investigación
Palabras clave:
gestión administrativa, sistema penitenciario
Descargas
La descarga de datos todavía no está disponible.
Citas
Ananos, F., Garcia-Vita, M., Galan-Casado, D., & Raya-Miranda, R. (2020). Dropout, Autonomy and Reintegration in Spain: A Study of the Life of Young Women on Temporary Release. Frontiers in Psychology.
Arévalo Morles, C., . Sardi, J., Pérez Morales, L., López Rojas, L., & Alvarado Romero, J. (1992). ideas principios y conceptos para una gestión administrativa . Dermatología Venezolana.
Armstrong, S. (2020). At Risk of Rights: Rehabilitation, Sentence Management and the Structural Violence of Prison. Critical Criminology, 85 - 105.
Ballesteros-Pena, A. (2018). Responsibilisation and female imprisonment in contemporary penal policy: 'Respect Modules' ('Módulos de Respeto') in Spain. Punishment and Society, 458 - 476.
Biondi, K. (2017). Prison politics and management: Incitements, variations and effects][Políticas prisioneiras e gestão penitenciária: Incitações, variações e efeitos. Etnográfica, 555 - 567.
Brazao, N., Rijo, D., Salvador, M., & Pinto-Gouveia, J. (2018). Promoting emotion and behavior regulation in male prison inmates: A secondary data analysis from a randomized controlled trial testing the efficacy of the growing pro-social program. Law and Human Behavior, 57-70.
Busatto, C., Nunes, L., Valim, A., Valenca, M., Krug, S., D., B., . . . L.G., P. (2017). Tuberculosis among prison staff in Rio Grande do Sul. Revista brasileira de enfermagem, 370 - 375.
Cabral, S., & Santos, M.-F. (2018). Accountability Mechanisms in Public Services: Activating New Dynamics in a Prison System. International Public Management Journal, 795 - 821.
Cabral, S., Lazzarini, S., & De Azevedo, P. (2013). Private Entrepreneurs in Public Services: A Longitudinal Examination of Outsourcing and Statization of Prisons. Strategic Entrepreneurship Journal, 6-25.
De Oliveira, H., De Vasconcelos, C., & El-Aouar, W. (2016). Administrative routines of potiguar prison system. Espacios.
Goncalves, L. G., Martins, C., & Dirkzwager, A. (2014). Predicting Infractions and Health Care Utilization in Prison: A Meta-Analysis . Criminal Justice and Behavior, 921 - 942.
Malta, M., Varatharajan, T., Russell, C., Pang, M., Bonato, S., & Fischer, B. (2019). Opioid-related treatment, interventions, and outcomes among incarcerated persons: A systematic review. PLoS Medicine.
Manica, F., & Brustolin, R. (2017). Prisons Management through Public-Private Partnerships: An analysis of activities capable of delegation. Revista Brasileira de Políticas Públicas, 295 - 310.
Manica, F., & Brustolin, R. (2017). Prisons Management through Public-Private Partnerships: An analysis of activities capable of delegation. Revista Brasileira de Políticas Públicas, 295 - 310.
Nieto-Lopez, E., Hernandez-Pacheco, J., & Mejia-Ortega, L. (2019). Access to health services for a group man deprived of their liberty in a penitentiary and prison of antioquia-Colombia, 2012. Revista de Salud Pública, 1-8.
Pineros-Baez, V. (2020). Public health responses for the management of covid-19 in detention centers. Literature review. Revista de Salud Pública, 1-8.
Quintero, L., Munoz-Delgado, J., Sanchez-Ferrer, J., & Fresan, A. (2018). Facial Emotion Recognition and Empathy in Employees at a Juvenile Detention Center. International Journal of Offender Therapy and Comparative Criminology, 2430 - 2446.
Rich, J., C.G., B., A., M., B.D.L, M., L., B.-R., J.J, A., . . . F.L., A. (2016). Clinical care of incarcerated people with HIV, viral hepatitis, or tuberculosis. The Lancet, 1103 - 1114.
Sanchez, I. (2016). The penalization of migrants: Irregularity and prison in the construction of the neoliberal State. Migraciones, 123 - 147.
Sanhueza, G., Perez, F., Candia, J., & Urquieta, M. (2020). Inmate-on-Inmate Prison Violence in Chile: The Importance of the Institutional Context and Proper Supervision. Journal of Interpersonal Violence.
Spycher, J., Dusheiko, M., Beaupere, P., & Gravier, B. (2021). Healthcare in a pure gatekeeping system: utilization of primary, mental and emergency care in the prison population over time. Health and Justice.
van der Heijden, Y., F., A., B.B, A., J.R, A., D.J., C., J., C., . . . C., H. (2018). Building capacity for advances in tuberculosis research; proceedings of the third RePORT international meeting. Tuberculosis, 153 - 162.
Vergara, M., Collado, V., & Muga, M. (2020). Social leadership, the motor for management practices in education in contexts of confinement. Psicoperspectivas.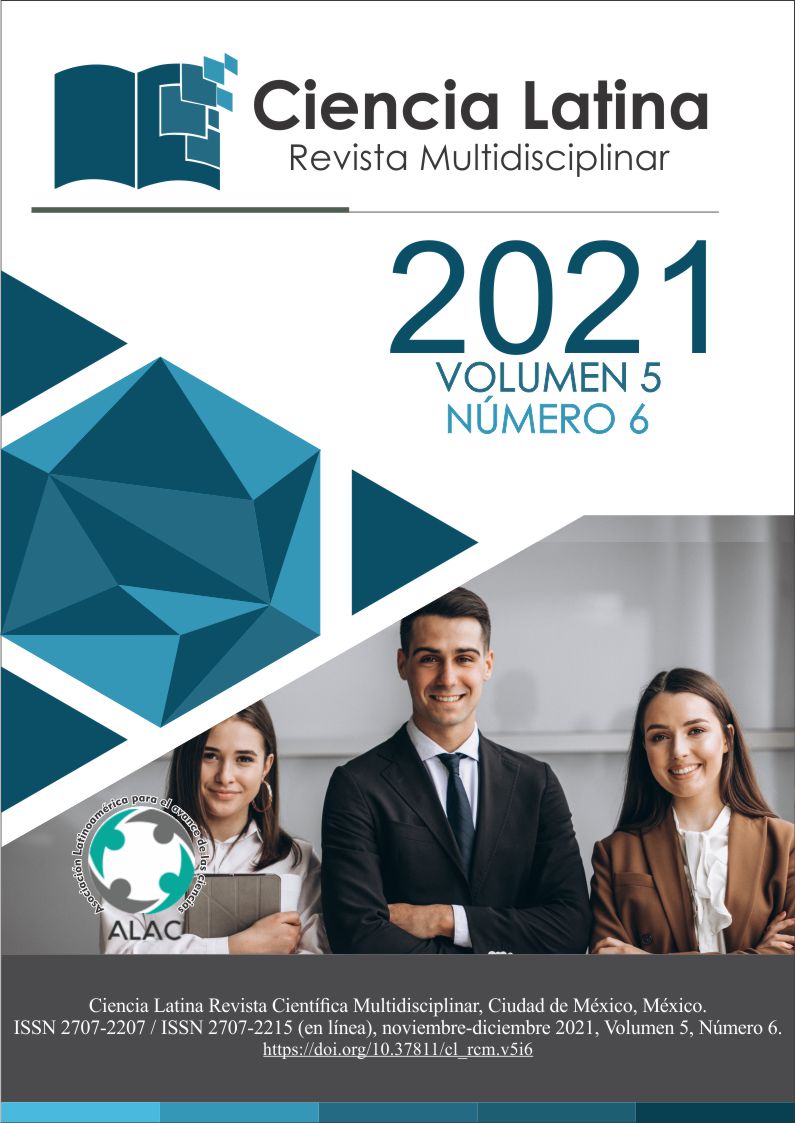 Cómo citar
Vergara Hiyo, M. A. W., Callao Alarcon, D. M., & Puican Rodriguez, M. V. H. (2021). Gestión administrativa penitenciaria en Perú: revisión documental en Iberoamérica. Ciencia Latina Revista Científica Multidisciplinar, 5(6), 12905-12920. https://doi.org/10.37811/cl_rcm.v5i6.1291
Derechos de autor 2021 Mg. Alex Wilson Vergara Hiyo;Dr. Marcelino Callao Alarcon;Mg. Victor Hugo Puican Rodriguez
Esta obra está bajo licencia internacional
Creative Commons Reconocimiento 4.0
.