El clima laboral en las instituciones públicas del Perú
Resumen
Se llevó a cabo una revisión documental sobre la producción y publicación de trabajos de investigación referentes al estudio de la variable el clima laboral en las instituciones públicas. El propósito del análisis bibliométrico propuesto en el presente documento, es conocer las características principales del volumen de publicaciones registradas en base de datos Scopus durante el periodo 2015-2020 en países Latinoamericanos, logrando la identificación de 145 publicaciones en total. La información suministrada por dicha plataforma, fue organizada mediante gráficos y figuras categorizando la información por el Año de Publicación, País de Origen, Área de Conocimiento y Tipo de Publicación. Una vez descritas dichas características, se hace referencia mediante un análisis cualitativo, la postura de diferentes autores frente a la temática propuesta. Dentro de los principales hallazgos realizados por medio de la presente investigación, se encuentra que Brasil con 79 publicaciones, es el país latinoamericano con mayor producción. El Área de Conocimiento que mayor aporte hizo a la construcción de material bibliográfico referente al estudio del clima laboral en las instituciones públicas fue Ciencias Sociales con 58 documentos publicados, y el Tipo de Publicación que más fue usado durante el periodo señalado anteriormente fue el Artículo de Revista que representan el 79% de la producción científica total.
Palabras clave:
clima laboral, instituciones públicas
Descargas
La descarga de datos todavía no está disponible.
Citas
Arbeláez, I., & á. J. (2018). Freedom and human development in organizations. Interdisciplinaria, 395 - 408.
Cavalcanti, L., & Martins, L. (2018). Workload and work capacity of the public agent at a department of a federal institution of higher education. Occupational Safety and Hygiene VI - Selected contributions from the International Symposium Occupational Safety and Hygiene, SHO 2018, (págs. 225 - 229). Guimarães.
Charry Condor, H. O. (2018). The management of internal communication and the organizational climate in the sector public. Comuni@cción.
Esparza Aguilar, J. (2019). Corporate social responsibility practices developed by Mexican family and non-family businesses. Journal of Family Business Management, 40 - 53.
Garcia, J., & Ribeiro, M. (2020). Ergonomic information policies for archives and libraries workers. Biblios.
Hernández-Vicente, I., Lumbreras-Guzmán, M., Méndez-Hernández, P., Rojas-Lima, E., Cervantes-Rodríguez, M., & Juárez-Flores, C. (2017). Validation of a scale to assess the labour quality of life in public hospitals from Tlaxcala. Salud Publica de México, 183 - 192.
Iglesias, A. A., & Sánchez, G. Z. (2015). Generalidades del clima organizacional. MediSur.
Lage, L., V. J., & Boscarioli, C. (2018). Applying an open source software assessment model to select BI tools in public organizations. ACM International Conference Proceeding Series, (págs. 96 - 103). Caxias do Sul.
Monteiro, G., Baeza, F., & Hauck, S. (2020). Work environment evaluation instrument (Weei): Development, validation, and association with burnout. Trends in Psychiatry and Psychotherapy, 185-189.
Rodríguez-Rojas, Y., Hernández, C. H., & Monroy, S. M. (2020). Occupational health and safety management: Maturity and minimum standards in district public entities in Colombia. Revista Venezolana de Gerencia, 150 - 166.
Sobral, R., Stephan, C., Bedin-Zanatta, A., & De-Lucca, S. (2018). Burnout and work organization in Nursing. Revista Brasileira de Medicina do Trabalho, 44 - 52.
Valenzuela-Cazés, A., & Ramírez-Cardona, L. (2020). Workplace of physiotherapists from the public health care network of hospitals in Bogota. Revista de Salud Pública, 880 - 889.
Abeledo, M. C., Bruschetti, F., Priano, D., Bevilacqua, R., Aguilera, G., Iriso, P., . . . Altobelli, G. (2016). Implementation of a software application for comprehensive monitoring of children and young patients under closed regimes in argentina (SISP). Paper presented at the CHILECON 2015 - 2015 IEEE Chilean Conference on Electrical, Electronics Engineering, Information and Communication Technologies, Proceedings of IEEE Chilecon 2015, 179-184. doi:10.1109/Chilecon.2015.7400372 Retrieved from www.scopus.com
Acevedo-Duque, Á., Argüello, A. J., Pineda, B. G., & Turcios, P. W. (2020). Teacher competences in online education in time of COVID-19: Public universities of Honduras. [Competencias del docente en educación online en tiempo de COVID-19: Universidades Públicas de Honduras] Revista De Ciencias Sociales, 26, 206-224. Retrieved from www.scopus.com
Arbeláez, I. L., & Álvarez, J. E. (2018). Freedom and human development in organizations. [Libertad y desarrollo humano en las organizaciones] Interdisciplinaria, 35(2), 395-408. Retrieved from www.scopus.com
Balsanelli, A. P., & Olm Cunha, I. C. K. (2015). Nursing leadership in intensive care units and its relationship to the work environment. Revista Latino-Americana De Enfermagem, 23(1), 106-113. doi:10.1590/0104-1169.0150.2531
Barcelo-Valenzuela, M., Leal-Pompa, C. M., & Sanchez-Schmitz, G. (2020). An IT service management methodology for an electoral public institution. Paper presented at the Proceedings - 3rd International Conference on Information and Computer Technologies, ICICT 2020, 219-223. doi:10.1109/ICICT50521.2020.00041 Retrieved from www.scopus.com
Da Fonseca, I. F. (2019). Resilience, scale and participation in right-wing governments: An analysis of the popular consultation in grande do sul (1998-2018). [Resiliência, escala e participação em governos de direita: Uma análise da Consulta Popular no Rio Grande do Sul (1998-2018)] Opiniao Publica, 25(3), 694-725. doi:10.1590/1807-01912019253694
Da Silva, A. M., Ponciano, N. J., de Souza, P. M., & Cezar, L. S. (2020). Rural extension and construction of gender equity: Limits and possibilities. Revista De Economia e Sociologia Rural, 58(1) doi:10.1590/1806-9479.2020.187845
Da Silva, J. D. G., Aciole, G. G., & Lancman, S. (2017). Ambivalences in mental health care: Craziness at work and health workers. A case study of the labor health clinic. [Ambivalências no cuidado em saúde mental: A 'loucura' do trabalho e a saúde dos trabalhadores. Um estudo de caso da clínica do trabalho] Interface: Communication, Health, Education, 21(63), 881-892. doi:10.1590/1807-57622016.0559
Dana, A. C., Catai, R. E., & Amarilla, R. S. D. (2016). Ergonomic analysis of noise and luminance in jobs of a public institution. [Análise ergonômica de ruído e de iluminância em postos de trabalho de uma instituição pública] Espacios, 37(30) Retrieved from www.scopus.com
De André, M. E. D. A. (2018). Beginning teachers: Graduates of teaching initiation programs. [Professores iniciantes: Egressos de programas de iniciação à docência] Revista Brasileira De Educacao, 23 doi:10.1590/S1413-24782018230095
Evangelista, G. L. L., de Almeida, A. N., & de Abreu, L. M. (2020). Indicators for evaluation of university budgetary management - a case study for the university of brasilia. [Indicadores de avaliação da gestão orçamentária universitária – um estudo de caso para a Universidade de Brasília] Meta: Avaliacao, 23(36), 689-718. doi:10.22347/2175-2753v12i36.2721
Fagundes, M. F., & Ribeiro Junior, D. I. (2020). Frictionless data-based model applied to open government data. [Modelo baseado em Frictionless Data aplicado aos dados abertos governamentais] Revista Digital De Biblioteconomia e Ciencia Da Informacao, 18 doi:10.20396/RDBCI.V18I00.8661528
Farias, C. R. D. O., Carvalho, I. C. D. M., & Borges, M. G. (2018). One decade of environmental education research in brazil: Trajectories and trends in three national scientific conferences (ANPEd, ANPPAS and EPEA). Environmental Education Research, 24(10), 1476-1489. doi:10.1080/13504622.2017.1326018
Faure, G., Barret, D., Blundo-Canto, G., Dabat, M. -., Devaux-Spatarakis, A., Le Guerroué, J. L., . . . Hainzelin, E. (2018). How different agricultural research models contribute to impacts: Evidence from 13 case studies in developing countries. Agricultural Systems, 165, 128-136. doi:10.1016/j.agsy.2018.06.002
Ferreira, L. R., & Artmann, E. (2018). Pronouncements on humanization: Professionals and users in a complex health institution. [Discursos sobre humanização: Profissionais e usuários em uma instituição complexa de saúde] Ciencia e Saude Coletiva, 23(5), 1437-1450. doi:10.1590/1413-81232018235.14162016
Figueroa Gallo, L. M., Olivera, J. M., & Rocha, L. A. (2015). Noise pollution control in neonatal service units: A multidisciplinary approach. Paper presented at the IFMBE Proceedings, , 49 726-729. doi:10.1007/978-3-319-13117-7_185 Retrieved from www.scopus.com
Gutiérrez-Alba, G., González-Block, M. Á., & Reyes-Morales, H. (2015). Challenges in the implementation of clinical practice guidelines in major public health institutions in mexico: A multiple case study. [Desafíos en la implantación de guías de práctica clínica en instituciones públicas de México: estudio de casos múltiple] Salud Pública De México, 57(6), 547-554. doi:10.21149/spm.v57i6.7644
Hernández-Escobedo, Q., Perea-Moreno, A. -., & Manzano-Agugliaro, F. (2018). Wind energy research in mexico. Renewable Energy, 123, 719-729. doi:10.1016/j.renene.2018.02.101
Hernandez-Mondragon, A. C., Herrera-Estrella, L., & Kuri-Harcuch, W. (2016). Legislative environment and others factors that inhibit transfer of mexican publicly funded research into commercial ventures. Technology in Society, 46, 100-108. doi:10.1016/j.techsoc.2016.03.002
Hernández-Vicente, I. A., Lumbreras-Guzmán, M., Méndez-Hernández, P., Rojas-Lima, E., Cervantes-Rodríguez, M., & Juárez-Flores, C. A. (2017). Validation of a scale to assess the labour quality of life in public hospitals from tlaxcala. [Validación de una escala para medir la calidad de vida laboral en hospitales públicos de Tlaxcala] Salud Pública de México, 59(2), 183-192. doi:10.21149/7758
Huang-Saad, A., & Celis, S. (2017). How student characteristics shape engineering pathways to entrepreneurship education. International Journal of Engineering Education, 33(2), 527-537. Retrieved from www.scopus.com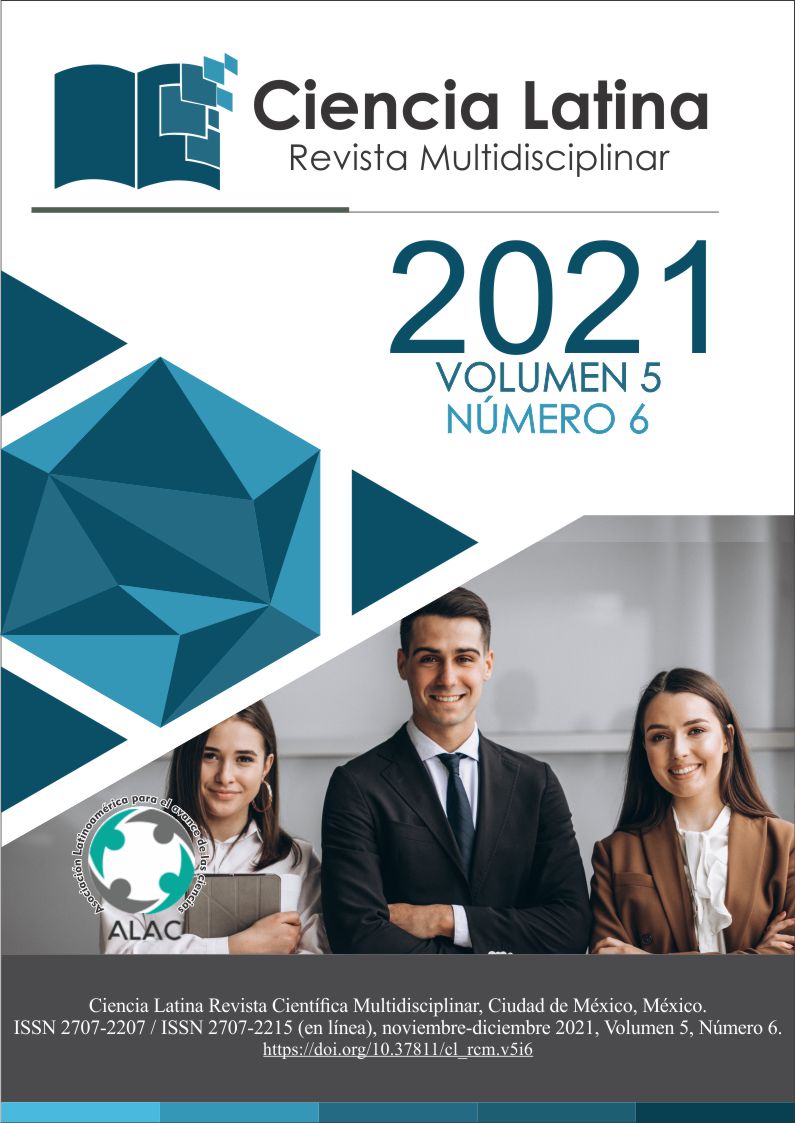 Cómo citar
Vergara Hiyo, M. A. W., Callao Alarcon, D. M., & Puican Rodriguez, M. V. H. (2022). El clima laboral en las instituciones públicas del Perú. Ciencia Latina Revista Científica Multidisciplinar, 5(6), 14553-14570. https://doi.org/10.37811/cl_rcm.v5i6.1418
Derechos de autor 2022 Mg. Alex Wilson Vergara Hiyo;Dr. Marcelino Callao Alarcon;Mg. Victor Hugo Puican Rodriguez
Esta obra está bajo licencia internacional
Creative Commons Reconocimiento 4.0
.