Endocarditis bacteriana: características epidemiológicas
Janer Antonio Mora Lopez

Especialista en Medicina Critica y Cuidados, Fundación Universitaria Ciencias de la Salud, Bogotá

https://orcid.org/0000-0002-1039-2584

Jhon Fredy Bello Cordero

Médico Urgenciólogo, Fundación Universitaria de Ciencias de la Salud Bogotá

https://orcid.org/0000-0002-7840-9610

Jorge Andrés Negrete Levette

Médico Internista, Fundación Universitaria Juan N Corpas

https://orcid.org/0000-0001-5479-5679

Yuliana Cuellar Anturi

Médico general, Universidad del Tolima

Cindy Natalia Prieto Morales

Médico general, Universidad Antonio Nariño

https://orcid.org/0000-0002-0895-0620

Ariel Herrera Ahumada

Médico general, Universidad del Sinú, Cartagena

https://orcid.org/0000-0001-5267-7150

Massiel Pardo De Oro

Médico general, Universidad Simón Bolivar

María Angélica Vila Cárdenas

Médico general, Fundación Universitaria Juan N corpas
Resumen
Antecedentes: La endocarditis infecciosa, es una infección del endotelio del corazón. En la era de la cardiología y radiología intervencionista, la endocarditis infecciosa por Staphylococcus aureus está cobrando mayor relevancia. Metodología: Se realizó una revisión sistematica a través de diversas bases de datos de Enero de 2016 a Julio de 2022; la búsqueda y selección de artículos fue llevada a cabo en revistas indexadas en idioma inglés y español. Resultados: La etiología es variable, dentro de los agentes más frecuentes podemos destacar los causados por estreptococos viridans, Streptococcus gallolyticus, Staphylococcus aureus, estafilococos coagulasa negativos, Haemophilus, Aggregatibacter, Cardiobacterium, Eikenella, Kingella y enterococos. En los países desarrollados, la incidencia de endocarditis oscila entre 2,6 y 7 casos por 100.000 habitantes al año. La mediana de edad de los pacientes con endocarditis es de 58 años. Conclusiones: La presente revisión ofrece información actualizada y detallada sobre los principales factores de riesgo de la endocarditis bacteriana que se conocen hasta la fecha, al igual que informar sobre las principales bacterias implicadas en esta patología y cuáles son los más frecuentes tanto en la población extrahospitalaria como en la intrahospitalaria.
Palabras clave:
endocarditis bacteriana, epidemiologia, s. aureus, infección
Descargas
La descarga de datos todavía no está disponible.
Citas
Galar A, Weil AA, Dudzinski DM, Muñoz P, Siedner MJ. Methicillin-Resistant Staphylococcus aureus Prosthetic Valve Endocarditis: Pathophysiology, Epidemiology, Clinical Presentation, Diagnosis, and Management. Clin Microbiol Rev. 2019 Mar 20;32.
Jia Y, Fang F, Wang H. [The clinical and pathological features of patients with infective endocarditis diagnosed at autopsy]. Zhonghua Nei Ke Za Zhi. 2017 Oct 01;56(10):725-728.
El Chami S, Jibbe A, Shahouri S. Bacterial Endocarditis Presenting as Leukocytoclastic Vasculitis. Cureus. 2017 Jul 13;9(7):e1464.
Spittle LS, Muzzin KB, Campbell PR, DeWald JP, Rivera-Hidalgo F. Current prescribing Practices for Antibiotic Prophylaxis: A Survey of Dental Practitioners. J Contemp Dent Pract. 2017 Jul 01;18(7):559-566.
Yanagawa B, Mazine A, Tam DY, Jüni P, Bhatt DL, Spindel S, Puskas JD, Verma S, Friedrich JO. Homograft Versus Conventional Prosthesis for Surgical Management of Aortic Valve Infective Endocarditis: A Systematic Review and Meta-analysis. Innovations (Phila). 2018 May/Jun;13(3):163-170.
He PC, Wei XB, Luo SN, Chen XL, Ke ZH, Yu DQ, Chen JY, Liu YH, Tan N. Risk prediction in infective endocarditis by modified MELD-XI score. Eur J Clin Microbiol Infect Dis. 2018 Jul;37(7):1243-1250.
Cahill TJ, Prendergast BD. Infective endocarditis. Lancet. 2016 Feb 27;387(10021):882-93.
Liesman RM, Pritt BS, Maleszewski JJ, Patel R. Laboratory Diagnosis of Infective Endocarditis. J Clin Microbiol. 2017 Sep;55(9):2599-2608.
Nazir S, Elgin E, Loynd R, Zaman M, Donato A. ST-Elevation Myocardial Infarction Associated With Infective Endocarditis. Am J Cardiol. 2019 Apr 15;123(8):1239-1243.
Nishimura RA, Otto CM, Bonow RO, Carabello BA, Erwin JP, Fleisher LA, Jneid H, Mack MJ, McLeod CJ, O'Gara PT, Rigolin VH, Sundt TM, Thompson A. 2017 AHA/ACC Focused Update of the 2014 AHA/ACC Guideline for the Management of Patients With Valvular Heart Disease: A Report of the American College of Cardiology/American Heart Association Task Force on Clinical Practice Guidelines. Circulation. 2017 Jun 20;135(25):e1159-e1195.
El riesgo de trombosis es mayor en hipertensos, diabéticos y obesos con la Covid-19. Observa-T peru. Obervatorio de Nutricion y Estudio Del sobrepeso y Obesidad. Infosalus. Madrid 16/06/2022
G. Adriana, P. Aurora, R. Marcela, L. Nelly. Fisiología de la hemostasia y su alteración por la coagulopatía en COVID-19. Physiology of Hemostasis and its Alteration by Coagulopathy in COVID-19. Rev. Fac. Med. (Méx.) vol.63 no.5 Ciudad de México sep./oct. 2020 Epub 05-Mar-2021
Kaufmann CC, Wessely E, Huber K. Non-bacterial thrombotic endocarditis in the context of pulmonary adenocarcinoma: a case report. Eur Heart J Case Rep. 2020 Feb;4(1):1-5.
Jawad K, Kroeg G, Koziarz A, Lehmann S, Dieterlen M, Feder S, Garbade J, Rao V, Borger M, Misfeld M. Surgical options in infective valve endocarditis with neurological complications. Ann Cardiothorac Surg. 2019 Nov;8(6):661-666.
Sotero FD, Rosário M, Fonseca AC, Ferro JM. Neurological Complications of Infective Endocarditis. Curr Neurol Neurosci Rep. 2019 Mar 30;19(5):23.
Rajani R, Klein JL. Infective endocarditis: A contemporary update. Clin Med (Lond). 2020 Jan;20(1):31-35.
Elbatarny M, Bahji A, Bisleri G, Hamilton A. Management of endocarditis among persons who inject drugs: A narrative review of surgical and psychiatric approaches and controversies. Gen Hosp Psychiatry. 2019 Mar - Apr;57:44-49.
Rogolevich VV, Glushkova TV, Ponasenko AV, Ovcharenko EA. [Infective Endocarditis Causing Native and Prosthetic Heart Valve Dysfunction]. Kardiologiia. 2019 Apr 13;59(3):68-77.
Jillella DV, Wisco DR. Infectious causes of stroke. Curr Opin Infect Dis. 2019 Jun;32(3):285-292.
McCann M, Gorman M, McKeown B. No Fever, No Murmur, No Problem? A Concealed Case of Infective Endocarditis. J Emerg Med. 2019 Aug;57(2):e45-e48.
Ibrahim AM, Siddique MS. StatPearls [Internet]. StatPearls Publishing; Treasure Island (FL): Jul 23, 2021. Subacute Bacterial Endocarditis Prophylaxis.
Julia G. Christopher B. Y.S Chandrashekhar, Bernars P. Staphylococcus Aureus Infective Endocarditis. JACC Case Rep. 2022 Jan 5; 4(1): 1–12. doi: 10.1016/j.jaccas.2021.10.002.
Laurens L. Severien M. Marleen L. Maarten C. Jorien C. Staphylococcus aureus endocarditis: distinct mechanisms of bacterial adhesion to damaged and inflamed heart valves. Eur Heart J. 2019 Oct 14; 40(39): 3248–3259. doi: 10.1093/eurheartj/ehz175.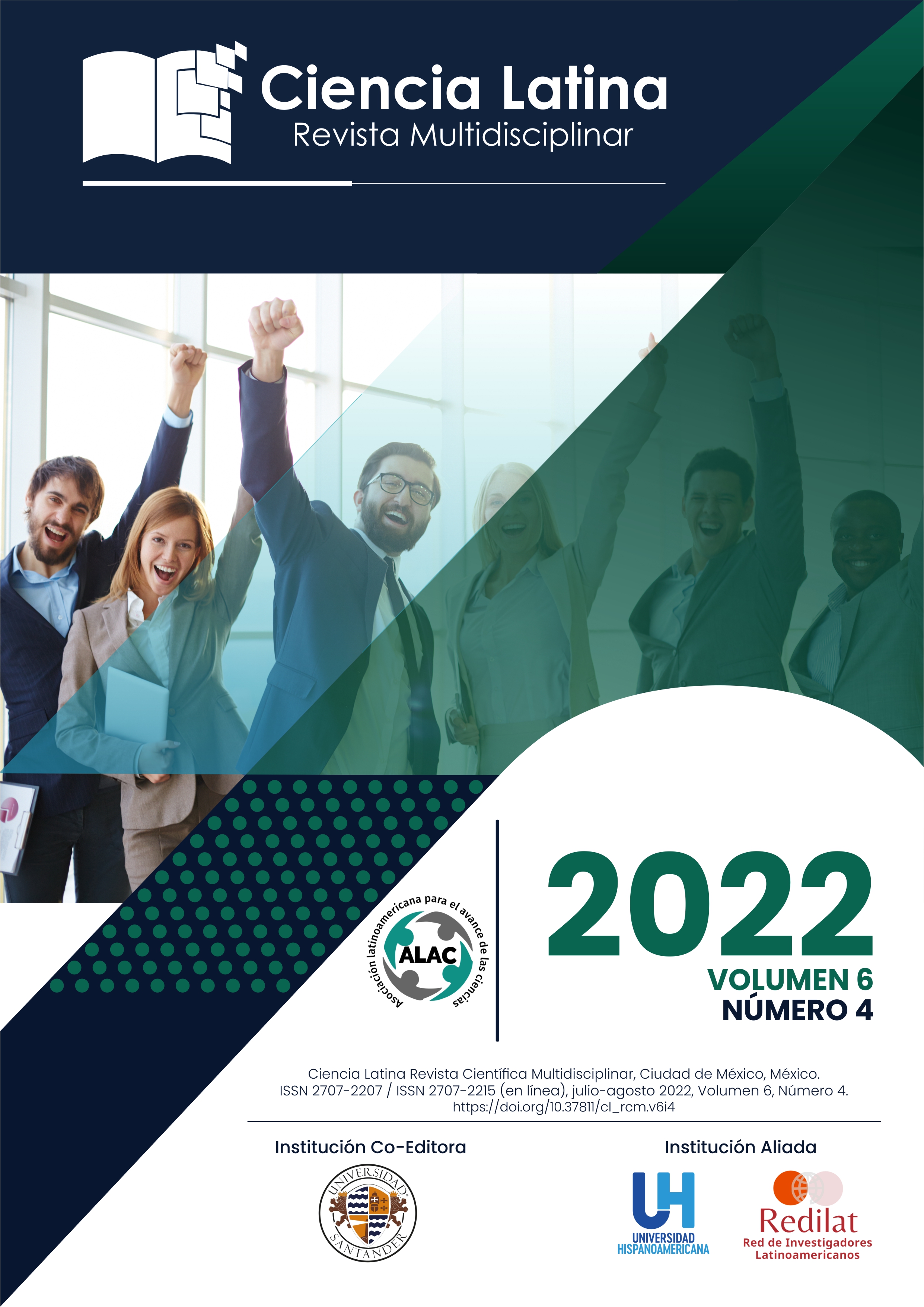 Cómo citar
Mora Lopez, J. A., Bello Cordero, J. F., Negrete Levette, J. A., Cuellar Anturi, Y., Prieto Morales, C. N., Herrera Ahumada, A., Pardo De Oro, M., & Vila Cárdenas, M. A. (2022). Endocarditis bacteriana: características epidemiológicas. Ciencia Latina Revista Científica Multidisciplinar, 6(4), 838-850. https://doi.org/10.37811/cl_rcm.v6i4.2627
Derechos de autor 2022 Janer Antonio Mora Lopez;Jhon Fredy Bello Cordero;Jorge Andrés Negrete Levette;Yuliana Cuellar Anturi;Cindy Natalia Prieto Morales;Ariel Herrera Ahumada;Massiel Pardo De Oro;María Angélica Vila Cárdenas
Esta obra está bajo licencia internacional
Creative Commons Reconocimiento 4.0
.