Leishmaniasis visceral en el embarazo: abordaje y manejo
Resumen
Antecedentes: La leishmaniasis es una enfermedad causada por un protozoo de la familia Trypanosomatidae, orden Kinetoplastida, género Leishmania y es más comúnmente transmitida por flebótomos infectados. Esta enfermedad es muy frecuente en la actualidad, aún sigue siendo endémica en América del sur y central, el Mediterráneo, África del norte, Medio oriente, y Asia. Hasta la fecha los casos de Leishmaniasis visceral en el embarazo siguen siendo escasos o se presentan con poca frecuencia. Metodología: Se realizó una revisión sistemática a través de diversas bases de datos de enero de 2015 a Julio de 2022; la búsqueda y selección de artículos fue llevada a cabo en revistas indexadas en idioma inglés. Resultados: Según la OMS los casos donde se registra con mayor frecuencia Leishmaniasis visceral en el embarazo son en India, Sudán, Brasil, Etiopia, Kenia y Sudan del Sur. El fármaco de elección para su tratamiento es la anfotericina B liposomal, mientras que en otras regiones como en África oriental se utiliza una combinación de antimonio pentavalente y paromomicina. Conclusiones: La presente revisión ofrece información actualizada y detallada de un correcto abordaje terapéutico y diagnóstico, al igual que informar sobre las principales áreas donde se presenta la leishmaniasis visceral en el embarazo.
Palabras clave:
leishmaniasis visceral, leishmaniasis, gestantes, manejo farmacológico
Descargas
La descarga de datos todavía no está disponible.
Citas
Abongomera C, Diro E, Vogt F, Tsoumanis A, Mekonnen Z, Admassu H, Colebunders R, Mohammed R, Ritmeijer K, van Griensven J. The Risk and Predictors of Visceral Leishmaniasis Relapse in Human Immunodeficiency Virus-Coinfected Patients in Ethiopia: A Retrospective Cohort Study. Clin Infect Dis. 2017 Oct 30;65(10):1703-1710.
Vries HJ, Reedijk SH, Schallig HD. Cutaneous leishmaniasis: recent developments in diagnosis and management. Am J Clin Dermatol. 2015 Apr;16(2):99-109.
Handler MZ, Patel PA, Kapila R, Al-Qubati Y, Schwartz RA. Cutaneous and mucocutaneous leishmaniasis: Differential diagnosis, diagnosis, histopathology, and management. J Am Acad Dermatol. 2015 Dec;73(6):911-26; 927-8.
Steverding D. The history of leishmaniasis. Parasit Vectors. 2017 Feb 15;10(1):82.
Osman M, Mistry A, Keding A, Gabe R, Cook E, Forrester S, Wiggins R, di Marco S, Colloca S, Siani L, Cortese R, Smith DF, Aebischer T, Kaye PM, Lacey CJ. A third generation vaccine for human visceral leishmaniasis and post kala azar dermal leishmaniasis: first-in-human trial of ChAd63-KH. PLoS Negl Trop Dis. 2017;11(5):e0005527. doi: 10.1371/journal.pntd.0005527.
Moafi M, Rezvan H, Sherkat R, Taleban R. Leishmania vaccines entered in clinical trials: a review of literature. Int J Prev Med. 2019;10:95.
Deep DK, Singh R, Bhandari V, Verma A, Sharma V, Wajid S, Sundar S, Ramesh V, Dujardin JC, Salotra P. Increased miltefosine tolerance in clinical isolates of Leishmania donovani is associated with reduced drug accumulation, increased infectivity and resistance to oxidative stress. PLOS Neglected Tropical Diseases. 2017;11(6):e0005641. doi: 10.1371/journal.pntd.0005641.
Mann S, Phupitakphol T, Davis B, Newman S, Suarez JA, Henao-Martínez A, Franco-Paredes C. Case Report: Cutaneous leishmaniasis due to Leishmania (Viannia) panamensis in two travelers successfully treated with miltefosine. Am J Trop Med Hyg. 2020;103(3):1081–1084. doi: 10.4269/ajtmh.20-0086.
Ghosh P, Bhaskar KRH, Hossain F, Khan MAA, Vallur AC, Duthie MS, et al. Evaluation of diagnostic performance of rK28 ELISA using urine for diagnosis of visceral leishmaniasis. Parasit Vectors. 2016;9(1):383. doi: 10.1186/s13071-016-1667-2.
Georgiadou SP, Makaritsis KP, Dalekos GN. Leishmaniasis revisited: current aspects on epidemiology, diagnosis and treatment. J Transl Int Med. 2015;3(2):43–50. doi: 10.1515/jtim-2015-0002
Aronson NE, Joya CA. Cutaneous leishmaniasis: updates in diagnosis and management. Infect Dis Clin North Am. 2019;33(1):101–17.
Aronson N, Herwaldt BL, Libman M, Pearson R, Lopez-Velez R, Weina P, et al. Diagnosis and treatment of leishmaniasis: clinical practice guidelines by the Infectious Diseases Society of America (IDSA) and the American Society of Tropical Medicine and Hygiene (ASTMH). Am J Trop Med Hyg. 2017;96(1):24–45.
Scott P, Novais FO. Cutaneous leishmaniasis: immune responses in protection and pathogenesis. Nat Rev Immunol. 2016;16(9):581–592. doi: 10.1038/nri.2016.72.
Burza S, Croft SL, Boelaert M. Leishmaniasis. Lancet. 2018;392(10151):951–70.
McIlwee BE, Weis SE, Hosler GA. Incidence of endemic human cutaneous leishmaniasis in the United States. JAMA Dermatology. 2018;154(9):1032–1039. doi: 10.1001/jamadermatol.2018.2133
Saito M, Gilder ME, Nosten F, Guérin PJ, McGready R. Methodology of assessment and reporting of safety in anti-malarial treatment efficacy studies of uncomplicated falciparum malaria in pregnancy: A systematic literature review. Malar. J. 2017;16, 491. doi: 10.1186/s12936-017-2136-x
WHO TDR. Central registry for epidemiological surveillance of drug safety in pregnancy [Internet]. WHO. 2019.
Adam GK, Omar SM, Ahmed MAA, Abdallah TM, Ali AAA. Cross-sectional study of the case–fatality rate among patients with visceral leishmaniasis infections during pregnancy in Sudan. Int. J. Gynecol. Obstet. 2018;140:119–20. doi: 10.1002/ijgo.12332
Panagopoulos P, Mitsopoulos V, Papadopoulos A, Theodorou S, Christodoulaki C, Aloupogiannis K, et al. Visceral leishmaniasis during pregnancy: A rare case report from Greece. PLoS Negl. Trop. Dis. 2017;11:e0005134. doi: 10.1371/journal.pntd.0005134
Pawar S, Ragesh R, Nischal N, Sharma S, Panda PK, Sharma SK. Unique triad of pregnancy, kala azar and hemophagocytic lymphohistiocytic syndrome from a non-endemic region. J. Assoc. Physicians India. 2015;63:65–8.
Silva Jde A, Araujo Ide M, Pavanetti LC, Okamoto LS, Dias M. [Visceral leishmaniasis and pregnancy in renal transplanted patient: case report]. J. Bras. Nefrol. 2015;37:268–70. doi: 10.5935/0101-2800.20150041
IMPAVIDO (miltefosine) pregnancy registry [Internet]. [cited 2021 Feb 9]. Available from: https://www.impavido.com/about-registry
Berger BA, Bartlett AH, Saravia NG, Galindo Sevilla N. Pathophysiology of Leishmania infection during pregnancy. Trends Parasitol. 2017;33:935–46. doi: 10.1016/j.pt.2017.08.012
Pekelharing JE, Gatluak F, Harrison T, Maldonado F, Siddiqui R, Ritmeijer K. Outcomes of visceral leishmaniasis in pregnancy: A retrospective cohort study from South Sudan. PLoS Negl. Trop. Dis. 2020;14:e0007992. doi: 10.1371/journal.pntd.0007992
Judith E. Francis G. Tim H. Fernando M. M. Ruby, Koert R. Outcomes of visceral leishmaniasis in pregnancy: A retrospective cohort study from South Sudan. PLoS Negl Trop Dis. 2020 Jan; 14(1): e0007992. doi: 10.1371/journal.pntd.0007992
Periklis P. Vasileios M. Antonios P. Spyridoula T. Chrysoula C. Kyriakos A. Nikolaos P. Visceral leishmaniasis during pregnancy: A rare case report from Greece. PLoS Negl Trop Dis. 2017 Feb; 11(2): e0005134. doi: 10.1371/journal.pntd.0005134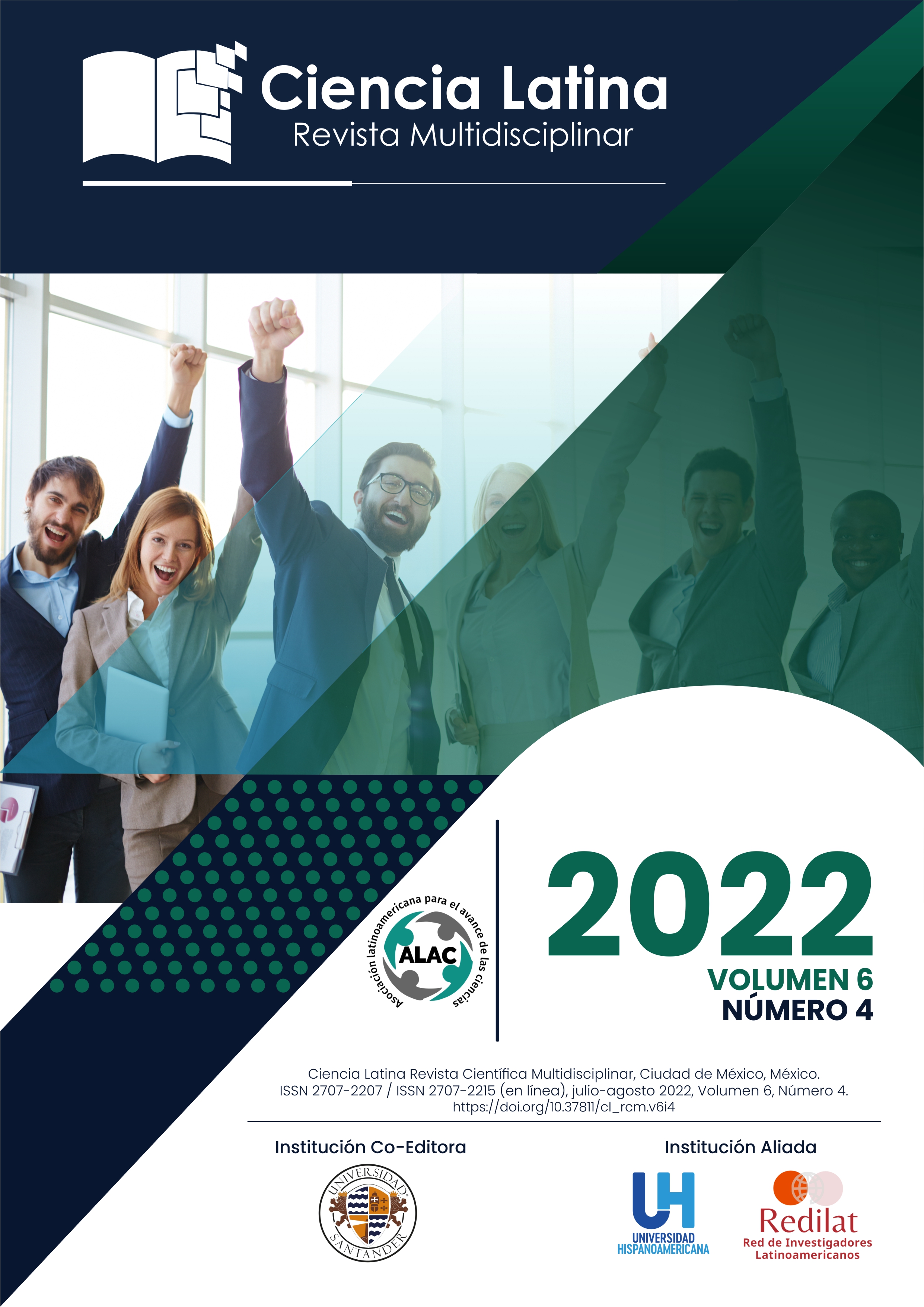 Cómo citar
León Triana, C. C., Gualdrón Moncada, J. P., Jacome Duarte, A. M., Barrera Amaya, G. P., Valdés Gámez, S., Lora Mantilla, A. M., Castaño Escobar, L. M., & Vargas Pinto, A. P. (2022). Leishmaniasis visceral en el embarazo: abordaje y manejo. Ciencia Latina Revista Científica Multidisciplinar, 6(4), 916-927. https://doi.org/10.37811/cl_rcm.v6i4.2636
Derechos de autor 2022 César Camilo León Triana;Juan Pablo Gualdrón Moncada;Angélica María Jacinta Duarte;Geinni Paola Barrera Amaya;Sindy Valdés Gámez;Angela Maria Lora Mantilla;Luz Marina Castaño Escobar;Angie Paola Vargas Pinto
Esta obra está bajo licencia internacional
Creative Commons Reconocimiento 4.0
.