Cáncer de mama, mutación en CHECK2, reporte de caso clínico
Resumen
El cáncer de mama es la neoplasia maligna con mayor incidencia en mujeres, actualmente existe una mayor presencia en pacientes jóvenes menores de 50 años, esto se debe a cambios en factores modificables como obesidad, sedentarismo, entre otros. Además, el 8 al 10% de nuevos casos se deben a factores genéticos. A continuación, se presenta el caso de una paciente de 32 años, que debuta con una masa en mama izquierda, la cual desencadena la realización de exámenes para confirmar el diagnostico, estadio, subtipo molecular y de esta manera el tratamiento más acorde. Tras un periodo libre de enfermedad de 3 años, presenta recaída de la enfermedad con cambio en el subtipo molecular y mediante plataformas de perfiles de expresión genética, se identificó mutaciones en genes de reparación del ADN en este caso ATM y CHECK2. Lo que sirvió como partida para orientar el tratamiento de mayor beneficio, ya que no es posible tener acceso a tratamiento dirigido que se sería la mejor propuesta terapéutica. En conclusión, es necesario poseer un acceso universal a plataformas de diagnóstico génico, tratamiento personalizado o un plan para integrar a pacientes de países de bajos recursos en ensayos clínicos.
Palabras clave:
cáncer de mama, mutación check2, perfil genético
Descargas
La descarga de datos todavía no está disponible.
Citas
Apostolou, P., & Papasotiriou, I. (2017). Current perspectives on CHEK2 mutations in breast cancer. Breast Cancer: Targets and Therapy, 9, 331–335. https://doi.org/10.2147/BCTT.S111394
Breast Cancer Association Consortium, Mavaddat, N., Dorling, L., Carvalho, S., Allen, J., González-Neira, A., Keeman, R., Bolla, M. K., Dennis, J., Wang, Q., Ahearn, T. U., Andrulis, I. L., Beckmann, M. W., Behrens, S., Benitez, J., Bermisheva, M., Blomqvist, C., Bogdanova, N. V, Bojesen, S. E., … Easton, D. F. (2022). Pathology of Tumors Associated With Pathogenic Germline Variants in 9 Breast Cancer Susceptibility Genes. JAMA Oncology, 1–11. https://doi.org/10.1001/jamaoncol.2021.6744
Burstein, H. J., Curigliano, G., Thürlimann, B., Weber, W. P., Poortmans, P., Regan, M. M., Senn, H. J., Winer, E. P., Gnant, M., Aebi, S., André, F., Barrios, C., Bergh, J., Bonnefoi, H., Bretel Morales, D., Brucker, S., Burstein, H., Cameron, D., Cardoso, F., … Xu, B. (2021). Customizing local and systemic therapies for women with early breast cancer: the St. Gallen International Consensus Guidelines for treatment of early breast cancer 2021. Annals of Oncology, 32(10), 1216–1235. https://doi.org/10.1016/j.annonc.2021.06.023
Buys, S. S., Sandbach, J. F., Gammon, A., Patel, G., Kidd, J., Brown, K. L., Sharma, L., Saam, J., Lancaster, J., & Daly, M. B. (2017). A Study of Over 35,000 Women With Breast Cancer Tested With a 25-Gene Panel of Hereditary Cancer Genes. Cancer, 123, 1721–1751. https://doi.org/10.1002/cncr.30498
Dominguez-Valentin, M., Nakken, S., Tubeuf, H., Vodak, D., Ekstrøm, P. O., Nissen, A. M., Morak, M., Holinski-Feder, E., Martins, A., Møller, P., & Hovig, E. (2018). Potentially pathogenic germline CHEK2 c.319+2T>A among multiple early-onset cancer families. Familial Cancer, 17(1), 141–153. https://doi.org/10.1007/s10689-017-0011-0
Duggan, C., Dvaladze, A., Rositch, A. F., Ginsburg, O., Yip, C. H., Horton, S., Camacho Rodriguez, R., Eniu, A., Mutebi, M., Bourque, J. M., Masood, S., Unger-Saldaña, K., Cabanes, A., Carlson, R. W., Gralow, J. R., & Anderson, B. O. (2020). The Breast Health Global Initiative 2018 Global Summit on Improving Breast Healthcare Through Resource-Stratified Phased Implementation: Methods and overview. Cancer, 126, 2339–2352. https://doi.org/10.1002/cncr.32891
EMA. (2021). Cisplatino. European Medical Agency. https://cima.aemps.es/cima/pdfs/es/ft/62107/62107_ft.pdf
Globocan. (2020a). Ecuador, fact sheets. The Global Cancer Observatory, 563, 1–2.
Globocan. (2020b). Source: Globocan 2020. 419, 7–8.
GLOBOCAN. (2020). All cancers excluding non-melanoma skin cancer. Globocan, 419, 5–6. http://globocan.iarc.fr/old/burden.asp?selection_pop=207840&Text-p=United+States+of+America&selection_cancer=290&Text-c=All+cancers+excl.+non-melanoma+skin+cancer&pYear=3&type=1&window=1&submit= Execute
Godet, I., & M. Gilkes, D. (2017). BRCA1 and BRCA2 mutations and treatment strategies for breast cancer. Integrative Cancer Science and Therapeutics, 4(1), 1–7. https://doi.org/10.15761/icst.1000228
Hu, C., Hart, S. N., Gnanaolivu, R., Huang, H., Lee, K. Y., Na, J., Gao, C., Lilyquist, J., Yadav, S., Boddicker, N. J., Samara, R., Klebba, J., Ambrosone, C. B., Anton-Culver, H., Auer, P., Bandera, E. V., Bernstein, L., Bertrand, K. A., Burnside, E. S., … Couch, F. J. (2021). A Population-Based Study of Genes Previously Implicated in Breast Cancer. New England Journal of Medicine, 384(5), 440–451. https://doi.org/10.1056/nejmoa2005936
Huzarski, T., Cybulski, C., Wokolorczyk, D., Jakubowska, A., Byrski, T., Gronwald, J., Domagała, P., Szwiec, M., Godlewski, D., Kilar, E., Marczyk, E., Siołek, M., Wiśniowski, R., Janiszewska, H., Surdyka, D., Sibilski, R., Sun, P., Lubiński, J., & Narod, S. A. (2014). Survival from breast cancer in patients with CHEK2 mutations. Breast Cancer Research and Treatment, 144(2), 397–403. https://doi.org/10.1007/s10549-014-2865-2
Kalia, S. S., Adelman, K., Bale, S. J., Chung, W. K., Eng, C., Evans, J. P., Herman, G. E., Hufnagel, S. B., Klein, T. E., Korf, B. R., McKelvey, K. D., Ormond, K. E., Richards, C. S., Vlangos, C. N., Watson, M., Martin, C. L., & Miller, D. T. (2017). Recommendations for reporting of secondary findings in clinical exome and genome sequencing, 2016 update (ACMG SF v2.0): A policy statement of the American College of Medical Genetics and Genomics. Genetics in Medicine, 19(2), 249–255. https://doi.org/10.1038/gim.2016.190
Kriege, M., Jager, A., Hollestelle, A., Berns, E. M. J. J., Blom, J., Meijer-van Gelder, M. E., Sieuwerts, A. M., van den Ouweland, A., Collée, J. M., Kroep, J. R., Martens, J. W. M., Hooning, M. J., & Seynaeve, C. (2015). Sensitivity to systemic therapy for metastatic breast cancer in CHEK2 1100delC mutation carriers. Journal of Cancer Research and Clinical Oncology, 141(10), 1879–1887. https://doi.org/10.1007/s00432-015-1981-7
Landrum, M. J., Lee, J. M., Benson, M., Brown, G., Chao, C., Chitipiralla, S., Gu, B., Hart, J., Hoffman, D., Hoover, J., Jang, W., Katz, K., Ovetsky, M., Riley, G., Sethi, A., Tully, R., Villamarin-Salomon, R., Rubinstein, W., & Maglott, D. R. (2016). ClinVar: Public archive of interpretations of clinically relevant variants. Nucleic Acids Research, 44(D1), D862–D868. https://doi.org/10.1093/nar/gkv1222
Lang, I., Brodowicz, T., Ryvo, L., Kahan, Z., Greil, R., Beslija, S., Stemmer, S. M., Kaufman, B., Zvirbule, Z., Steger, G. G., Melichar, B., Pienkowski, T., Sirbu, D., Messinger, D., & Zielinski, C. (2013). Bevacizumab plus paclitaxel versus bevacizumab plus capecitabine as first-line treatment for HER2-negative metastatic breast cancer: Interim efficacy results of the randomised, Open-label, Non-inferiority, Phase 3 TURANDOT trial. The Lancet Oncology, 14(2), 125–133. https://doi.org/10.1016/S1470-2045(12)70566-1
Liu, Y., Xu, Y., Ouyang, T., Li, J., Wang, T., Fan, Z., Fan, T., Lin, B., & Xie, Y. (2015). Association between CHEK2 H371Y mutation and response to neoadjuvant chemotherapy in women with breast cancer. BMC Cancer, 15(1), 1–8. https://doi.org/10.1186/s12885-015-1203-3
Ministerio de Salud Publica. (2019). Cuadro Nacional de Medicamentos Básicos 2019. Consejo Nacional De Salud, 1–97. http://www.conasa.gob.ec/biblioteca/Xcnmb/Cuadro_Nacional_de_Medicamentos_Basicos.pdf
Momenimovahed, Z., & Salehiniya, H. (2019). Epidemiological characteristics of and risk factors for breast cancer in the world. Breast Cancer: Targets and Therapy, 11, 151–164. https://doi.org/10.2147/BCTT.S176070
NCCN. (2021). Breast Cancer. National Comprehensive Cancer Network, 70(8), 515–517. https://www2.tri-kobe.org/nccn/guideline/breast/english/breast.pdf
Nielsen, D. L., Bjerre, K. D., Jakobsen, E. H., Cold, S., Stenbygaard, L., Sørensen, P. G., Kamby, C., Møller, S., Jørgensen, C. L. T., & Andersson, M. (2011). Gemcitabine plus docetaxel versus docetaxel in patients with predominantly human epidermal growth factor receptor 2-negative locally advanced or metastatic breast cancer: A randomized, phase III study by the Danish Breast Cancer Cooperative Group. Journal of Clinical Oncology, 29(36), 4748–4754. https://doi.org/10.1200/JCO.2010.33.9507
Pfeifer, W., Sokolenko, A. P., Potapova, O. N., Bessonov, A. A., Ivantsov, A. O., Laptiev, S. A., Zaitseva, O. A., Yatsuk, O. S., Matsko, D. E., Semiglazova, T. Y., Togo, A. V., & Imyanitov, E. N. (2014). Breast cancer sensitivity to neoadjuvant therapy in BRCA1 and CHEK2 mutation carriers and non-carriers. Breast Cancer Research and Treatment, 148(3), 675–683. https://doi.org/10.1007/s10549-014-3206-1
Sankaranarayanan, R., Swaminathan, R., Brenner, H., Chen, K., Chia, K. S., Chen, J. G., Law, S. C., Ahn, Y. O., Xiang, Y. B., Yeole, B. B., Shin, H. R., Shanta, V., Woo, Z. H., Martin, N., Sumitsawan, Y., Sriplung, H., Barboza, A. O., Eser, S., Nene, B. M., … Al-Hamdan, N. (2010). Cancer survival in Africa, Asia, and Central America: a population-based study. The Lancet Oncology, 11(2), 165–173. https://doi.org/10.1016/S1470-2045(09)70335-3
Tutt, A., Tovey, H., Cheang, M. C. U., Kernaghan, S., Kilburn, L., Gazinska, P., Owen, J., Abraham, J., Barrett, S., Barrett-Lee, P., Brown, R., Chan, S., Dowsett, M., Flanagan, J. M., Fox, L., Grigoriadis, A., Gutin, A., Harper-Wynne, C., Hatton, M. Q., Bliss, J. M. (2018). Carboplatin in BRCA1/2-mutated and triple-negative breast cancer BRCAness subgroups: The TNT Trial. Nature Medicine, 24(5), 628–637. https://doi.org/10.1038/s41591-018-0009-7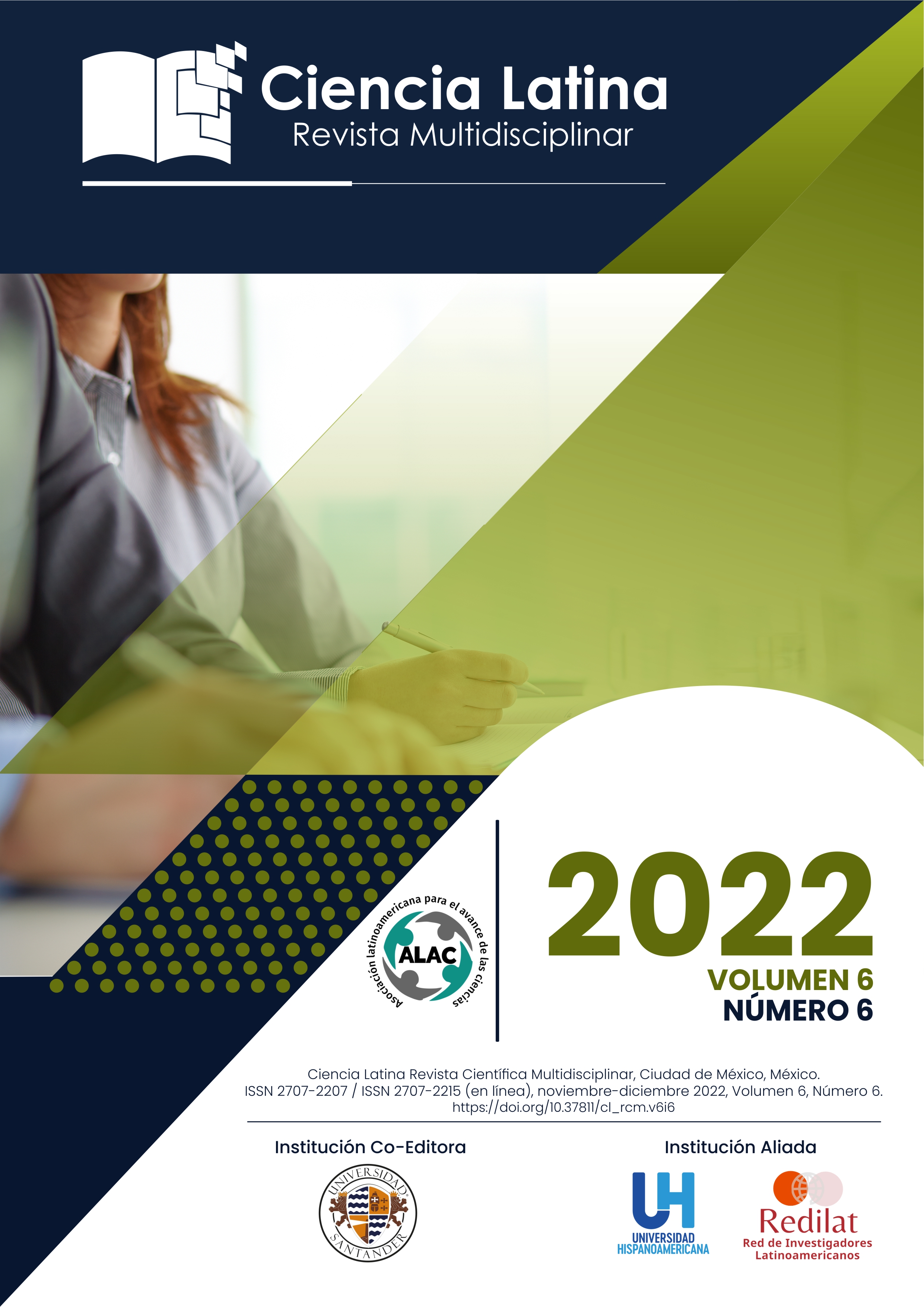 Cómo citar
Fernández Freire, M. Ángel, Moreno Ocampo, A. P., Fernández Freire, J., Paca Guamushi, V. A., & Sangoquiza Amagua, S. F. (2022). Cáncer de mama, mutación en CHECK2, reporte de caso clínico. Ciencia Latina Revista Científica Multidisciplinar, 6(6), 2013-2028. https://doi.org/10.37811/cl_rcm.v6i6.3658
Derechos de autor 2022 Miguel Ángel Fernández Freire;Andrea Paola Moreno Ocampo;Julio Fernández Freire;Vladimir Alfredo Paca Guamushi;Stalin Fabricio Sangoquiza Amagua
Esta obra está bajo licencia internacional
Creative Commons Reconocimiento 4.0
.