Regiones de la vida: núcleos de la base y sistema límbico
Dr. Fabiano de Abreu Agrela Rodrigues
Resumen
El ser humano es lo que las neuronas sensoriales toman del conocimiento para almacenarlo en engramas de recuerdos y que hacen del ser humano lo que es. Desde la gestación, el código genético del ser humano ya predetermina la personalidad que será moldeada por la experiencia de los sentidos y almacenada como memoria, es decir, el ser humano es sus recuerdos. Debido a esta evidente comprensión, el objetivo de este estudio es puntuar todas las regiones cerebrales relacionadas con la memoria, con todo lo que el individuo hace y que determina el engrama necesario para formar lo que es: las regiones cerebrales relacionadas con lo que le forma como ser humano. Este artículo presenta brevemente el cerebro, especialmente la corteza prefrontal, los neurotransmisores, los núcleos y el sistema límbico que intervienen en la formación de los recuerdos.
Palabras clave:
cerebro, sistema, límbico, núcleos, base, neuronas
Descargas
La descarga de datos todavía no está disponible.
Citas
BUCKNER, R. L., DiNicola, L. M. The brain's default network: updated anatomy, physiology and evolving insights. Nature reviews. Neuroscience, v. 10, págs. 593–608, 2019 https://doi.org/10.1038/s41583-019-0212-7
CRUZ-SANCHEZ, A. Dematagoda, S. Ahmed, R. Mohanathaas, S. Odenwald, N. Arruda-Carvalho, M. Developmental onset distinguishes three types of spontaneous recognition memory in mice. v. 30, n. 10, e10612, 2020 doi: 10.1038/s41598-020-67619-w.
DA CRUZ, N. O.L. Rodrigues, S.C.M. de Castro, M.V. da Silva, D.P. da Silva, R.R. de Souza, R.R.B, de Souza, A.A.F. Bissaco, M.A.S. Memorization of daily routines by children with Down syndrome assisted by a playful virtual environment. v. 21, n.1, e3144, 2020 doi: 10.1038/s41598-020-60014-5.
GOYAL, M. S., Iannotti, L. L., & Raichle, M. E. Brain Nutrition: A Life Span Approach. Annual review of nutrition, v.38, págs. 381–399, 2018 https://doi.org/10.1146/annurev-nutr-082117-051652
HENRY, J.D. Moore, P. Terrett, G. Rendell, PG. Scott, J.G. A comparison of different types of prospective memory reminders in schizophrenia. Schizophr Res. v. 210 págs. 89-93, 2019 doi: 10.1016/j.schres.2019.06.002.
IOVINO, L. Tremblay, M.E. Civiero, L. Glutamate-induced excitotoxicity in Parkinson's disease: The role of glial cells. J Pharmacol Sci.v. 144, n. 3, págs. 151-164, 2020 doi: 10.1016/j.jphs.2020.07.011.
JI, J. L., Spronk, M., Kulkarni, K., Repovš, G., Anticevic, A., & Cole, M. W. Mapping the human brain's cortical-subcortical functional network organization. NeuroImage, v.185, págs. 35–57, 2019 https://doi.org/10.1016/j.neuroimage.2018.10.006
KUNTZ, J.R. Karl, J.M. Doan, J.B. Grohs, M. Whishaw, I.Q. Two types of memory-based (pantomime) reaches distinguished by gaze anchoring in reach-to-grasp tasks. Behav Brain Res. v. 2, n. 381 e112438, 2020 doi: 10.1016/j.bbr.2019.112438.
PAGÁN O. R. The brain: a concept in flux. Philosophical transactions of the Royal Society of London. Series B, Biological sciences, v. 374 n. 1774, págs. 20180383, 2019 https://doi.org/10.1098/rstb.2018.0383
PATEL, H., Dobson, R., & Newhouse, S. J. A Meta-Analysis of Alzheimer's Disease Brain Transcriptomic Data. Journal of Alzheimer's disease : JAD, v.68, n.4, págs.1635–1656, 2019 https://doi.org/10.3233/JAD-181085
ROLLS E. T. The cingulate cortex and limbic systems for emotion, action, and memory. Brain structure & function, v.224, n.9, págs.3001–3018, 2019 https://doi.org/10.1007/s00429-019-01945-2
SEOK, J.W. Cheong, C. Functional dissociation of hippocampal subregions corresponding to memory types and stages. J Physiol Anthropol. 2020 v. 2; n. 39 págs.1-15. doi: 10.1186/s40101-020-00225-x.
SIUCINSKA, E. Aminobutyric acid in adult brain: an update. Behav Brain Res. v. 30, n. 376, e112224, 2019 doi: 10.1016/j.bbr.2019.112224.
TAN, H. Y., Cho, H., Lee, L. P. Human mini-brain models. Nature biomedical engineering, v.5, n.1, págs. 11–25, 2021 https://doi.org/10.1038/s41551-020-00643-3
TANAKA, M., Kunimatsu, J., Suzuki, T. W., Kameda, M., Ohmae, S., Uematsu, A., Takeya, R. Roles of the Cerebellum in Motor Preparation and Prediction of Timing. Neuroscience, v. 462, págs. 220–234, 2021 https://doi.org/10.1016/j.neuroscience.2020.04.039
VOGT B. A. Cingulate cortex in the three limbic subsystems. Handbook of clinical neurology, v.166, págs. 39–51, 2019 https://doi.org/10.1016/B978-0-444-64196-0.00003-0
YE, C. Liang, T. Zhang, Y. Xu, Q. Zhu, Y. Liu, Q. The two-stage process in visual working memory consolidation. Sci Rep. v. 11, n.1, e13564, 2020 doi: 10.1038/s41598-020-70418-y.
ZHAO, Y., Demirci, U., Chen, Y., & Chen, P. Multiscale brain research on a microfluidic chip. Lab on a chip, v.20, n.9, págs.1531–1543, 2020 https://doi.org/10.1039/c9lc01010f
ZHONG, S., Ding, W., Sun, L., Lu, Y., Dong, H., Fan, X., Liu, Z., Chen, R., Zhang, S., Ma, Q., Tang, F., Wu, Q., & Wang, X. Decoding the development of the human hippocampus. Nature, v.577, n.7791, págs. 531–536, 2020 https://doi.org/10.1038/s41586-019-1917-5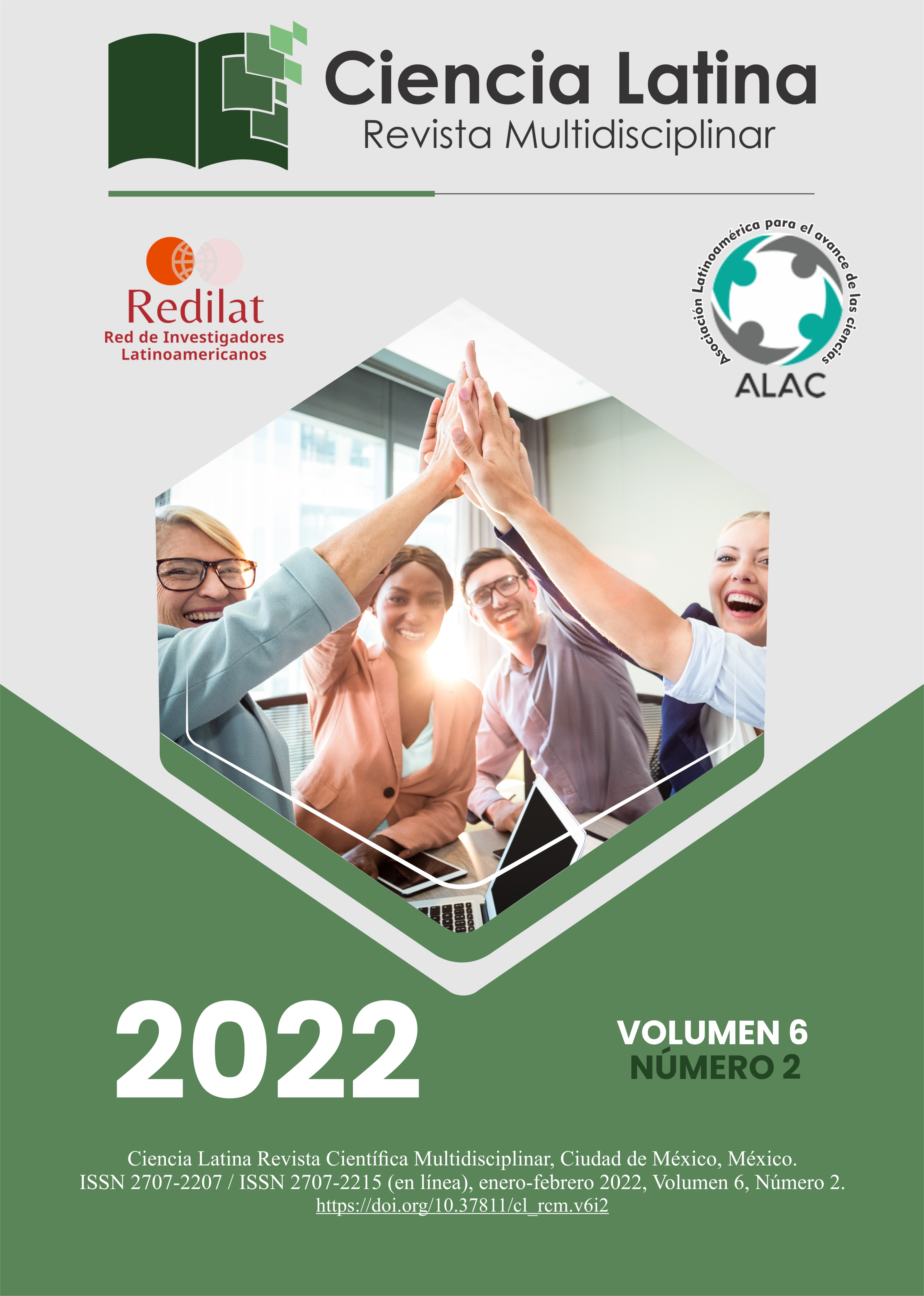 Cómo citar
Agrela Rodrigues, F. de A. (2022). Regiones de la vida: núcleos de la base y sistema límbico. Ciencia Latina Revista Científica Multidisciplinar, 6(2), 3367-3382. https://doi.org/10.37811/cl_rcm.v6i2.2098
Derechos de autor 2022 Fabiano de Abreu Agrela Rodrigues
Esta obra está bajo licencia internacional
Creative Commons Reconocimiento 4.0
.